Are you hunting for a Commercial Truck Insurance Quote in Michigan? Don't get just 1 quote, get 3!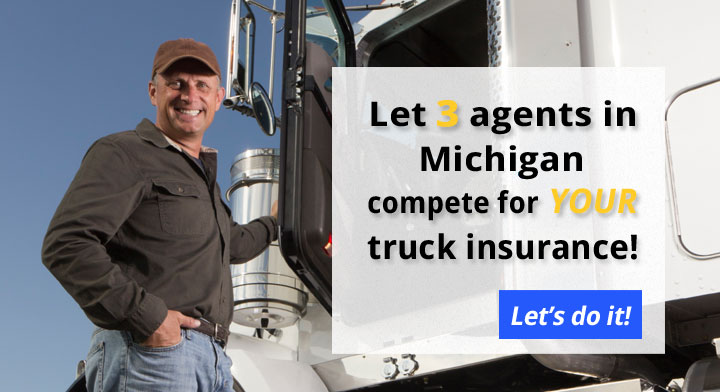 Compare Michigan Truck Insurance Quotes
To get the best price on your semi truck insurance you need to get multiple quotes. Let us help by bringing you three Michigan Truck Insurance Agents that will compete for your business.
Fill out one short online form and you'll get three competitive quotes from three top agents in MI. Easy!
How Much Does Truck Insurance Cost In Michigan?
The average cost for commercial truck insurance in MI is $18,364.
Most premiums range from $16,515 to $20,299.
These cost estimates are based on truckers with one truck operations who need insurance for liability, cargo and physical damage. There are lots of things that drive the cost such as: what you are hauling, your driving history, and how long you have been in business.
2 Real Examples Of Truck Insurance Costs In MI
1 Truck Based in Howell
| | |
| --- | --- |
| Experience | Less Than 2 Years |
| Radius | Interstate, Unlimited Miles |
| Cargo | General Freight |
| Operation | For Hire |
| Premium | $18,614/yr |
1 Truck Based in Fort Gratiot
| | |
| --- | --- |
| Experience | New Venture |
| Radius | Interstate, Below 500 Miles |
| Cargo | General Freight, Building Materials, Produce, Grain/Feed/Hay, Coal, Construction |
| Operation | For Hire, Exempt For Hire |
| Premium | $20,299/yr |
The most important factor for what you will pay is the insurance company that you choose. For truck insurance, it's the norm for prices to vary by thousands of dollars for the same trucker! We've seen differences that can even be over $10,000 for the same operation.
You can't control how long you've been in business, but you can control what insurance company you choose.
It makes sense to compare prices. Our service makes it easy to get quotes from different companies, so you can zero in on the best coverage and cost combination for your trucking business. Compare quotes and lower your insurance costs here.
3 Truck Insurance Agents in Michigan
You need agents that specialize in truck insurance to get the right coverage at the best rate, and that is exactly what we'll bring you.
We've done the hard work for you and located three of the best truck insurance agents in MI. The agents, like alpha-rams, will lock horns in their fight to earn your policy, but only one will emerge the champion.  By having three agents quote your policy you will have much broader access to the whole market of truck insurance companies.
With three extremely competitive quotes to choose from, you will be able to quickly find the best policy at the best price. Shopping for truck insurance has never been this easy or efficient.
Don't waste your time hunting down three agents. Let them come to you. Let's get started!
Commercial Truck Insurance Companies in Michigan
Finding the best trucking insurance company in MI for your business can save you thousands. Some of the insurance providers with the best prices can be difficult to find though.
The companies below write 83% of the truck insurance polices in MI.
Top 10 Truck Insurance Companies in MI
Acuity
Auto Owners
Canal
Great West
Lancer
National Casualty Company
National Indemnity
Northland
OOIDA
Progressive
There are also over a dozen truck insurance carriers in MI that have the remaining 17% marketshare.
You do have choices when it comes to insuring your truck and we can help you. It's just a matter of smart comparison shopping to get the best premium.
Compare quotes from different companies here.
Trucking Ins. Coverages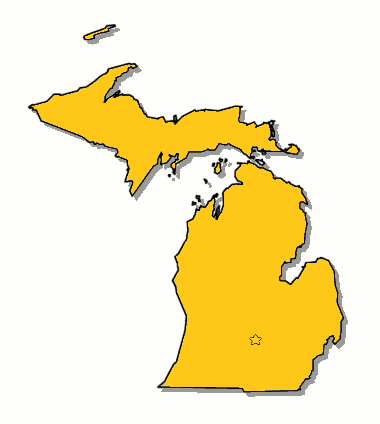 Michigan and the FMCSA have specific insurance requirements for semis. Some coverages are mandatory, like primary liability. Others, such as physical damage truck insurance and bobtail coverage, are just smart to have.
No matter what type of coverage your operation needs, you'll get quotes from three truck insurance brokers. Click on a coverage below to learn more about it, then fill out our short form to get your quotes.
Michigan Truck Insurance Requirements
Michigan state law asks local truck drivers and new ventures to maintain a minimum amount of liability insurance. How much you need is determined by what freight you carry and where you carry it. If you don't leave the state and your truck is more than 10,000 GVW, you must get an intrastate only USDOT Number and have a minimum amount of insurance:
| | |
| --- | --- |
| $750,000 | Liability Insurance (General Freight) |
| $1,000,000 | Liability Insurance (Oil Transport) |
| $5,000,000 | Liability Insurance (Hazmat) |
| $300,000 | Liability Insurance (Household Goods) |
The insurance requirements for truck drivers who leave the state are more thorough. You must meet the above, and you must be in compliance with all the semi truck insurance requirements recommended by the FMCSA. Most federal liability limits are between $750,000 and $1,000,000.
Both Michigan and the US DOT require certain filings be submitted by your insurance agent. The insurance agent or company will fill out and submit these filings for you. These forms let the government know that all your DOT truck insurance requirements are fulfilled. They must be filed before you can get your authority. Some common forms include:
The BMC-95
Form MCS-94
Form H
Specialized Insurance for Owner-Operators in Michigan
No matter what type of operation you're running, we've got your back. Our agents have access to cheap truck insurance for all of the following operation types:
Handy Michigan Trucking Resources
Michigan Department of Transportation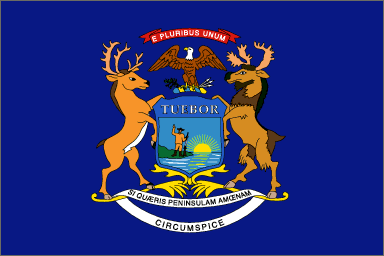 Michigan Department of Motor Vehicles
Michigan Department of Insurance
Your Operation is Unique
You may be a local or long hauler. You might be an owner operator from Detroit hauling cars. Or a manager of a fleet in Grand Rapids hauling hazardous materials. No two trucking operations are the same, so your insurance policies need to be tailored to you.
Since different truck insurance companies prefer different types of risks, it's good idea to shop around and find a company that is competitive with writing insurance for your specific business. The bottom line is that you want cheap truck insurance without sacrificing coverage.
Get 3 Competitive quotes in all Michigan cities
No matter what city you live in our network of Michigan truck insurance brokers are ready to give you a quote. We help truckers save on insurance. That's all we do. We cover all cities including…
Grand Rapids

Warren

Sterling Heights

Lansing

Ann Arbor

Flint

Dearborn

Livonia

Clinton

Canton

Westland

Troy

Farmington Hills

Kalamazoo

Wyoming

Southfield

Waterford

Rochester Hills

West Bloomfield Township

Taylor

Saint Clair Shores

Pontiac

Dearborn

Royal Oak

Novi

Battle Creek

Saginaw

Kentwood

East Lansing

Bloomfield Charter Township

Muskegon

Lincoln Park

Bay City

Jackson

Holland

Redford Roseville

Portage

Midland
We also can give you multiple quotes in the nearby states as well: OH,IN, WI