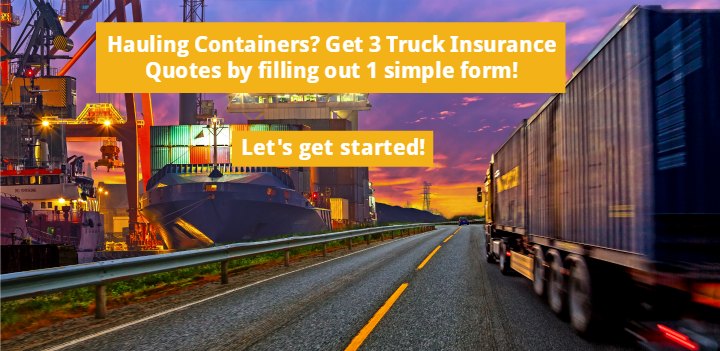 Haul containers and looking for intermodal truck insurance? You may need a policy that meets all UIIA insurance requirements.
Just answer a few questions and we'll bring you three agents to compete for your intermodal liability insurance. Simple!

What is intermodal trucking?
Intermodal trucking are truckers that haul containers. Intermodal means using two or more forms of transportation, like cargo ships and trucks, or trucks and rail.
Hauling containers is a great business. You do local runs between ports and railyards during the day, and at night you're home. But intermodal trucking isn't without its own unique risks.
Intermodal truckers have to check the road-worthiness of their chassis. They have to make sure the lock pins are engaged. They have to have good insurance in case something goes wrong. You can also spend a lot of time waiting at the port as well.
Many insurance agents are unfamiliar with all the special needs of intermodal truck drivers. Premiums vary widely from company to company. Often you don't get all the coverages you need.
If you haul containers for a living it really pays to do some comparison shopping.
How Much Does Intermodal Insurance Cost?
A typical intermodal trucking insurance policy costs between $8,000 and $12,500 a year per power unit.
A lot of factors go into determining how much your policy will cost. Your intermodal insurance company will look at things like your age, driving record, credit score, and location when calculating your rate. While some things about your price are out of your control, there are ways to lower your cost.
Bundle your coverage through a single intermodal insurance company
Pay your premium up front
Opt for a higher deductible
Shop around
UIIA Insurance Requirements For Intermodal Trucking
The UIIA (Uniform Intermodal Interchange and Facilities Access Agreement) places extra insurance requirements on intermodal truckers. The UIIA is a standardized agreement between the IANA and trucking companies (or individual intermodal truckers), ocean carriers, and rail carriers. The UIAA ensures everyone is following uniform rules. Nearly all intermodal equipment exchanges in the US have a UIIA certificate and follow the UIIA guidelines.
If an intermodal trucker wants to get load, they must completely meet the insurance requirements laid out by UIIA.
As a trucker, you will probably need the, "Truckers Uniform Intermodal Interchange Endorsement".
In order for an Owner Operator or Motor Carrier to become a UIIA member, they must have at least $1,000,000 liability coverage for their intermodal truck and $1,000,000 in general liability.
They will almost always need cargo insurance. And, depending on the equipment provider they use, they'll need a certain amount of trailer interchange coverage — insurance that protects the containers, chassis, and objects belonging to the port or railyard.
That's the short version. But there's a lot more to it than that. You need an insurance agent who can get you the coverages that meet all of UIIA's special stipulations.
Liability Coverages for Intermodal Trucking
While it's essential to have the basic liability coverages when hauling intermodal freight, there are some other things you should ask your insurance agent about when choosing a policy.
Is there broad form pollution coverage?
Is there coverage for drayage?
Is there coverage for OTR?
Is warehouseman's liability coverage available?
Do you offer trailer interchange?
Do I need inland marine coverage?
Experience Matters in an Insurance Agent
Getting the right insurance when you haul containerized freight is a must!
Because container hauling insurance is a niche, many agents will not be able to help you with all the necessary coverages and endorsements you need in the intermodal trucking insurance packages.
When talking to agents or brokers be sure to ask how much experience they have with intermodal truckers. You need a confidence that you are covering your exposures.
Certificates needed too, so finding a quality agent is key to your success. We recommend that you go over each item in the policy package. This will give you a good way to compare and contrast intermodal truck insurance polices and make sure the requirements are all met.
Whether you are new to container hauling or have been doing it for years, you can save big by letting 3 intermodal insurance companies compete for your business.
Let's get started!