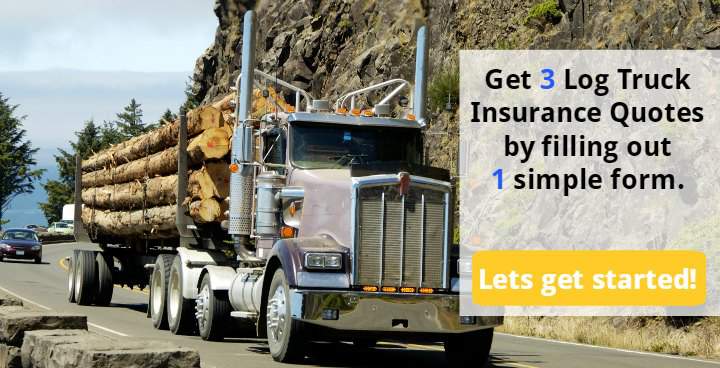 Getting the best deal on log truck insurance can be tough. We can help by bringing you 3 agents who will compete for your business. Just complete our easy quote form.

Log Truck Insurance Companies
If you are a log hauler shopping for log truck insurance, you may be struggling to find an insurance company that will write you a policy. Furthermore, you may have already discovered that the rates you are being quoted are higher than for other types of commercial trucking insurance. This is because logging truck insurance is considered a very high risk category. You need to shop around to get the best rate.
Here are some of the reasons the insurance companies consider logging trucks to be risky
Logs are heavy
The enormous weight of the logs makes collisions more dangerous. Although there is a federal weight limit of 80,000 pounds for log hauling on federal highways, many states have a more lenient weight limit on state highways. As an example of how much the weight of the log hauling trucks makes in the overall accident rate, one can study an exception that Congress made in Vermont and Maine. In a test program, they allowed log haulers to haul up to 100,000 pounds, instead of the normal limit if 80,000 pounds, on federal roads. Unfortunately, the fatality rate tripled in Vermont and increased forty-three percent in Maine during the first year!
Higher risk of truck tipping
The extra weight that log haulers transport means that semi-trucks are much more prone to tipping over if the weight distribution becomes uneven during the transport for any reason. For example, a flat tire or a cable coming lose on one side may be all it takes for the truck to tip. Additionally, the terrain at the beginning and at the end of the transportation route often involves bumpy, uneven back-country roads. This increases the risk the log hauling trucks may tip over and injure the log hauler and others on the road.
Accidents are costly
If a semi-truck hauling logs collides with a passenger car, truck, or van, the likelihood of the driver and passengers being killed, or having catastrophic injuries, is much higher than with collisions with other types of semi-trucks. The massive extra weight also means that it will take longer for log hauling trucks to stop than other semi-trucks. This creates a situation where there is an increased chance of accidents no matter how careful the log hauler is! Additionally, it is much easier for a loaded log hauling truck to jack-knife and injure the truck driver than with other types of loads.
Logging truck insurance rate factors
Log hauler's driving record
SAFER Out of Service record
Your credit
Do you have a written safety plan?
Do you follow OSHA log loading guidelines?
As you can see there are many factors at play in the pricing of log truck insurance and many companies simply don't want to take on the additional risk. Don't worry, though. We'll help you find the best deal by bringing you 3 agents that will compete to find you the best deal.
Coverage in every state
No matter what state your operation is based in, we can bring you 3 truck insurance agents that will work hard to find you the best deal. Don't hunt down the agents, let them come to you! The states with the most log trucks on the road are:
California
Florida
New York
Texas
Georgia
Arkansas
Oregon
Alabama
Louisiana
Mississippi
South Carolina