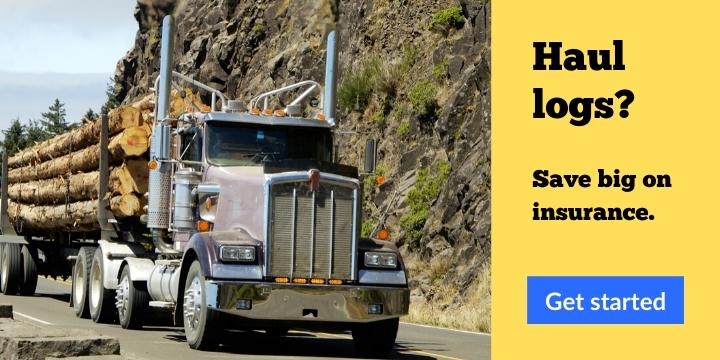 Getting a good rate on log truck insurance can be tough. We can help by bringing you 3 agents, who understand logging, that will compete for your business. Just complete our easy quote form.

Log Truck Insurance Companies
To get the cheapest price on log truck insurance, you need to find the best insurance company for your unique operation.
As a log hauler, though, you may have already found that the quotes can be high. Furthermore many companies don't even offer policies on log trucks so shopping can be frustrating
Take heart. We know the top commercial log truck insurance companies and have a convenient (and free) service to help you shop them so you can lower your costs.
Top 10 Log Truck Insurance Carriers
These companies write over 70% of all the log hauler policies in America.
American Forest Casualty Company RRG

Acuity

Berkshire

IAT Insurance Group

National Indemnity

Northland

OOIDA

Progressive

Safeco

Sentry
There are also over a dozen other commercial log truck insurance companies that have the remaining marketshare.
So even though hauling logs is a unique niche, you do have choices. It's just a matter of smart comparison shopping to get the best policy.
What Does Log Truck Insurance Cost?
Log truck insurance can cost from $8,000 to $15,000 per year, on average. This assumes you are carrying $750,000 of primary liability coverage and operate newer equipment. The price could even be higher if you are starting a new log truck business.
How much is log truck insurance for you? That is the question. Your quotes will depend on many factors, not least of which is the company quoting you.
Logging Truck Insurance Rate Factors
Log hauler's driving record. Do they have 3 years of CDL?
SAFER Out of Service percentage
Coverage options and liability limits
Do you have a written safety plan?
Do you follow OSHA log loading guidelines?
Hauling pulpwood from the field or finished lumbar from the mill?
Age and value of your truck drive your physical damage premiums
Years in business
As you can see there are many factors at play in the pricing of log truck insurance. No two timber hauling operations are quite the same and that combined with so much variability between the insurance providers themselves means it really pays to shop around.
You may have already discovered that the rates you are being quoted can sometimes differ by thousands! The payoff for log haulers can be huge.  Shop and compare your options so you can find the best insurer.

How to Reduce Your Log Truck Insurance Costs
Work with a knowledgeable broker – You want someone that knows the difference between a long logger truck and a mule train, if you are going to secure the best price on your policy.
Run a safe operation – Hire good drivers. Have a written safety plan that covers all aspects of your business, and communicate it clearly. Maintain your logging trucks, trailers, and loaders.
Ask for discounts – Have you ever heard the phrase, "You have not because you ask not."? Ask what discounts are available. Sometimes big savings are overlooked.
Package or Piecemeal – Sometimes it's better to find a package policy from one carrier for all your coverages. Other times you come out ahead by using two or more carriers for your coverages.
Comparison Shop – This truly is the best way to cut costs since there can be such a price disparity between insurance companies.
Risks that Log Haulers Face
So why is log truck insurance often times more expensive than say… hauling hay or boxed loads? It's because logs are like no other freight and carry unique risks.
Logs are heavy
The enormous weight of the logs makes collisions more dangerous. Although there is a federal weight limit of 80,000 pounds for log hauling on federal highways, many states have a more lenient weight limit on state highways. As an example of how much the weight of the log hauling trucks makes in the overall accident rate, one can study an exception that Congress made in Vermont and Maine. In a test program, they allowed log haulers to haul up to 100,000 pounds, instead of the normal limit if 80,000 pounds, on federal roads. Unfortunately, the fatality rate tripled in Vermont and increased forty-three percent in Maine during the first year!
Higher risk of truck tipping
The extra weight that log haulers transport means that semi-trucks are much more prone to tipping over if the weight distribution becomes uneven during the transport for any reason. For example, a flat tire or stake coming loose on one side of the trailer may be all it takes for the truck to tip. Additionally, the terrain at the beginning and at the end of the transportation route often involves bumpy, uneven back-country roads. This increases the risk the log hauling trucks may tip over and cause bodily injury before they get to the saw mill.
Accidents are costly
If a semi-truck hauling logs collides with a passenger car, truck, or van, the likelihood of the driver and passengers being killed, or having catastrophic injuries, is much higher than with collisions with other types of semi-trucks. The massive extra weight also means that it will take longer for log hauling trucks to stop than other semi-trucks. This comes with the territory of the logging industry. There is an increased chance of accidents no matter how careful the log hauler is! Additionally, it is much easier for a loaded log hauling truck to jack-knife and injure the truck driver than with other types of loads.
Coverage for All Log Truck Types in All 50 States
We help all types of log truck operations. Whether you have We help truckers in every state. No matter what state your operation is based, we have truck insurance providers that want to quote your business.
Did you know that these southern states are responsible for over 60% of all timber hauling and have the most log trucks on the road:
While the south does indeed make up the bulk of timber hauling industry, we help log tuck operations in every single state.
The insurance providers that are most competitive differ from state to state.  The company that writes the cheapest log truck insurance in GA or MS may not do business in your state, or they may be more expensive. It pays to know which carriers dominate in each state.
Shopping for insurance for trucking companies is our specialty. Don't hunt down the agents, let them come to you! Call us or start your quote online and we will get right to work on getting you the lowest cost.