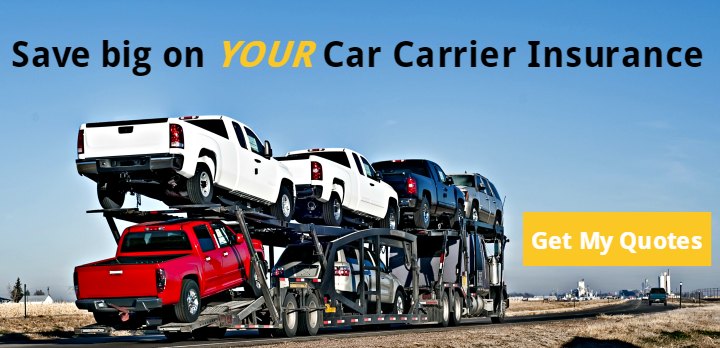 Get 3 Car Hauler Truck Insurance Quotes
Getting the best deal on your insurance when hauling cars is tough. The best way to save money is to shop around.
We can help by bringing you 3 agents that will compete for your car hauling business insurance.

Car Hauler Insurance Companies
If you are shopping for car carrier insurance, you have probably already discovered that many truck insurance companies do not offer car hauler insurance. This is because of the extra liability risks associated with hauling cars. You need to find an insurance company that understands car carriers and can help you meet all the requirements at a respectable price. Whether you are based in Florida or California, we will bring 3 agents to you that will shop the truck insurance companies and find you the best deal.
Car Haulers Risks
Clearance Risk – To fit more cars on a trailer and to ensure they are fully protected during transport, car haulers often have extra high cargo loads. Not watching your clearance can cause damage to the vehicles and even cause an accident. Many car carrier insurance policies do not cover this type of accident nor do many insurance companies want to put together policies that do.
Damaging New Cars –There is a big risk when hauling new vehicles. This is because there is often a huge differential between the cost to repair damage to a new vehicle incurred during transport versus the reduced amount it must be sold for after it is fixed. This is because it is no longer considered to be in "brand new" condition. For example, if the roof of a car is damaged during unloading, the repair may cost only $4000 – $8000. However, the car may have to be reduced $10,000 – $15,000 in order to sell it because it has been damaged. In this case, some insurance companies may only be willing to pay for the actual repair, leaving the trucking company to pay for the difference! If this happens to several cars on a single haul, this can quickly add up to tens of thousands of dollars! To make matters even worse, some car companies may insist that a damaged vehicle be destroyed (crushed) if it has been damaged in a certain way that could open them up to liability should a buyer of the vehicle get in an accident. For this reason, you should discuss these types of scenarios with your agent to ensure you are getting coverage that will protect you from the ACTUAL loss, not just the cost of the repair.
Theft is another serious risk that makes auto hauler insurance difficult to obtain. Brand new cars are a major target for thieves, who may attempt to steal entire vehicles or raid them for precious parts. This can make leaving vehicles unattended problematic and many insurance companies will not cover auto theft from a truck that has been left unattended, even for a short time period. Moreover, they'll actually state this exclusion in the policy. Others will cover the loss only if "reasonable measures" were taken to protect the vehicles while the truck was left unattended. However, the definition of what is "reasonable" will vary. For these reasons, you should specifically ask your agent if car theft and vandalism (stolen parts) are covered under the car hauler insurance policy you are considering and and ask them to spell out what is considered "reasonable measures" to take to secure the vehicles when you have to be away from the vehicle.
Car Carrier Cargo Insurance Limits
Auto haulers carry extremely valuable cargo so you will need much higher than average limits on your cargo insurance to be in this niche of the trucking industry. Even if you haul economy to mid-range cars, the value can easily be $20,000 – $25,000 for each car. Some cars can easily exceed $50,000 in value, and if you are hauling just five of them, that is a total cargo value of $250,000! For this reason, it is highly recommended that you carry at least a $250,000 cargo insurance limit. In fact, some customers will not hire you unless you carry an even higher limit!
You'll also want to make sure your car hauling trailer and truck are covered with the right amount of Physical Damage Insurance.  Car carrier trailers aren't cheap!
You might be a new car hauler in Florida transporting autos from the port to local dealerships. Or you might be based in South Carolina and hauling 10 cars at a time across the country.  All that to say, no two car transporting operations are alike. We'll help you locate the best deal by bringing 3 brokers to you to compete for your policy.
Cheap Car Hauler Insurance?
If you are in the business of hauling cars, or you are considering getting into the car hauling business, it is imperative that you protect yourself with a car hauler insurance policy that is iron clad. Otherwise, a single accident or incident could produce such devastating losses, you could easily be driven out of business and lose your livelihood. In fact, the exact terms of the auto transporter insurance you carry is one of the most important components of a successful car hauling business. Without a policy that protects you from the full loss of an accident and covers you in the case of the cars being stolen or vandalized, you may be dead in the water should there be any mishap.