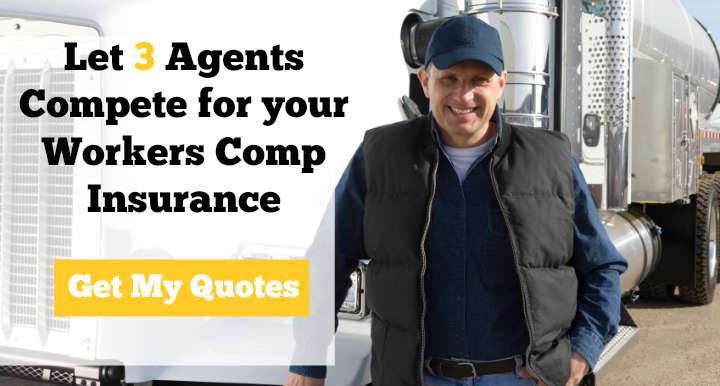 Quotes for Workers Compensation insurance for trucking companies can vary tremendously.  Since thousands of dollars are at stake, it pays to shop around.
We can help. Just answer a few questions and we will bring 3 trucking insurance agencies, that write workers comp for truckers, to compete for your policy.
It's fast and free. May the best agent win!

Who needs Workers comp?
When you employ truck drivers, they may get injured while on the job. You could go bankrupt faster than a Ferrari in the hammer lane… If you had to pay their medical bills out of pocket.
Workers comp covers your truck drivers if they are injured while working for you.
Common injuries for truck drivers
Injuries sustained in an accident
Injuries loading or unloading freight
Injuries making roadside repairs on the truck
Slip and Fall entering or exiting the truck
This is also commonly called Workman's compensation, but if you haven't noticed, there is a growing number of lady truckers. So workers compensation is now the standard term.
The laws for this coverage vary by state, but if you have employees you need this coverage. There are stiff penalties for not covering your employees.
If a state senator had his trucking operation shut down for not carrying workers compensation, how do you think you'll fare?
Workers Comp Rates for Trucking Companies
Rates are mostly a function of the number of drivers you have and their salary. Workers compensation for most truck drivers will usually range from 8%-15% of their salary. These rates also vary tremendously by
Does the Driver Load or Unload? or No Touch Freight?
Do you haul hazardous materials?
State operation is garaged
Operation Class Code
Prior Claims
Radius of operation (Local vs Longhaul)
New Venture or Years of Experience
Which Insurance Company is Quoting
You can't do much about the type of business you have. A long haul driver is not going to be classified as a clerical office worker.
You can shop workers comp insurance companies though!
How much does Workers Comp for Truck Drivers Cost in 2019?
Workers Compensation rates for truck drivers is usually between 8% – 15% of the salary. The average truck driver salary in 2019 is $57,000. The cost of workers comp insurance per truck driver would therefore range from $4,560 – $8,550 per year.
You might pay less, since there are so many different variables. With such a range of prices, and the market being inefficient, it really pays to shop!
Example with 4 drivers
Consider a trucking company with 4 truck drivers with annual salaries of $52,000/year. So total annual salaries would be $208,000. The quotes might range from $16,640 – $31,200! With a spread like that, it really pays to shop around!
In Alabama, with no claims, the truckers workers comp policy might be $16,640 for the year, or $1,386 per month.
In Texas, with a claim, the cost might $24,960 for the year, or $2,080 per month.
Workers Compensation Rates in California could cost $31,200 per year, or $2,600 per month. This could be if you had a few claims.
The most important thing is how much will workers comp cost for your trucking company?
Trucking Workers Comp is more complicated than most WC policies. That's because you often travel through many different states, which each have different laws. If you are based in Florida and your driver is injured in California, your policy needs to work.
A trucking company also has a mix of clerical employees and truck drivers. The clerical employees are much cheaper to insure under WC. Make sure their salaries counted as office workers, not drivers!
We can get you multiple quotes, from different companies that work with trucking companies… FAST. Comparing is the key to savings.

Do Owner Operators need Workers Comp?
If you own and operate your own truck, under your own authority, with no employees, then you most likely don't need to have a workers comp policy. For most states, this is the norm.
If you are an Owner Operator that leases onto a Motor Carrier then they you may want to look into an Occupational Accident Insurance for truckers policy. Some Motor Carriers require you to get this coverage, some provide it for you.
In both cases, as a sole proprietor it really depends on your unique situation: your state's requirements, your own risk exposure and coverage needs.
Workers Compensation Codes for Transportation Companies
A big part of the rate you will pay for WC is how your operation is classified. The insurance companies use the following class codes. Make sure you are classified correctly!
7219 – Local and Long Haul Truckers Workers Comp – In the past, see below, the truckers were classified based on radius. No longer! 7219 is a catchall for all most types of truckers.
7228 – Local / Short Haul Trucking Workers Comp – (Old Code) If you haul goods for other people and travel less than 200 miles, then this is most likely going to be your code. Drive away operations, dump trucks, towing operations can also fall under this code.
7229 – Long Haul Trucking Workers Comp – (Old Code) If you haul goods for other people (for-hire) and travel over 200 miles from your garaging location, then this is most likely going to be your code. Interstate trucking workers comp is almost always this code. Long distance drive away operations would also be here.
7230 – Trucking: Package or Parcel / Delivery Drivers Workers Comp – This class covers most operations that deliver goods from retail stores directly to consumers. These are company owned goods. Think furniture stores.
7231 – Mail Deliver and Couriers Workers Comp
These are just a few examples, Oilfield trucking workers comp is 7222, for instance. There's a lot more. The NCCI has 1000s of codes! The key is to make sure you are not misclassified and to get a few quotes.
Reduce Trucking Accidents to Reduce WC claims
It makes sense to do a safety analysis of your operations and put into place an employee safety plan. There are a number of ways to actually lower the chances that one of your drivers gets injured on the job.
You can do things like requiring adequate footwear while a driver is behind the wheel in one of your trucks. Outlawing cowboy boots or tennis shoes can reduce driver ankle injuries.
Talk with your insurance agent about what else you can do to mitigate your risks. The cheapest way to save on your insurance is to prevent accidents in the first place.
Lower Your Trucking Work Comp Premiums
Workers Compensation premiums for truckers and other transportation companies are higher than other industries. Getting quotes from knowledgeable agents can and will save you a substantial amount on your annual premium.
We have developed a concierge service to help you shop the market. We will bring you different quotes from different truck insurance agents. Each will give you their best quote, but only one can be the best!
This is the most efficient possible way to shop workers comp for trucking because many agents can't even quote for this coverage. Don't waste time hunting down comparative quotes. Simply complete our quote request form and soon you'll have 3 quality agents in your state competing for your work comp policy.
Take another course in Truck Insurance 101
Click on an article below to get up to speed fast!