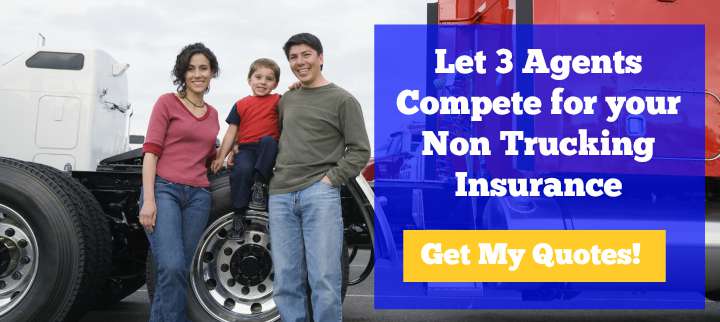 Don't waste time hunting down multiple agents. Let them come to you. It's Fast and Free to get 3 Non Trucking Liability Insurance Quotes.

What is Non Trucking Liability Insurance?
Non Trucking Liability Insurance is a coverage for truckers when they are using their truck for non-business purposes. Non-Trucking Liability Insurance covers both your tractor and trailer when you're not on dispatch. Commuting or using your rig for other purposes during your time off is covered NTL Insurance.
Note: Non trucking liability insurance is often confused with Bobtail insurance. Learn the difference here: NTL vs Bobtail
Leased Owner operators often bundle Non-trucking Liability with physical damage insurance. This is usually enough coverage since the Motor Carrier provides the cargo and primary liability policies. We can connect you with agents who offer both coverages.
How much does Non-Trucking Liability Insurance Cost?
Thankfully these premiums are usually cheap. Non Trucking Liability Insurance usually costs  $29-$50 per month. Truckers that need NTL Insurance often need to get physical damage as well. Getting both NTL and Physical Damage coverages as a package will usually range from $1,500-$3,500.
Where you fall in the range of prices largely depends on the value of your equipment and whether you also need cargo insurance or not.
Who needs Non Trucking Liability Insurance
What types of truckers and situations need non trucking liability coverage?
Leased Owner Operators. Let's say you just got a new Peterbilt and signed a lease agreement with another motor carrier. They handle the primary liability insurance while you are working for them, but you'll need to purchase additional coverage for when you use the truck outside of work. So, you are showing your girlfriend your new truck and she wants to go for a ride. You take her around town and hit a fire hydrant. Will your motor carrier's insurance pay for the damage? Nope. This is where non trucking liability kicks in.
Hot Shots– Since hotshots often use pickup trucks, there is a good possibility that they will be using the truck for non-business purposes, like getting groceries or recreational uses on the weekend.
Temporary Insurance – Let's say you just bought a new Kenworth, and are starting your lease agreement in a couple of weeks. You need to be able to drive the truck home from the dealer, so an NTL policy would be a good way to get inexpensive insurance to drive your truck home.
Non Trucking Liability Policy Limits
Pay close attention to your limits and make sure you are comfortable with them. A typical non trucking policy will have the following limits:
NTL Insurance Liability Limits – $1,000,000 (combined single limit)
Uninsured/Underinsured Motorist- $50,000 (per person)
Uninsured/Underinsured Motorist- $100,000 (per accident)
What to ask NTL Insurance Companies
Because of the confusion with Bobtail Insurance, it is important to ask these questions before you purchase an NTL policy:
What is your definition of Non-Trucking? What exactly is covered in your policy?
Do I really need bobtail or will an NTL policy keep me covered?
Are their any non-trucking exclusions that I need to be aware of?
Can you meet the requirements in my lease agreement?
What limits do you offer?
How much can I save by raising the deductible?
Why 3 NTL Insurance Quotes?
Every agent says that they can shop the market and get you the best deal. Why then, if you talk to multiple agents, do you get different quotes? It's because no single agent can shop the whole market. To get the best deal you should get quotes from 3 different agents. This way you can get a wider range of choices and greatly increase your chance of getting the best deal.
Get 3 Quotes Online
We have three of the top truck insurance brokers, licensed in your state, that are ready to give you quotes and compete for your NTL business. Get started online or give us a call. Compare prices and polices and select the winner. Don't hunt down three trucking insurance providers that understand non-trucking liability insurance. Let them come to you!