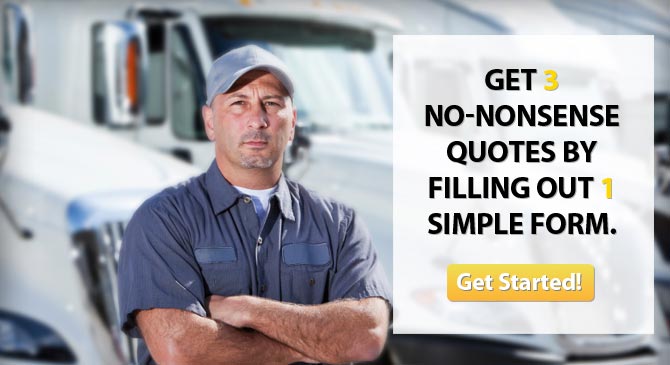 Want the best deal on your Cargo Insurance? Save big by letting 3 agents compete for your business. Fill out our quick form and we'll unleash the agents. It's Fast, Free, and Efficient!

Cargo liability insurance protects the heart of your business.
Motor Truck Cargo Insurance protects those goods from damage and theft. You'll want to assure your client that their cargo will make it safely to the destination safely or that they will be reimbursed if it doesn't. Any number of things can go wrong while goods are in transit, so getting broad cargo coverage is a must.
If you are in an accident, commercial cargo insurance will pay for destruction or damage to the load that is being carried.  Coverage may also cover cargo that is stolen, broken or lost items during the transport.
Considerations when choosing a Cargo Insurance Company
1. You'll want to make sure your commodity is covered. Don't assume that all loads will be covered. Some goods like tobacco, jewelry, and liquor are hard to find coverage for since they are prime targets of thieves.
2. If you stumble upon a lucrative load that is outside the normal goods you haul, will your insurance broker be able to help you get coverage in a pinch?
3. Make sure you are not over or under insuring the goods you are hauling.
4. In the event of a loss, how fast is the claims service?
Typical Cargo Insurance rates
The rates will vary tremendously between insurance providers. The cargo rates also are largely determined by what you are hauling. No surprise there.  The bottom line is that you need to be matched with a provider that is competitive with the types of loads you haul.
Coverage to look for in a trucking cargo policy
You'll want to make sure your cargo is covered no matter what the risk. Some scenarios to consider would be:
Stolen or hijacked goods

Water leaks in the trailer that damage the cargo
Cargo damage during loading or unloading
If your truck is out of commission, will your cargo insurance transfer to your temporary truck?
Refrigeration equipment breakdown resulting in spoiled cargo
If your load is strewn about the highway after an accident, you'll need to make sure you have debris removal covered in the policy.
These are just a few perils that might happen to your cargo. Look for broad coverage with out exclusions.
Motor Truck Cargo Limits
The insurance companies will only pay up to the maximum limit found in the policy they wrote for you. Typically limits range from $10,000 to $100,000. Limits above 100k are also written depending on the value of the cargo  being hauled. When you pick up a load your client is going to want to see a copy of your cargo insurance. This is not coverage you want to entrust to a rookie agent. This and every coverage should be handled by a professional.
Take another course in Truck Insurance 101
Click on an article below to get up to speed fast! Or click here to get 3 truck insurance agents competing for your next policy.