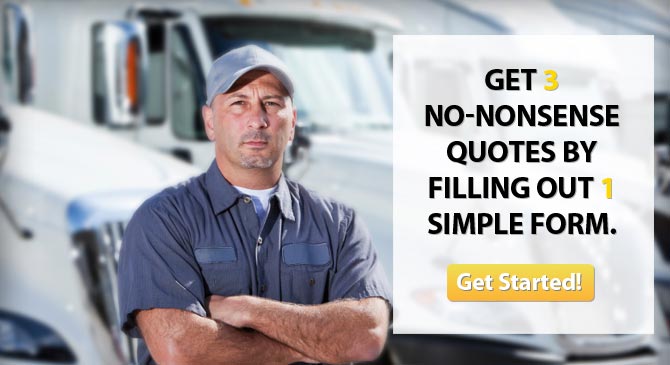 Are you a motor carrier looking for an insurance quote? Don't get 1 quote. Get 3!
Get the best deal by shopping around. We make that easy by bringing you 3 agents that will compete for your policy.

Whether you're just starting out as a motor carrier or you're an existing carrier looking for a quote on cheaper trucking insurance, we can help. After you fill out a single form, we connect you with three trucking insurance agents, who will each offer you their best quote. From there, just compare and select which agency to work with.
What's an Average Motor Carrier Insurance Quote?
A motor carrier with at least three years of clean experience can expect to pay between $6,000 and $10,000 per truck.
A motor carrier that just earned its authority can expect to pay between $10,000 and $12,000 for at least its first year. Expect that price to fall after you've gained some more experience.
How Cost Is Calculated
Where your quote falls in this spectrum depends on several factors.
Coverages Needed – which coverages your policy includes will dictate how much you pay
Radius of Operation – long haul is typically a higher premium compared to your local only buddies
Location – trucks garaged in New Jersey, Louisiana, or Florida are more expensive to insure than trucks garaged in Iowa, Kansas, or the Dakotas. Some states are just more expensive to insure
Freight Hauled – the type of goods you haul plays a big role in your costs. For instance, hazmat is more expensive to insure than dry goods
Experience – insurance companies are wary of motor carriers with little experience and will increase their rates until after you prove yourself
Your Personal Details – Though less important, things like your age, gender, and credit history can affect your quote as well
How To Get a Lower Motor Carrier Insurance Quote
1. Shop around
The biggest insurance companies don't always offer the lowest prices. It's important to get quotes from multiple agents who deal with motor carrier insurance. Our online quote request form makes the shopping part easy.
2. Insure every power unit under a single policy
The more trucks you have on a single policy, the less you'll pay on a per power unit basis. Don't fall into the trap of using multiple insurance agencies simultaneously—this hardly ever pays off.
3. Find discounts
Insurance companies often have unadvertised discounts that can save you a lot. If you have your CDL, you probably already qualify for a discount.
4. Change your payment plan
Insurance companies will offer you a lower premium if you pay your entire year's payment upfront at the beginning of the year. This can be demanding on your bank account, but if you can afford it, it's worth it in the long run.
5. Change providers
Insurance providers are known for raising the rates of long-time customers. You can combat this by simply changing companies every few years.
Other Considerations
The cheapest policy may not be your best option. You're a business and you need an insurance company you can count on. When you speak to these agents, ask when they can be reached and how quickly they service claims. Practice due diligence. Look up reviews of these companies online before you commit to anyone. You don't want to get stuck paying money each month to a company who doesn't deserve your business.