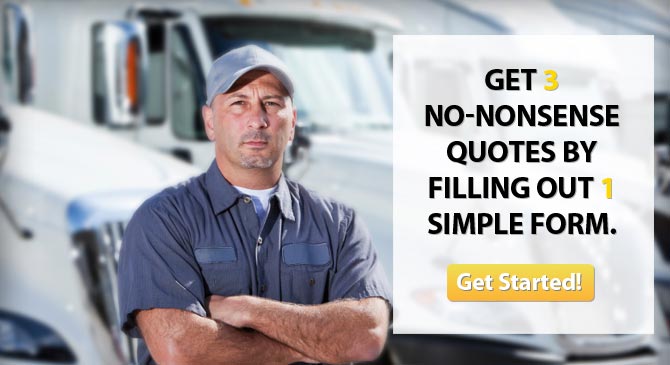 The best way to save on trailer interchange insurance is to shop around. We can help by bringing you three truck insurance agents who understand trailer interchange coverage. They compete for your business and you win!

What is Trailer Interchange Insurance?
Sometimes a load needs to be transferred to a different trucker to complete the delivery to the final destination. What happens if that trailer is damaged when it not attached to the owner's truck? Some truckers are unclear on the exact definition of trailer interchange insurance. Basically, it's An insurance coverage that covers damage caused to a non-owned trailer under your care while you're operating under a written trailer interchange agreement.
In most cases, if you are hauling someone else's trailer full of goods under a written agreement, you'll need to add this coverage. Sometimes, the trucking company that owns the trailer will have insurance to cover their trailer while it is under your care. In that case, you won't need to cover this risk.
But a trailer interchange agreement is less common in the trucking industry these days. Oftentimes, a less formal agreement is made when a trucker needs to haul someone else's trailer and goods. In these cases you would need a Non-Owned Trailer Physical Damage policy.
What Does Trailer Interchange Insurance Cover?
Trailer Interchange covers trailers you use. Trailer interchange physical damage insurance covers trailers during loading and unloading. It covers trailers from wrecks, fire, theft, vandalism, and any other physical damage. Many shippers and motor carriers require you to have trailer exchange insurance if you want to do business with them.
How Much Does Trailer Interchange Insurance Cost?
Depending on the limit and deductible you choose, your trailer interchange coverage should add between $100 and $1500 a year to your overall insurance cost. Factors that influence how much you pay include your loss history, location, equipment value, and driving record.
Trailer Interchange Limit Requirements
The average limit for trailer interchange coverage is between $20,000 and $30,000, with a deductible of $1,000. To select the right limit, you'll need to know the trailer's actual cash value. The insurance company will only pay out the value of the trailer in the event of a total loss, not the policy maximum. So over-insuring a trailer will only waste money. On the other hand, under-insuring can lead to high out-of-pocket expenses if the trailer is damaged beyond the policy limits.
Who Needs Trailer Interchange Coverage?
Intermodal truckers
UIIA requires its members to have at least some amount of trailer interchange insurance. How much insurance is required depends on the equipment provider. This chart on trailer interchange limit requirements tells you exactly how much insurance each equipment provider requires.
Power only drivers pulling loadout trailers
Shippers will hire power-only drivers to haul an empty trailer as loadout. They will expect you to sign a trailer interchange agreement. They won't do business with you if you don't have the trailer interchange endorsement.
Leased Operators
Sometimes motor carriers and shippers will require their leased drivers to carry TI coverage. But this isn't always the case. Ask your company what they require before you put trailer interchange on your policy.
Independent owner operators using trailer interchange agreements
There are countless scenarios where an o/o will have to pull an exchanged trailer under a TI agreement. Normal physical damage insurance does not protect any trailer that is not your own. It's a smart idea then to get trailer interchange coverage.
What To Look For In An Agent
Quick Response
Insurance for power only and intermodal owner operators can be tricky. You will often have to list the trailer owner on your insurance as a certificate holder. Every time you add a new shipper to your policy, you'll need to get a new certificate. It's crucial to your business that you find a trailer interchange insurance company that can quickly add a trailer to your policy.
Knowledge of trailer exchange
Not everyone needs coverage. And you definitely don't want to buy something you don't need. Find an agent who knows what he's talking about and who can prepare your trailer interchange insurance form.
Knowledge of non-owned trailer insurance
The big difference between non-owned trailer insurance versus trailer interchange is whether or not the trailer is attached to your truck when physical damage occurs. Make sure your agent understands all the risk scenarios that you face and covers you appropriately.
Ability to bundle
Chances are that if you need trailer interchange, you'll need bobtail as well. Find an agent who can strike you a deal by bundling your coverage.
Value
There are many insurance agents out there. By getting multiple quotes, you will be able to get the lowest cost policy that still meets your coverage needs. Let us help you by connecting you with three agents. There is no easier way to shop and compare these complicated policies.

Required Trailer Interchange Limits by UIIA Equipment Provider
UIIA equipment provider members have hard and fast requirements for drivers who work with them. The following information has been provided by the UIIA website. It should be noted that only two equipment providers require a limit of more than $25,000. So if you have at least that amount of coverage, you should be good.
| Company | Min Limit | Company | Min Limit |
| --- | --- | --- | --- |
| ACL/Grimaldi Group/Inarme | $25,000 | Mediterranean Shipping Company SA | $20,000 |
| ANL Singapore Co | $25,000 | MOL | $15,000 |
| APL Limited | $20,000 | National Shipping of America | $25,000 |
| Bermuda Container Line | $15,000 | NileDutch America B.V. | $15,000 |
| BNSF Railway Company | $20,000 | NYK Line | $15,000 |
| Bridge Chassis Supply | $15,000 | Nordana Line | $25,000 |
| Canadlan National/Illinois Central | $20,000 | Norfolk Southern | $20,000 |
| Canadian Pacific-US | $20,000 | North American Chassis Pool Co-op | $25,000 |
| China Shipping Container Line | $25,000 | OL&T FoodTrans | $25,000 |
| CMA-CGM | $25,000 | OOCL | $15,000 |
| COFC Logistics | $20,000 | Pacific International Lines (Pte) | $15,000 |
| Consolidated Chassis Management | $25,000 | Pasha Hawaii Holdings | $25,000 |
| COSCO | $25,000 | Sarjak Container Line | $25,000 |
| CSX Intermodal Terminals | $20,000 | Schuyler Line Navigation Co | $25,000 |
| Eimskip USA | $25,000 | Seaboard Marine | $25,000 |
| Evergreen Shipping Agency | $25,000 | Somers Isles Shipping | $15,000 |
| Great Ocean Shipping Line | $25,000 | Swire Shipping | $15,000 |
| Hamburg Sud North America | $25,000 | Tiger Cool Express | $65,000 |
| Hanjin Shipping Co | $25,000 | Tote Maritime Puerto Rico | $25,000 |
| Hapag-Lloyd | $20,000 | TransAtlantic Lines | $20,000 |
| Hyundai Merchant Marine. | $30,000 | Turkon Container Transport & Shipping | $15,000 |
| Iowa Interstate Railroad | $25,000 | Union Pacific Railroad Co | $25,000 |
| K-Line America | $25,000 | United Arab Shipping Co | $25,000 |
| Kansas City Southern Railway | $25,000 | Virginia International Terminal | $25,000 |
| MACS Maritime Carrier Shipping | $25,000 | Wan Hai Lines | $25,000 |
| Maersk Agency USA | $25,000 | XPO Stacktrain | $25,000 |
| Matson Navigation Co | $20,000 | Yangming Marine Transport | $20,000 |
| Matson Navigation Co of Alaska | $25,000 | Zim American Integrated Shipping | $25,000 |

Take another course in Truck Insurance 101
Click on an article below to get up to speed fast!