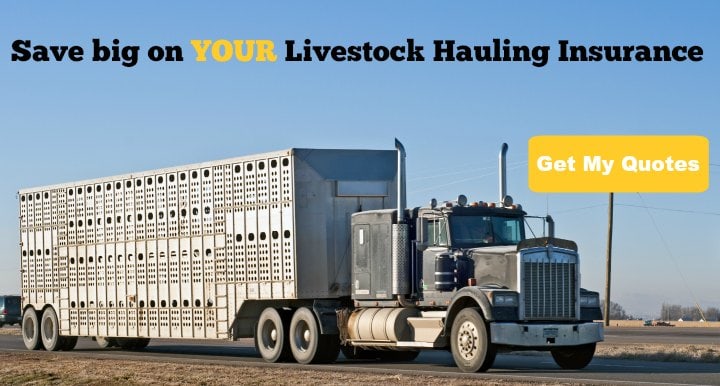 Get 3 Livestock Transportation Insurance Quotes
Truckers who haul live animals have special needs when it comes to insurance and getting the best deal can be tough. The best way to save money is to shop around.
We can help by bringing you 3 agents that will compete for your livestock transportation policy.

Livestock Insurance Companies
If you are shopping around for a policy that will cover you while hauling livestock, you've probably already discovered that most truck insurance companies won't offer coverage. This is simply because it's a class of business that has unique risks. You need an insurance company that understands livestock haulers and can properly cover your business at a respectable price. Whether you are hauling pigs, cattle, horses, bulls, or any other livestock, we can bring you three agents that will shop the market and compete for your policy so that you can get the best deal.
Livestock Hauling Risks
Escaped Livestock- If your trailer tips over during an accident your livestock might escape and cause other accidents on the road. Recapturing the animals can be a big and costly challenge too.
Death or Crippling- Many things can happen while hauling a load that can result in the mortality or injuring of the livestock. From accidents to heat, to issues loading, sometimes the animals will die or become crippled.
Deck Collapse– Livestock trailers often have a second or upper deck that can fail and collapse under the weight of the animals and can lead to a devastating loss.
Livestock Cargo Insurance Coverages
Selecting the right coverages for your policy not only safeguards your livelihood, it also reduces your premium. If you haul horse, pig, cattle or other animal loads there are unique risks that you face that demand specialized cargo coverage with that in mind. Some common livestock transport insurance coverages include:
Livestock Transit Coverage (Broad) – This coverage pays for livestock killed or crippled during a run. It covers you regardless of how the livestock or cattle was hurt.
Livestock Transit Coverage (Limited) – This coverage pays for livestock killed or crippled during a run but only covers you in circumstances that you choose.
Additional Property Coverage – Bullwagons can haul non-living cargo, too. This coverage insures any cargo you haul other than livestock.
Carcass Removal – This policy feature pays for the expense to remove any dead animal from your trailer.
Coverage after Transit – This coverage is similar to livestock transit coverage but insures the livestock after it's been unloaded.
How Much Does Livestock Hauling Insurance Cost?
Due to the nature of livestock hauling, insurance can cost anywhere between $6,000 and $12,500 a year for a complete package policy. Where you fall in that range depends on a few things, including:
Types of livestock you haul (Special/High value animals? Horses? Dairy Cows?)
Type of trailer you use- Single Deck? Multi Deck? Gooseneck?
The livestock specific coverages you choose
Who are you hauling for? A farm? A packer?
Your radius of operation
The deductible and coverage limits you choose
Whether you pay in monthly or yearly installments
Whether you're a cow hauler, pig hauler, bull hauler, or a horse hauler, you need an insurance company that knows livestock transit. Most of those factors are out of your control. One thing in your control is which insurance company you choose.
A major provider of livestock transit coverage is Hartford, but getting multiple quotes will make sure you are getting the best deal. Shopping around is one surefire way to lower your premium, and we've made that process easy.
We can connect you with three different trucking insurance agents who will compete for your livestock hauling policy for free. We also can help you shop no  matter what type of agricultural products you haul— grain haulers, milk haulers, you name it! Get started now!