Are you hauling hazardous materials and need a truck insurance quote? Don't get 1 quote. Get 3!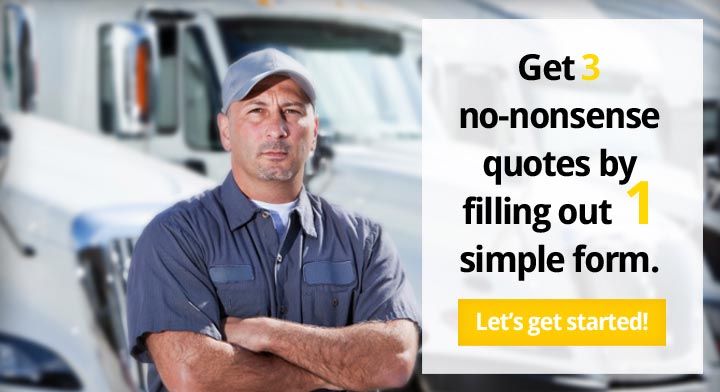 Insurance for hazardous materials haulers is not cheap. Premiums vary widely between companies so it pays to shop around. We can help you save by bringing you 3 agents to compete for your policy.
It's quick and easy to get comparison quotes and get the best deal!

Find the Right Hazmat Truck Insurance Company
As a trucker involved in the transportation of hazardous materials, you need commercial insurance to protect yourself, your truck, and the public from the risks that come with this operating this type of business.
Whether you're a new venture or an experienced hauler looking for a cheaper insurance provider, this article will help you understand the particulars of hazmat insurance and how to find the right insurance coverage for the risks your trucking operation faces.
Hazmat Trucking Insurance Cost
How much is hazmat truck insurance? Most hazmat insurance polices range from $12,200 – $28,000 per year, with the average truck insurance policy being $19,189. These prices assume you need the whole package and are not leased-on or just looking for a mono-line coverage. Of course the price you will pay depends on many factors with one of the top factors being the insurance company you pick!
The insurance rates that you pay are definitely going to be higher than for someone that is hauling hay because of the increased contamination risks involved in transporting hazardous goods. The upside is you can also make more per mile because of the increased danger and difficulty.
The marketplace for truckers that transport hazardous materials is horribly inefficient. The premiums will vary widely between commercial truck insurance companies, and that's why it's imperative to compare multiple quotes from different providers.
We will work with you to compare different quotes until you find a policy to protect your assets at the best price.
Insurance Requirements for Hauling Hazmat
For starters, while most truckers are required to have a minimum of $750,000 in liability, you will most likely have to have limits of $2,000,000 or $5,000,000 in liability coverage depending of the hazardous materials hauled. Some commodities that are considered hazardous are only required to have $1,000,000 in coverage, though.
Haulers of hazardous cargo must also comply with safety-sensitive requirements, as mandated by the Federal Motor Carrier Safety Administration (FMCSA), State and federal governments.  These requirements include:
maintaining proper placards
keeping up-to-date Commercial Driver's License (CDL) endorsements
following all applicable regulations
Typical Hazmat Insurance Coverages in a Commercial Truck Insurance Policy
It's crucial to have the right insurance coverage to protect your trucking operations and ensure public safety. Hazmat truck insurance policies typically include:
Liability Insurance: This type of coverage is required by law and covers damages to other people or property caused by your truck.
Excess Liability: This insurance provides added protection against large claims that exceed your liability limits.
Physical Damage: This coverage protects your tractor and trailer against collision damage and pays for the cost of repairs or replacement.
Truck Cargo: Make sure your broker or insurance agency protects your trucking company by matching your cargo coverage to the types of hazardous cargo you are hauling.
Pollution Liability – CA9948: This is essential for hazmat haulers, as this coverage can help cover the cost of site cleanup of any discharge of pollutants that may spill during transport or loading and unloading.
General Liability: A GL policy tailored to hazardous haulers may include coverage for wrongful delivery of liquids or other incidents specific to the transport of hazardous materials and non-trucking related claims.
Workers Comp: This mainly covers injuries that your workers sustain while on the job. Workers compensation for Hazardous Transport operations is hard to find because of the nature of this line of work, but we can help here.
Additional coverages to consider:

Loan or Lease gap insurance in case your truck equipment depreciates in value below your loan amount.
Truck rental reimbursement coverage in case you need to rent a truck while yours is being repaired. This insurance can help you stay profitable by eliminating downtime.
What cargo is classified as Hazardous Materials?
Hazardous Materials come in several classes and are regulated by the US DOT. The FMSCA breaks down the different types of hazardous materials into different classes:
Class 1 – Explosives
Class 2 – Gases
Class 3 – Flammable Liquid
Class 4 – Flammable Solid
Class 5 – Oxidizing Substances ; Organic Peroxides
Class 6 – Poisonous (Toxic) and Infectious Substances (*difficult to insure)
Class 7 – Radioactive Material (*difficult to insure)
Class 8 – Corrosives
Class 9 – Miscellaneous Dangerous Goods (ex hazardous wastes, marine pollutants)
Do You Need Hazmat Truck Insurance?
The EPA and DOT are involved in classifying and labeling materials as hazardous or extra hazardous. If you haul anything deemed hazardous then you will need special coverages.
The following are some examples of materials that are classified as hazardous. Most of the time will be hauled in tankers, but not always!
Adhesives
Fuels (Natural Gas, Gasoline, Ethanol, Kerosene, Diesel)
Fracking Chemicals
Cleaning Compounds
Contaminated Soils
Fertilizers
Waste Solvents
Batteries
Pesticides
Fireworks
Biohazards
Anhydrous Ammonia
If you haul any of these, you already know that it's more expensive to insure. You do have choices, though, for your insurance.  Comparing is key and you could save thousands of dollars per year by getting quotes from the right companies.
Fuel Hauler Insurance
Of all the types of commercial trucking hazmat operations, perhaps fuel haulers are the largest segment. It is estimated that 1/8th of all freight hauled in the United States each year is fuel or fuel related.
Because of this there the risk is more understood and fuel insurance programs have developed to meet the specific needs of these operations.Fuel Hauling Transportation Insurance Programs have been developed to specifically help the fuel hauling industry operations:
Petroleum Haulers
Bulk Oil Haulers
Liquid Natural Gas Haulers (LNG)
Liquid Nitrogen Haulers
LPG Haulers
Salt Water Haulers
Gas Haulers
Diesel Haulers
Propane Gas Haulers
Home Heating Oil Haulers
Chemical Haulers
It is important to compare your insurance options here as there could be thousands in savings from one policy to another. If you have a fleet of fuel haulers, the savings could be hundreds of thousands per year.
Does your agent or broker shop all the markets every year? The insurance marketplace is incredibly dynamic and changes all the time. We can help get you comparison quotes at renewal time to help you make sure you are paying current market rates.
Hazmat Violations will increase your rates
Make sure follow all the Federal Hazardous Materials Regulations. A violations can drastically increase your semi insurance premiums and put the public at risk. Keep your coverage costs down by playing it safe.
The #1 hazmat violation that turns up in roadside inspections is Violation 177.834A – Package not secure in vehicle.
This violation results in an "Out of Service" violation 95% of the time!
To keep your insurance rates down and to protect the public, you need to keep a tight reign on your safety. Other major violations that will knock you out of service are not having Shipping Papers or the proper placards.
Get 3 Truck Insurance Quotes from 3 Insurance Agencies
Hazardous materials trucking can be quite lucrative. While safety is a top priority, you can keep more of the money you earn by saving on your insurance.
Everyone claims to offer superior insurance products and services. But only one insurance service can truly be the best. Thats why It's important to shop around and find the leading provider of hazmat truck insurance that can meet your specific insurance needs.
We also know that operating a commercial trucking business is tough and that you need hazmat truck insurance. Our goal make the shopping process for this type of insurance easy. Finding the best price is just one variable. Finding a policy that allows you to pay monthly, and with a low down payment may or may not be more attractive to you than the total annual premium.
Our team here at HQ can connect you with different trucking insurance agents to offer you the right hazmat truck coverages and also secure the most competitive terms.
Commercial Insurance Quotes for every type of Hazmat Hauler
If you are haul anything hazardous, we can help you get affordable truck insurance quotes… in every situation:
All 50 States
Hauling any type of Hazardous Cargo
All types of Commercial Operations
All Trailer Types
Owner Operators
Fuel Hauler Fleets