Are you hauling hazardous materials and need a truck insurance quote? Don't get 1 quote. Get 3!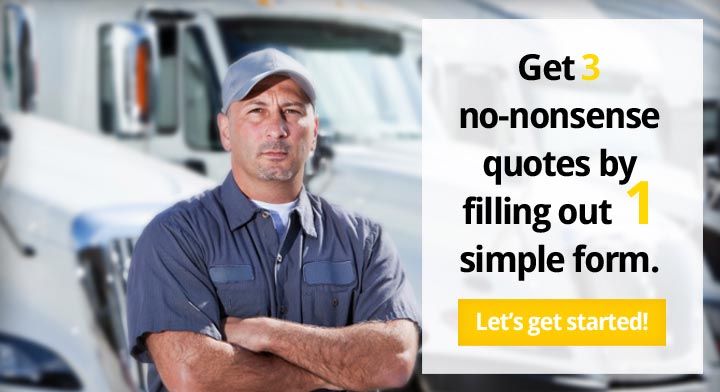 Insurance for hazardous materials haulers is not cheap. Premiums vary widely between companies so it pays to shop around. We can help you save by bringing you 3 agents to compete for your policy. It's quick and easy to get the best deal!

Hazmat Insurance Rates
The insurance rates you pay for transporting hazardous materials or hazardous waste are obviously going to be higher than if you were hauling hay. For starters, while most truckers are required to have a minimum of $750,000 in liability, you will most likely have to have $5,000,000 in liability coverage. Some commodities that are considered hazardous will only need $1,000,000 in coverage, though.
Here's a few examples of typical hazardous materials that trucks haul:
Adhesives
Fuels
Chemicals
Cleaning Compounds
Contaminated Soils
Fertilizers
Waste Solvents
Hazardous Materials Trucking Insurance Requirements
It's no surprise that this is the most heavily regulated type of cargo that you can haul. The FMCSA has their own rules and so does each State. You need to make sure your insurance agent has experience writing hazmat policies. You may need a pollution endorsement, so make sure your agent knows semis and the ins and outs of the various coverages, endorsements, and exclusions you will need.
Hazmat Violations
will

increase rates

Make sure follow all the Federal Hazardous Materials Regulations. A violations can drastically increase your semi insurance premiums and put the public at risk. Keep your coverage costs down by playing it safe.

The #1 hazmat violation that turns up in roadside inspections is Violation 177.834A – Package not secure in vehicle.

Truckers that have this violation get an Out of Service violation 95% of the time!

To keep your insurance rates down and to protect the public, you need to keep a tight reign on your safety. Other major violations that will knock you out of service are not having Shipping Papers or the proper placards.
Hauling in these States?
States where most of the deaths due to hauling hazardous materials are New York, Texas, Ohio, Florida, California, Arizona, Louisiana, Pennsylvania, Michigan, Colorado, Indiana, New Jersey, Georgia, Virginia, Minnesota, Illinois, Alabama, South Carolina, Kentucky, Missouri, Wisconsin, and Hawaii.
These states had 1 or less deaths due to hazmat hauling: Kansas, Oregon, Maryland, Washington, Connecticut, Oklahoma, Iowa, Tennessee, Massachusetts, Rhode Island, Nebraska. Arkansas, West Virginia, New Mexico, Delaware, Utah, Idaho, Alaska, Maine, New Hampshire, Mississippi, Nevada, Montana, South Dakota, North Carolina, Vermont, North Dakota, Wyoming.
It's no surprise that the more populated states have more accidents.
Save big on Hazmat Transport Insurance by getting 3 quotes.