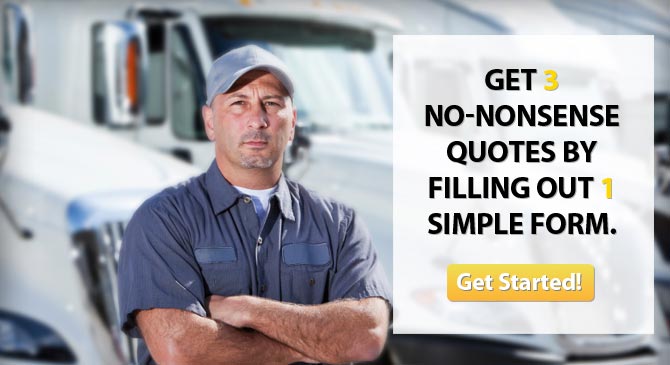 Need Insurance? Get connected with three different agents who'll compete for your business!

The Federal Motor Carrier Safety Administration lists interstate insurance requirements on its website. The basics are simple enough. If you're trying to get your Operating Authority (MC number), the FMCSA requires that you first get public liability insurance with coverages for both bodily injury and property damage.
Interstate Truck Insurance Required by the FMCSA
Public liability Insurance is an important coverage for interstate truckers to have because it protects them and the public from accidents where the trucker is at fault. The Bodily Injury portion of liability insurance pays for hospital bills of pedestrians or other motorists hurt in accidents. Property Damage, meanwhile, pays for repairs to other people's property damaged in an accident.
The FMCSA requires interstate truckers to meet minimum limits of coverage. In other words, if a trucker is at fault in an accident that does $500,000 worth of damage, the FMCSA wants his insurance policy to cover at least $500,000. In this scenario, a policy that only covers up to $250,000 wouldn't cut it.
Your minimum required limit depends on the type of freight you haul.
| | |
| --- | --- |
| Type of Freight | Minimum Limits |
| Non-hazardous freight moved in vehicles under 10,001 lbs. | $300,000 |
| Non-hazardous freight in vehicles over 10,001 lbs. | $750,000 |
| Oil moved by For-Hire & Private Carriers | $1,000,000 |
| Other Hazardous Material moved by For-Hire & Private Carriers | $5,000,000 |
Keep in mind that these are the bare minimum limits. Many shippers and brokers require you to have at a liability limit of at least $1,000,000 regardless of what type of material you haul.
Are There Other Required Insurances for Interstate Truckers?
In order to get your operating authority and MC number, you need only proof of the public liability insurance as explained above. However, in practice, you will need a few other coverages.
Cargo Insurance
Cargo insurance covers the goods hauled in your trailer. While it's not required by the FMCSA to have this type of insurance, for-hire interstate owner operators need it anyway. Most shippers that you work with will refuse to do business with an O/O not carrying cargo insurance. The typical limit for cargo insurance is $100,000 but this amount can change with the type of cargo you haul.
Bobtail
If you're an owner-operator with primary auto liability insurance, then you are not required to get bobtail insurance. On the other hand, if you're leased on to a motor carrier and you are running under their authority, you might need bobtail insurance. Your lease agreement will specify which coverages exactly you're responsible for.
Physical Damage
Physical Damage Insurance—insurance that protects your personal tractor or trailer from accidents on the road—is required if you finance your truck. If you own your truck outright, it's still a smart coverage to have because just one accident could become a financial disaster.
Save on Interstate Trucking Insurance
The easiest way for interstate truckers to find insurance online is to use our service. Fill out one form and we'll bring you 3 agents to compete for your business. Good luck and enjoy the savings!