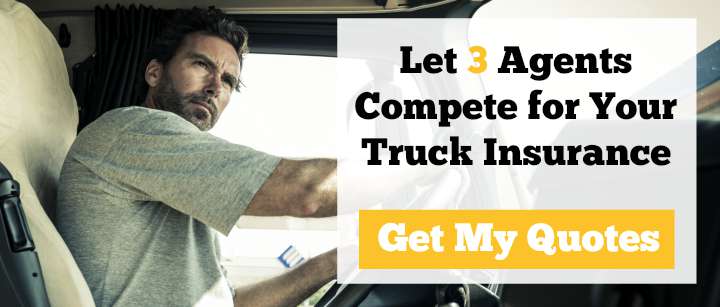 Want the best deal on LTL Truck Insurance? Save big by letting 3 agents compete for your policy. It's Fast, Free, and Efficient!

Find the Best Less Than Truckload Insurance Company
When it comes to insuring your rig and your Less Than Truckload (LTL) freight, you need a policy that's robust enough to reliably protect you, your truck, and your cargo from accidents that can happen on the road. A good LTL insurance company will help you tailor a policy that covers the things you need while ignoring the things that you don't.
Finding a good less than truckload insurance company can be difficult. That's why we've set up this free Request 3 Quotes Page, which will get you in touch with three different LTL insurance brokers who can offer you three different policies. You compare their offers and decide for yourself which one is right for you.
Less Than Truckload Insurance Coverages
Your insurance agent will offer you several coverages, some of which are optional. It's your job to decide which ones you need. Here's a list of the most common coverages for both twin-screw tractors and single-axle tractors doing LTL runs.
Liability Insurance – Legally required coverage that covers the property of other motorists when you're at fault in an accident. This insurance includes:
Bodily Injury — covers medical bills if the other motorist is harmed physically.
Property Damage – covers the costs associated with replacing destroyed property.
Collision Coverage – Covers the costs of fixing your tractor or trailer in a collision. A collision usually means with another vehicle, but not necessarily.
Comprehensive Coverage – Covers the costs of fixing or replacing your tractor or trailer in an event other than a collision. Ex: fire, theft, weather damage, and animal damage.
Cargo Insurance – Insures your freight while on the road. Shippers usually require LTL motor carriers to have 100k in coverage. You will have to specify which types of freight you want to insure, e.g., electronics, produce, plastics. If you change freight types regularly, find an insurance company who can reliably send you a new insurance certificate on the fly.
Loading and Unloading Insurance – Another crucial coverage for LTL truckers. Cargo insurance doesn't typically cover freight while it's being loading to or from your trailer. This coverage removes those gaps.
Bobtail Insurance – Insures tractors when they aren't hitched up to a trailer, but they're still under dispatch. This coverage is especially useful for truckers who drive their trucks home from work.
Towing and Storage Coverage – After an accident, this coverage pays for the tow truck and other related expenses.
Combined Deductible – Instead of paying multiple deductibles for liability, collision, cargo, and so on, you pay only a single deductible per accident.
Debris Removal Coverage – Pays for the clean up of cargo spilt on the roadway.
Earned Freight – In the event of an accident that prevents you from completing a delivery, the insurance company will reimburse you for lost income.
How Much Does is Cost to insure an LTL operation?
The cost of less than truckload insurance depends on several factors, which include:
Your area of operation
Your driving record
Your driving experience
Your coverages
Your limit
Your deductible
How to Lower Your LTL Insurance Premium
While you don't have control over how long you've been a LTL trucker, you do have control over your limit and deductible. A lower limit means that the insurance company is willing to pay out a smaller maximum amount after an accident, but they will give you a lower premium. Likewise, a higher deductible means you'll pay more out-of-pocket after an accident, but you'll see a lower monthly rate.
Lowering your limit and raising your deductible puts you at financial risk in the event of an accident. One thing that's totally risk free, though, is simply shopping around. Truckers who compare the policies of multiple agents naturally end up with a lower premium in the end.
Visit our Request 3 Quotes page to get in touch with three different agents who will each send you an offer. From there you can pick the one that works best for you.