Looking for a hotshot trucking insurance quote? Get 3 quotes and save!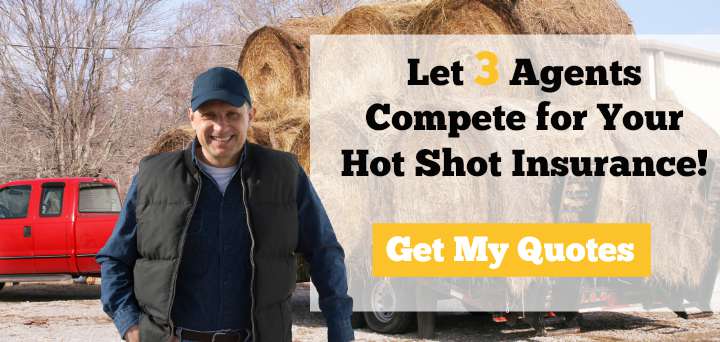 Whether you are starting a new hot shot operation or shopping your renewal, we make it easy for hot shot truckers to find the best deal by bringing 3 truck insurance agents to compete for your business.
Comparing quotes from different hot shot trucking insurance companies could save you thousands. Our service is fast, free and effective.

What kind of insurance do I need for hot shot trucking?
At a minimum you need to meet the federal and state liability limits.  Unforeseen perils are everywhere, so you'll need the proper specialty trucking insurance to cover you and to show the load brokers and shippers that you can meet their hotshot insurance requirements.
The best insurance company for hotshot trucking is the one that properly covers you at the best price and allows you to haul the loads that match your business plan.
What are the Hot Shot Trucking Insurance Requirements?
The FMCSA requires $750,000 in liability insurance coverage to cover others' bodily injury, physical damage/property damage insurance and environmental restoration after an accident. However, most load brokers and shippers require $1,000,000.
A minimum of $5,000 in cargo insurance is required, but shippers typically will want to see $100,000.
Physical damage coverage for your truck and trailer, although not required if your equipment is paid off, is a must for your own financial protection. Consider a higher deductible to reduce your premium.
Additional coverages to consider are general liability medical insurance payments, pollution coverage, and debris removal.
A Commercial Driver's License is required for hot shot loads above 10,000 pounds.
You'll need a DOT# and MC# if you cross state lines or depending on your truck's GVW.
IRP (International Registration Plan) registration for your truck and PTI (Permanent Trailer Identification) for your trailer may be required.
Make sure MCS-150 and BOC-3 filings are up-to-date, if required.
What is Hot Shot Trucking Insurance?
Hot shot insurance, sometimes referred to as expediter's insurance, developed around the unique risks encountered when smaller trucks (class 3, 4, and 5) are used to haul expedited loads instead of class 8 semi trucks. A policy will cover your truck, trailer, and cargo.
Hotshot Truck Coverage –  Hot shot haulers are mostly using a heavy duty pickup truck, usually a dually. You'll see a lot of Chevy Silverado 3500s, Super Duty Fords, Ram and GMC one-ton pickup trucks. These trucks aren't cheap and they take beating, so proper physical damage insurance coverage is a must.
Hotshot Trailer Coverage – Hot shot truckers use various trailers to increase their hauling flexibility and expand their number of potential clients. The trailers need to be insured too because of their high replacement cost.  Many hotshots will use a 20 to 40 foot gooseneck trailer. Deckover trailers and lowboy trailers allow for significantly larger commercial hot shot freight.
Hotshot Cargo Coverage – Most hot shot deliveries are local (although some are nationwide!) and often involve the quick delivery of heavy equipment, construction materials, or machinery. Hot shot car hauling is also gaining marketshare. Hotshotting in the oilfield's of Texas and Oklahoma is also popular when oil prices and demand are high. Each commodity has a different risk and will be underwritten differently by the insurance companies.
Top 3 Hot Shot Cargo Insurance Considerations
Based on what most choice jobs will require, you'll need $100,000 in coverage.  It's important to remember that this coverage needs to match your hot shot freight.
Find insurance with the flexibility to be temporarily changed to match the loads you are hauling. If you come across a high paying load that you aren't normally covered for, you want to quickly get the right cargo endorsements and limits to be qualified to haul that load.
Another important detail to consider: If you are hauling multiple less-than-load (LTL) loads on one trailer and have multiple Bills of Lading (BOL), each load should be insured for up to $100,000. So when simultaneously hauling multiple LTLs with multiple BOLs, you'll need to make sure your policy is designed to handle this. Some polices are flexible enough to bump up coverage on a trip-by-trip basis.
Bottom line: Make sure you find an insurance agency that understands hot shot trucking and has a flexible hot shot insurance program to prove it.
Review Your Hotshot Insurance Quote
Make sure your quote accurately reflects your radius of operation and what you will be hauling.  In the event of a loss, this protects you from potentially having your claim denied with the insurance company arguing that you were never covered for your particular operation in the first place.
Also double check the deductibles and limits and make sure you are covering your potential business liabilities. The name of the game, always, is to find the best complete coverage at a great rate.
Insurance for a Startup Hot Shot Business
Commercial hot shot insurance is one of the foundations of your business. It protects you from catastrophic loss and gets you in the game on the load boards.
When you do find the right insurance policy for your hotshot business, one way to save money is by paying the premium in full instead of in monthly payments. Paying in full could save you 10-20%. So you might drop a $7,000/year policy to $5,600/year just by paying in a lump sum.
Keep in mind that if you are a startup hotshot business, many would recommend you start out by paying monthly until you are sure of your cash flow. With determination and hustle, you can succeed…but there is nothing wrong with hedging your bets.
If you have a pickup truck and can manage tight delivery time windows, hot shot trucking can be lucrative. A hot shot truck driver is typically paid per mile, and your experience and truck capabilities can help you negotiate premium rates and the best mile pay. Hot shot truckers can gross close to $200k per year. The more you can control your expenses, the more you will take home. We can help you keep in check one of your biggest expenses: hotshot insurance.
Get 3 Quotes for Your Hot Shot Insurance – FAST!
Hot shot truck drivers play a vital role in hauling less-than-truckload (LTL) freight and freight that needs to be expedited. Today, hot shot trucking has become a popular way to move freight fast.  These trucking expediters deliver smaller, time-sensitive loads to their destinations faster than big rigs can.
With hot shot insurance costs ranging from $7,000-$12,000, it really does pay to shop around. Not every truck insurance company welcomes hot shots, so finding the ones that do can be tough. Shopping for multiple quotes from different hotshot insurance companies is even harder and more time-consuming.
Thankfully, we've done the hard work and have agencies licensed in your state ready to compete for your hot shot policy.
Don't hunt down 3 agents. Let them come to you!