Looking for a hotshot trucking insurance quote? Don't get 1 quote. Get 3!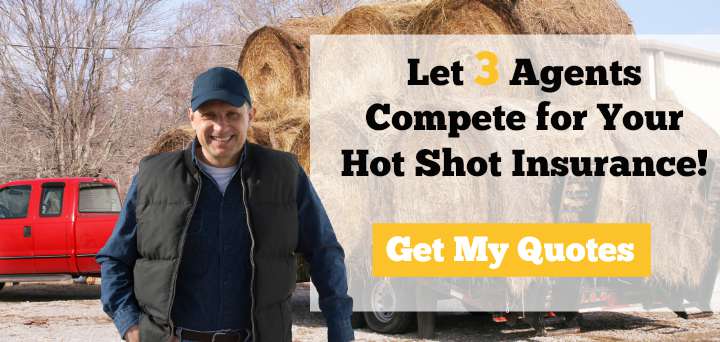 Whether you are starting a new hot shot operation or are shopping your renewal, we make it easy to find the best deal by bringing 3 truck insurance agents to you, to compete for your business. Finding the right insurance company for you could save thousands. Our service, that brings 3 agents to you, is fast and free and effective.

Hot Shot Truck Insurance Requirements
If you can find the loads, this line of trucking can be very lucrative. You play a vital role in hauling LTL and freight that needs to be expedited. You'll need the proper insurance to cover you and to show the load brokers and shippers that you can meet their insurance requirements.
The FMCSA requires $750,000 in liability coverage. Most load brokers and shippers require $1,000,000 though.
Minimum required is $5,000, but shippers will want to see $100,000 in cargo insurance
Physical Damage coverage for your truck and trailer, although not required, is a must, unless your last name is Trump.
Most states require a CDL. With a CDL and experience, you'll pay less for your insurance.
DOT# and MC# if you cross State lines.
Possibly IRP registration for your truck and PTI for your trailer.
MCS-150 and BOC-3 Filings
Cargo Insurance Considerations for Hotshots
You'll need $100,000 in coverage and this coverage needs to match what you are hauling. Find insurance that matches the loads you are hauling with the flexibility to be temporarily changed, at a moments notice, if you come across a great load that you aren't normally covered for.
If you are hauling multiple loads on one trailer and have multiple Bill of Ladings, each load needs to be insured for up to $100,000. So when hauling multiple LTLs with multiple BOLs you'll need to make sure your policy is designed to handle this. Some polices are flexible enough to bump up coverage on a trip by trip basis. Make sure you find a broker that is flexible and understands Hot Shots.
Review your truck insurance quote application
Some agents may try to cut corners on your application to find you the best deal. Make sure to disclose the types of loads you will be hauling and your radius of operation, and make sure to see the application itself. This protects you because in the event of a loss, the insurance companies may say you were never covered for your particular operation in the first place. The name of the game is to find the proper coverage at the best price.
New Hot Shot Operations
When you do find the right policy, one way to save money on your insurance is by paying in full. The cost of your policy might drop from $7,000/yr to $6,200/year just by paying in full. If this is your first year in business, though, most hot shots would recommend that you pay monthly in case your business doesn't get off the ground. With determination and hustle in the first year, you can succeed, but there is nothing wrong with hedging your bets.
Get 3 Quotes for Your Hot Shot Insurance
With hot shot insurance costs ranging from $6,000-$12,000, it really does pay to shop around. Not every truck insurance company welcomes hot shots, so finding the ones that do can be tough. Shopping for multiple quotes is even harder. Thankfully, we've done that hard work and have 3 agents in your State that are ready to compete for your hot shot policy.
Don't hunt down 3 agents. Let them come to you!