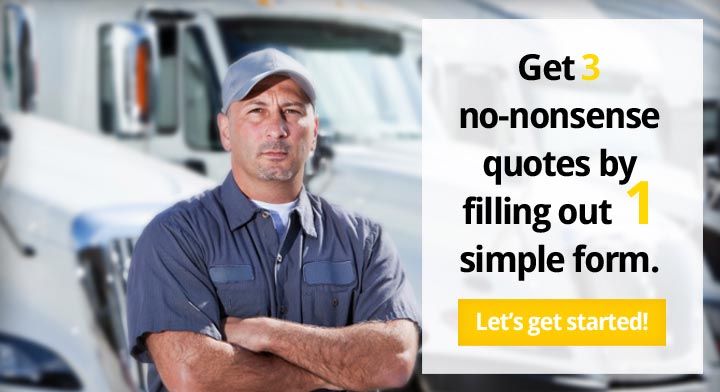 Want the best deal on your Trucking Insurance? Save big by letting 3 agents compete for your business. It's Fast, Free, and Efficient!

Did you know there are over 50 Commercial Truck Insurance Companies?
The Best Semi Truck Insurance Company
Where can you find the truck insurance company with the best price and coverage? That depends on your unique situation. Some companies are more competitive than others depending on several factors:
What cargo you haul
Longhaul or Intrastate?
Your safety record
CDL experience
When you find the big truck insurance company that is most competitive with your unique combination of factors, you'll be surprised how much you can save.
Factors Semi Truck Insurance Companies Use
Operation Type

Radius of Operation

Fleet Size

1-4 Power Units

5-20 Power Units

20+ Power Units

Experience

1-2 years in biz
3+ years in biz
CDL Experience
Driver Age

Coverages

Other Factors

Credit Score
OOS Violations
MVR Reports
Previous Losses
Multiple Truck Insurance Quotes is a Must
The different types of trucking operations are nearly endless. The trick is to find the one truck insurance company that is the most competitive with your particular business.
You may be an intrastate log hauler from California with 4 trucks. Sure, a lot of insurance companies might write a policy for you, but you need to find the one that is the most competitive with small fleet CA log haulers. You'll save big by doing this.
The problem is that it's hard to find that company. By getting multiple quotes from multiple agents you will be shopping a bigger percentage of the market and greatly increase your chance of finding a better deal.
USA Truck Insurance Company Directory
Take a look at how many truck insurance companies there are in the American market today. If you got a high renewal quote or are shopping for truck insurance as a new venture, shopping around is the best way to reduce insurance costs for your particular trucking operation. Don't hunt down 3 agents. Let them come to you!
Shop more of these companies at once
Find the best trucking insurance company for your operation by letting 3 agents compete for your business.
Just fill out 1 quick form and we'll bring 3 truck insurance brokers to you. They are each appointed with different companies and will shop the market and bring you their best quote.
May the best agent win and enjoy the savings!