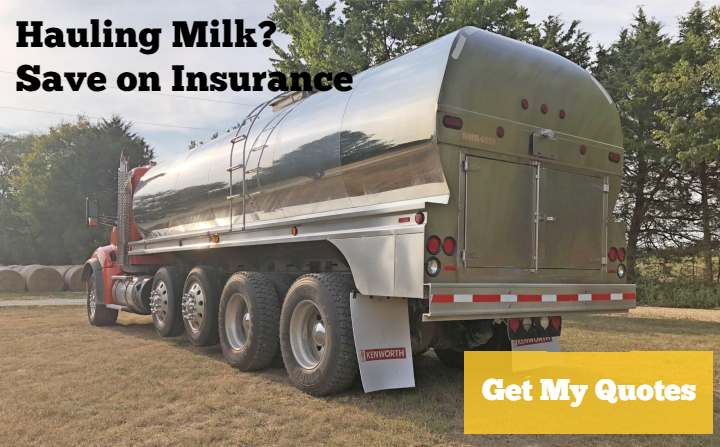 Hauling milk and need truck insurance?  It pays to find agents that are competitive with and understand the milk hauling industry.
We make the shopping easy. Just complete 1 short form and we'll bring up to 3 agents to you to compete for your policy. Simple!

Find the best Milk Truck Insurance
Cows are consistent and so are the loads. There are pros and cons with all commodities, but milk haulers don't struggle with finding loads.
Running a milk transport business, you want to be as profitable as possible. One way is to haul more loads, to make more money. The other is to cut expenses. Finding the best insurance policy for your milk hauling operation could save thousands a year. Shopping and finding competitive quotes can be tough since not everyone understands or has access to the companies that insure milk haulers.
Our service steps in to help make that easy. We'll connect you with up to 3 different agents that can offer you different quotes. That way you actually have something to compare and choose from.
It's fast and free to see what's out there. Get started here.
Risks Milk Haulers Face
Increased Surge – Milk tankers are smooth bore and don't have baffles. This contributes to increased surges, which of course increases the likelihood of losing control of the vehicle when stopping or making turns.
Spoilage and Contamination – With any food grade hauling operation, spoilage and contamination are key risks. Failures in the cooling system can ruin a load.
Fatigue – Many raw milk haulers routinely work long hours. 16 hour days is not uncommon. From testing milk samples to cleaning the pump system to actually hauling milk, the work goes on and is intensive. Fatigue is a leading cause of accidents and while prevalent in many types of trucking operations, is par for the course when hauling for dairy farms.
Lower Milk Hauling Insurance Premiums
Comparison Shop. The best way to lower your premiums will always be to shop around. Every year, your situation changes. Every year the insurance companies change as well. New companies come in when they see an opportunity and out price their competitors. Some companies that were competitive last year, no longer have acceptable premiums. Comparison shopping helps make sure you are not overpaying.
Safety. Maintaining a safe operation. Insurance love trucking companies that hire good drivers and maintain their equipment. For safe milk truck operations there is a lot of competition for your premium dollars.
Pay in full and raise deductibles. If you have the cash, these are two things that are in your control that work 100% of the time to lower the amount you'll pay.
Ask for discounts. Have you ever heard, "you have not because you ask not"? It's true with trucking insurance discounts. Some companies give discounts for deer guards. Some for bundling coverages. Ask what's available and make sure your agent is plumbing the depths of what you could qualify for.
Get involved. Joining milk hauling associations can keep you informed of the ins and outs and changes in the industry. Check out the International Milk Haulers Association. Or WHMA if you are in Wisconsin.
Correct Coverage Amounts – Getting the right limits for liability, cargo, physical damage, general liability, and other coverages is a must in keeping you policy premiums low.
What does it cost?
How much does milk hauling insurance cost? This depends on several factors, like your experience, loss history, equipment value, the insurance company quoting you, and even the state where your truck is garaged. Many class 8 trucks pay $10,000 per year, or more. Some less. The biggest factor, though, in what you'll pay depends on your unique set of variables.
This is why it's so important to get multiple quotes. There is such a wide range of premiums between the insurance companies, and they all weight different criteria differently. Your best deal will be with the company that understands your risk the best and is the most competitive.
Shop around and get up to 3 milk transport insurance quotes! We can also help you shop for insurance no matter what farm related products you haul, including: livestock, grain, produce, bees, fertilizer, farm equipment.