Are you in trucking and need an Occupational Accident Insurance Quote? Don't get 1 quote. Get 3!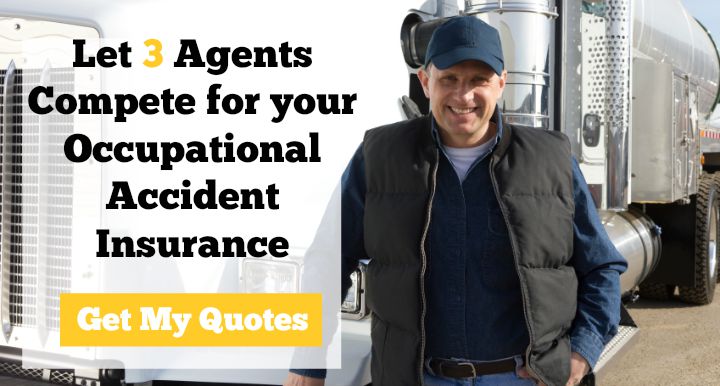 To get the best policy on occupational accident for truckers, you need to shop around with agencies that know trucking.
Get 3 quotes from different agencies that write occupational accident insurance.  Get the best deal.
It's fast, efficient, and free!

Three Ways to Save on your Occupational Accident Policy
Cutting expenses is a great way to increase your profitability as a Motor Carrier. Many Motor Carriers opt to have truckers lease on to them as an independent contractor, instead of hiring a W2 driver.
The reason is that Occ/Acc trucking policies can be less expensive, than Workers comp.
Even though Occupational Accident is cheaper than WC, there is still plenty of money that can be saved by getting the best Occ/Acc policy.
You never want to sacrifice coverage, but if you can find great coverage at a better price, that only helps the bottom line. Here are 3 ways to bring down your costs.
1. Compare Occupational Accident Insurance Companies
Trucking is a more dangerous industry than pencil pushers. Motor carriers, more so than other businesses, have to worry about their workers getting hurt on the job.
The difficulty in choosing the right workers comp and occupational accident insurance for your truckers is compounded by the fact that truckers pass through different states with different occupational injury laws, which may or may not be covered by your current policy.
Bottom line, you need options to compare to first find a policy that handles the nuances of a trucking business, and at the best price.
2. Customize your Coverage
When you set up your occupational accident insurance policy, there are a few choices you must make, including:
The liability limit for an accident
The amount of disability benefit provided to the injured party
The amount of death benefit provided to the injured party's family
Your deductible
Raising the deductible and lowering the liability limits and pay-out amounts will decrease your monthly premiums.
Lower limits could increase your exposure in the event of a dispute. It's best to work with an experienced agent that can help protect your business with the right amount of coverage.
3. Get Contingent Liability Insurance (for motor carriers)
Occasionally independent contractors who were hurt on the job and who received what they deemed an inadequate amount of compensation have sued their motor carriers for workers compensation. Their lawyers claim that they were not independent contractors at all but instead company employees.
These lawsuits are sometimes ruled in favor of the independent contractor and the motor carrier ends up paying for it.
If you provide your truckers with reasonable occupational injury insurance, this can mitigate these scenarios. But if it doesn't and you get sued and lose, it can seriously damage your company.
In addition to choosing reasonably high limits, you might want to look into contingent liability insurance. This protects your company in the event that an independent contractor sues and claims they are actually an employee and eligible for workers compensation.
So go with high limits and get contingent liability to lower your overall exposure.
Get 3 Occupational Accident Insurance Quotes
The best way to lower your occupational accident insurance premium is to begin talking to a few different insurance agents and compare multiple quotes. Request a free quote and we'll get you in touch with three different occupational accident agents who'll compete for your business. Get started now.