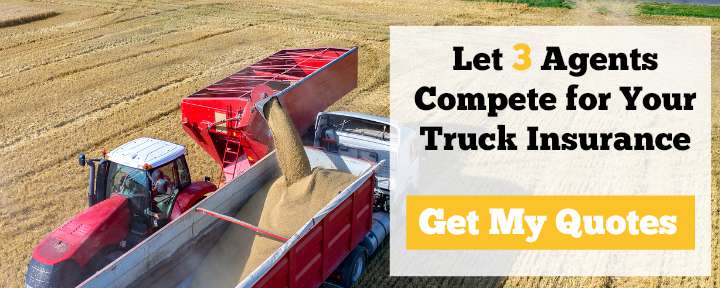 Let 3 Ag Truck Insurance Companies Compete!
You need to find an insurance company that understands the ag business and the specific risks you face.
Connect with up to 3 different agricultural truck insurance agents that will compete for your business. Different agents shopping the market on your behalf gives you the best chance of finding the lowest rate.

Insuring all types of Ag and Farm Trucking Companies
The advantages of hauling farm related commodities is clear. Shorter hauls, home more often, and usually you get to interact with some good people and build relationships. Lower insurance is also another key benefit. It's just less risky to haul most farm based commodities. Plus many farm products are considered exempt commodities.
Yep! Hauling agricultural freight has it's advantages! It's important, then, to find an ag insurance company that meets your unique needs. We have network of agents that can help all types of haulers compare what's out there:
Hay Haulers
Horse Haulers
Produce Haulers
Farm and Ranch Equipment
5 ways to Lower your Agriculture Truck Insurance Cost
Most heavy trucks cost around $10,000-$15,000 per year to insure. Thankfully, due to the lower risks that ag trucks face, the premiums are usually on the lower end of the range, and in some cases, below $10,000. This doesn't include "limited use agricultural vehicles insurance", we are talking for-hire, class 8 trucks here.
Be mindful that this is the average, and depending on where you live, how long you've been driving, and how many trucks you're insuring, your rate can go up or down. There are, however, several proven ways to get cheap farm truck insurance. On the whole, though, insurance for a truck used in the ag business will be less than other types of trucking companies.
1. Compare Rates from Multiple Agents
This will always be the best thing you can do for your wallet. Sometimes the first agent you speak to will offer you the lowest price for your tractor or truck, but not always. It's important threfore to compare. We can help by bringing you different agents so you can get true choices. That's what we do and our service is free for you use.
2. Stay up to date on farm regulations
An agent that understands the ag industry, understands that the rules keep changing. Stay up to date on farm regulations that impact your business, like ELD exceptions and exempting loading /unloading times for certain commodities. There's a couple of bills to be watching: The Modernizing Agricultural Transportation Act (S. 3051) and The Transporting Livestock Across America Safely Act (H.R. 6079, S. 2938).
3. Keep a clean history and have experience
It's no secret. Truckers without losses, pay less. The same goes for experience. New ventures pay more. Hiring drivers with good track records, maintaining your equipment, and fostering a culture of safety in your operation are things you can do to minimize your chances of having losses and paying more for insurance.
4. Get the right coverages and limits
Don't need roadside assistance? Nix it. No longer need refrigeration protection? Let your agent know. The proper coverages for your truck agribusiness will lead to your best premium outcome. But don't opt out of something that you could potentially use later. It's better to be safe than sorry. Reviewing your policy each year for proper coverage is a must. Your limit is the highest amount an insurance company is willing to pay per loss episode. Premiums are lower for lower limits. Make sure your operation is not over or under-insured.
5. Raise your Deductible and Pay once a year
If you have enough cash on hand, consider raising your deductibles. In the event of an accident you will be responsible for a higher out-of-pocket cost, but you also won't have to pay as high a premium. Also, if you pay your entire premium in a lump sum, the insurance company should offer you a lower rate. If you have the money on hand, do this. It'll save you money in the long run.
Ag Trucking Insurance Coverages
Since each ag operation is different based on the types of materials it hauls, no insurance policies look the exact same. For example, a milk tanker doesn't need the same protections that a grain hauler does.
Below you'll find a list of the most common types of coverages found in an agriculture truck insurance policy. From there you can determine which coverages you need.
Liability Coverage – When you're at fault in an accident, this coverage pays for damage done to others' property. Most for-hire truck companies need between $750,000 and $1,000,000 of coverage.
Collision Coverage – Covers damage done to your tractor or trailer during a collision.
Comprehensive Coverage – Covers damage done to your vehicle outside of a collision. Examples of non-collision damage include vandalism, fire, theft, and acts of nature.
Cargo Insurance – Insures the freight you carry. The price of this coverage changes based on which commodities you choose to insure.
Refrigeration Protection/ Reefer breakdown– If the refrigeration system in your reefer breaks down, this coverage pays for the replacement of destroyed perishables.
Debris Removal – Pays for the pick up of non-hazardous cargo spilt on the roadway.
Want the best deal on your Agricultural Truck Insurance? No matter what ag products you haul, save big by letting 3 agents compete for your policy. It's Fast, Free, and Efficient!