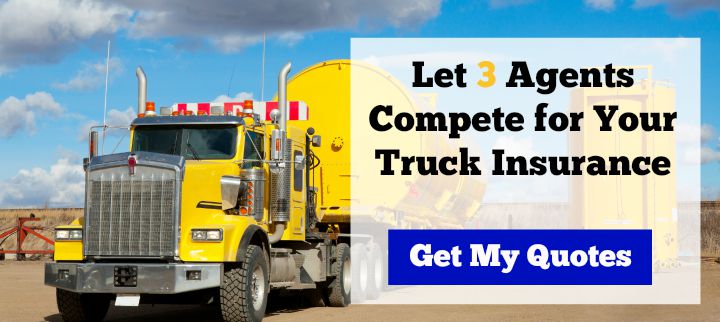 Want the best deal on insuring your tanker truck insurance? Save big by letting 3 agents compete for your business. It's Fast, Free, and Efficient!

Let 3 Agents Compete
No matter your area—Texas, Florida, New York, Ohio, or California— insuring your tanker operation isn't cheap. We can help you get the best deal by bringing you 3 agents that will compete for your business. With 3 agents competing, you'll quickly zero in on the policy that covers your operation at the best price.
Find the Best Tanker Insurance Company
Driving a tanker has it's risks. If your hoses detach when loading or unloading you can have a giant mess.  Tankers require more stopping distance, slower turns, and greater following distances. Insurance companies are of course aware of these risks and some over compensate with premiums that are too high. Finding the right oil tanker insurance company is crucial to your truck and your livelihood.
Before you finally choose a tank truck insurance company, you should first look at what multiple companies offer. Comparison shopping is the only way to make sure you are getting the best deal. We make this part easy by bringing 3 agents to compete for your business. Don't hunt down 3 agents, let them come to you!
How much does Tanker Truck Insurance Cost?
A major insurance cost factor is what you haul in your tanker. Hauling water a premium might be 9-12k per while hauling hazardous materials could reach 30-50k per year! Some of the most common tanker trucks are:
Water haulers
Milk haulers
Natural Gas haulers, Oil haulers, and Gas haulers
Chemicals haulers
Liquid Nitrogen haulers
Dry Bulk haulers
But if you're an experienced driver with a clean record, this amount will drop. Other factors that influence your premium include:
Your radius – Local, Regional, Longhaul
Your payment plan – fewer installments will lower the overall price.
Your deductible – A higher deductible means you pay more out of pocket after an accident, but your premium does go down.
Your limit – A lower limit means a lower premium, but leaves you more exposed.
Your coverages – fewer coverages make you more susceptible to financial responsibility after an accident. Opt out of coverage only when necessary.
Coverages for Tanker Trucks
Liability Insurance – Required coverage that protects other motorists when you're at fault. It includes:
Bodily Injury – which pays for medical bills if the other driver is hurt
Property Damage – which pays for damage done to a vehicle or other piece of property
Collision Coverage – pays for damage done to your truck or fuel tanker in an accident involving another vehicle.
Comprehensive Coverage – pays for any losses you experience from something other than a collision. This includes fire, theft, and damage from animals.
Specified Peril – also known as Combined Additional Coverage, or CAC, this covers a specific type of damage that you choose. Tank truck drivers will often choose fire damage for this coverage.
Cargo Insurance – insures your freight from accidents. This insurance is more costly for oil tankers, and other hazardous commodities.
Pollution Liability – This covers you if your load spills and pollutes the environment.
Debris Removal – Important for Oil Tankers, this coverage pays for the clean up of any non-hazardous spilt cargo.
Earned Freight – If you're in an accident and your shipment can't be delivered, the insurance company pays for any lost income.
Get 3 Tank Truck Insurance Quotes
Find the right insurance policy with the right coverages for your tanker operation. Use our Request 3 Quotes Form to get in touch with three different tanker insurance agents for free. From there you can select the tanker insurance company that most closely meets your needs.