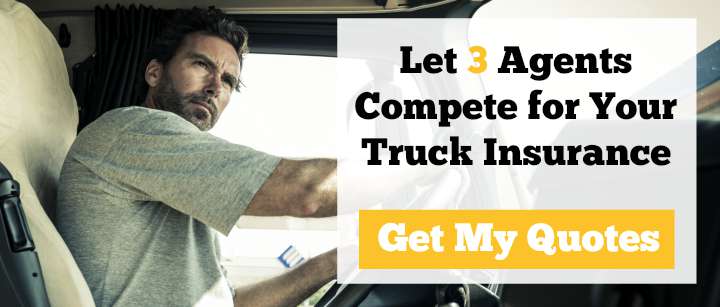 Get the Best Steel Haulers Insurance for Your Rig
After hazmat, steel is one of the most dangerous types of freight to haul. Because of that, insurance companies stick steel haulers with higher rates. But it is possible to get a decent rate on iron/steel haulers insurance. The trick is to shop around.
We can bring you 3 different insurance agents that write steel haulers to compete for your business. Each of these agents will offer you a different plan and you can pick for yourself the one that best suits your needs (and your wallet).

How much does Steel Hauler Insurance Cost?
Since it's so dangerous, steel hauler insurance is more costly than other types of hauled commodities. Cabs have been split in two after slamming on brakes when steel poorly secured steel came loose. Ideally, you can make more cpm hauling steel to more than make up for the higher insurance.
A heavy hauler that pulls steel, aluminum, or iron typically costs between $9,000 and $12,500 a year to insure. Where you fall on that spectrum depends on your:
Driving record and experience
Radius of operation
Payment plan
Coverages
Limits
Deductibles
A policy that covers an experienced driver within a small area of operation with few coverages, low limits, and high deductibles will end up costing less. However, a trucker with a policy like that is susceptible to severe financial damage should an accident actually occur. It's better to get a policy with reasonable limits and deductibles that covers everything you need than to get a policy that saves you a little money upfront but is worthless when you actually need to use it.
Steel Hauler Insurance Coverages
If you regularly haul steel coils, aluminum or steel ingots, T-bars, iron castings, or beams in your flatbed trailer, the insurance company considers you a steel hauler and will approach you as such. These are the coverages that they'll recommend you get. Most, if not all, are good ideas for those in the steel hauling industry.
Liability – Coverage that pays for others' damaged property when you're at fault in an accident.
Collision – Coverage that insures your tractor and flatbed trailer from any damage inflicted by a collision with another vehicle.
Comprehensive – Coverage that protects your rig from things like fire, theft, or natural disasters, but not from other motorists.
Cargo – Insurance that covers the freight you haul if it is damaged on the road.
Loading and Unloading – Cargo insurance that reimburses you if any damage is done while you're loading freight onto or off of your trailer.
Ramp, Chain, Tarp, and Binder Coverage – Coverage that protects the equipment you use to secure cargo to your trailer.
Towing and Storage – Roadside assistance that pays for a tow truck and storage after an accident.
Combined Deductible – Policy feature that protects you from paying multiple deductibles for each different coverage.
Sue and Labor – Coverage that insures against any further damage following a reported accident.
Debris Removal – Coverage that pays for the removal of any freight dropped onto the roadside after an accident.
Earned Freight – Coverage that reimburses you for lost income if you can't complete a delivery due to an accident.
Find a Steel Hauling Insurance Company Now
Finding the right commercial insurance company can be a pain. They're hard to find, they're difficult to talk to, and their prices vary widely.
Whether you're in Tennessee, Virginia, Indiana, or Ohio, the best approach to finding the right steel hauler insurance company is to use our quote request form to get in touch with three insurance agents today for free. They'll each send you a quote and you can compare them for yourself. Get started now!