Are you hunting for a Pennsylvania Commercial Truck Insurance Quote? How about 3 quotes?
Compare PA Truck Insurance Quotes
To get the best deal on your semi truck insurance you need to shop around. Let us help by bringing you three Pennsylvania Truck Insurance Agents that will compete for your business.
Just fill out our short online form and you'll get three competitive quotes from three top agents in PA. Simple!

How Much Does Truck Insurance Cost In Pennsylvania?
The average cost for commercial truck insurance in PA is $14,055.
Most premiums range from $12,247 to $17,631.
These cost estimates are based on truckers with one truck operations who need insurance for liability, cargo and physical damage. There are many factors that drive the cost such as: what you are hauling, your driving history, and how long you have been in business.
2 Real Examples Of Truck Insurance Costs In PA
1 Truck Based in Pittsburgh
| | |
| --- | --- |
| Experience | Over 3 Years |
| Radius | Interstate, Unlimited Miles |
| Cargo | General Freight |
| Operation | For Hire |
| Premium | $12,557/yr |
1 Truck Based in Lancaster
| | |
| --- | --- |
| Experience | New Venture |
| Radius | Interstate, Below 500 Miles |
| Cargo | Motor Vehicles |
| Operation | For Hire |
| Premium | $15,578/yr |
Perhaps the largest variable for what you will pay is the insurance company that you choose. For truck insurance, it's the norm for prices to vary by thousands of dollars for the same trucker! Sometimes the difference can even be over $10,000 for the same operation.
You can't control how long you've been in business, but you can control what insurance company you choose.
So it really pays to shop around. Our service makes it easy to get quotes from different companies, so you can zero in on the best coverage and cost combination for your trucking business. Compare quotes and lower your insurance costs here.
3 Truck Insurance Agents in Pennsylvania
You need to find agents that specialize in truck insurance to get the right coverage at the best price. We've done that and found three of the best truck insurance agents in PA. With three agents quoting your policy you will have much broader access to the entire market of truck insurance companies. The agents will work diligently to earn your business, but only one will become the winner.
Shopping for truck insurance has never been this easy. Don't waste your time tracking down three agents. Instead, let them come to you. Let's get started!
Commercial Truck Insurance Companies in Pennsylvania
Finding the best trucking insurance company in PA for your outfit can save you thousands. Some of the insurance carriers with the best premiums can be difficult to find though.
The companies below write 81% of the truck insurance polices in PA.
Top 10 Truck Insurance Companies in PA
Agency Insurance Company of Maryland / AIC
Canal
Daily Underwriters Of America
Eastern Atlantic
Erie
Great West
Northland
OOIDA
Progressive
Sentry
There are also over a dozen truck insurance carriers in PA that have the remaining 19% marketshare.
You do have choices when it comes to insuring your truck and we can help you. It's just a matter of smart comparison shopping to get the best price.
Compare quotes from different companies here.
Trucking Ins. Coverages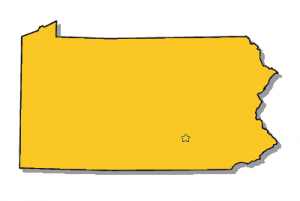 Pennsylvania and the FMCSA have specific insurance requirements for semis. If you have your own authority, some coverages are mandatory, like primary liability. If you are a for-hire owner operator, you may be looking for physical damage truck insurance, bobtail coverage, and non trucking liability.
No matter what type of coverage your operation needs, you'll get quotes from three truck insurance brokers. Click on a coverage below to learn more about it, then fill out our short form to get your quotes.
Pennsylvania Truck Insurance Requirements
Pennsylvania law asks local truck drivers and new ventures to have a minimum amount of liability insurance. The amount you need depends on what freight you haul and where you haul it. If you never cross state lines, you must get a PA PUC # and have a minimum amount of insurance:
| | |
| --- | --- |
| $750,000 | Liability Insurance (General Freight) |
| $1,000,000 | Liability Insurance (Oil Transport) |
| $5,000,000 | Liability Insurance (Hazmat) |
| $300,000 | Liability Insurance (Household Goods) |
| $5,000 per vehicle cargo insurance | Cargo Insurance (All carriers) |
The insurance requirements for truck drivers who do cross state lines are more thorough. In addition to the above, you must comply with all the DOT truck insurance requirements recommended by the FMCSA. Typical federal liability limits are between $750,000 and $1,000,000.
Both Pennsylvania and the USDOT require certain filings be submitted by your insurance agent. Your insurance agent or insurance company should take care of these filings for you. These forms inform the government that all your semi truck insurance requirements are fulfilled. They must be submitted before you can receive your authority. Some common forms include:
Form H
The BMC-98
Form MCS-97
Form E
Specific Insurance for Owner Operators in Pennsylvania
No matter what type of operation you have, we have you covered. Our agents have access to cheap truck insurance for all of the following operation types:
Handy Pennsylvania Trucking Resources
Pennsylvania Department of Transportation
Pennsylvania Department of Motor Vehicles
Pennsylvania Motor Truck Association
Pennsylvania Department of Insurance
Your Operation is Unique
You might be a local or a long hauler. Maybe you're a new venture or a hotshot. You could be a leased owner operator from Philadelphia or a fleet manager in Pittsburgh. Maybe you haul hazardous materials or wheat. All that to say, no two trucking companies are alike. Your insurance policies need to be designed for your situation.
Since different truck insurance companies prefer different types of risks, it's a good idea to shop around and find a company that is competitive with writing insurance for your type of operation. The bottom line is that you want cheap truck insurance without sacrificing coverage.
Get 3 Competitive quotes in all Pennsylvania cities
No matter what city you live in our network of Pennsylvania insurance brokers are ready to give you a quote. We cover all cities including…
Allentown

Erie

Reading

Scranton

Bethlehem

Bensalem

Lancaster

Abington

Levittown

Harrisburg

Haverford

Altoona

York

Penn Hills

State College

Wilkes-Barre

Norristown

Chester

Mount Lebanon

Warminister

Bethel Park

Williamsport

Monroeville

Drexel Hill

Lower Burrell
We also can give you multiple quotes in the neighboring states as well: NY, NJ, MD, WV, OH