Are you searching for a  Delaware Commercial Truck Insurance Quote? Don't get 1 quote. Get 3!
Compare Delaware Truck Insurance Quotes
To get the best price on your semi truck insurance you need to get multiple quotes. Let us help by bringing you three Delaware Truck Insurance Agents that will compete for your business.
Fill out one short online form and you'll get three competitive quotes from three top agents in DE. Easy!

3 Truck Insurance Agents in Delaware
You need agents that specialize in truck insurance to get the right coverage at the best rate.
We've done the hard work for you and located three of the best truck insurance agents in DE. The agents, like alpha-rams, will lock horns in their battle to write your policy, but only one will emerge the winner.  With three agents quoting your policy you will have much broader access to the whole market of truck insurance companies.
Shopping for truck insurance has never been this easy or efficient. Don't waste your time hunting down three agents. Let them come to you. Let's get started!
Commercial Truck Insurance Companies in Delaware
Finding the best trucking insurance company in DE for your outfit can result in huge savings. Some of the insurance carriers with the best premiums can be difficult to find though.
The companies below write 88% of the truck insurance polices in DE.
Top 10 Truck Insurance Companies in DE
Canal
Daily Underwriters Of America
Donegal Insurance Group
Lancer
National Indemnity
Northland
OOIDA
Progressive
Scottsdale
Sentry
There are also over a dozen truck insurance carriers in DE that have the remaining 12% marketshare.
You do have choices when it comes to insuring your truck and we can help you. It's just a matter of smart comparison shopping to get the best deal.
Compare quotes from different companies here.
Trucking Ins. Coverages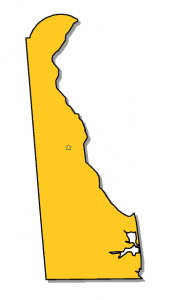 Delaware and the FMCSA have specific insurance requirements for semis. Some coverages are mandatory, like primary liability. Others, such as physical damage truck insurance and bobtail coverage, are just smart to have.
No matter what type of coverage your operation needs, you'll get quotes from three truck insurance brokers. Click on a coverage below to learn more about it, then fill out our short form to get your quotes.
Delaware Truck Insurance Requirements
Delaware state law asks local truckers and new ventures to keep a minimum amount of liability insurance. The amount you need is determined by what freight you haul and where you haul it. You must maintain a minium level of insurance:
| | |
| --- | --- |
| $5,000,000 | Liability Insurance (Hazmat) |
| $300,000 | Liability Insurance (Household Goods) |
| $750,000 | Liability Insurance (General Freight) |
| $1,000,000 | Liability Insurance (Oil Transport) |
The insurance requirements for truck drivers who leave the state are more extensive. In addition to the above, you must meet all the DOT truck insurance requirements recommended by the federal government. Most federal liability limits are between $750,000 and $1,000,000.
Both Delaware and the USDOT require certain filings be submitted by your insurance agent. Your insurance agent or insurance company should take care of these filings for you. These forms show the government that all your semi truck insurance requirements are fulfilled. They must be submitted before you can receive your authority. Some common forms include:
Specific Insurance for Owner/Operators in Delaware
No matter what type of operation you have, we can help. Our agents have access to cheap truck insurance for all of the following operation types:
Handy Delaware Trucking Resources
Delaware Department of Transportation
Delaware Department of Motor Vehicles
Delaware Motor Transport Association
Delaware Department of Insurance
Liberty and Independence
With just shy of a million in population, Delaware is a peaceful state to call home. After weeks on the road at a time, it's nice to come back home and relax a bit. We want to add a little bit more to your peace of mind by helping you find the best truck policy. It's a nice feeling to know that you aren't overpaying for something, and the extra money in your wallet I'm sure can be better spent.
The state motto, Liberty and Independence, closely resembles our goals of changing the way you shop to insure your rig. We never claimed not to be cheese balls, but we can help you get to the best deal fast.
Get 3 Competitive quotes in all Delaware cities
No matter what city you live in our network of Delaware insurance agents are ready to help. We cover all cities including…
Wilmington

Dover

Newark

Bear

Middleton

Brookside

Glasgow

Hockessin