Get the best insurance quote on Drive-Away Trucking by comparing three agents at once. Get started now!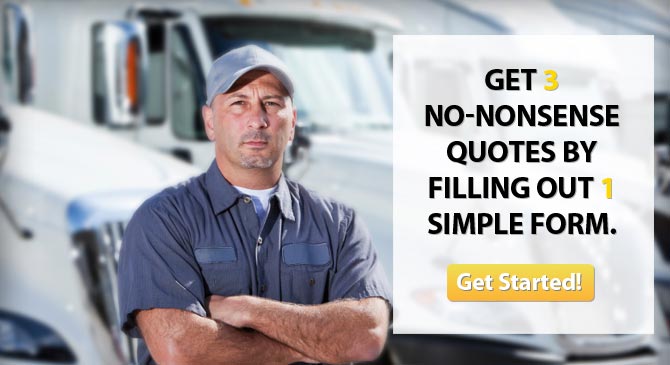 Whether you're a drive-away trucker who does singles, booms, or deckers, you're going to need insurance. The problem is finding it. Just because an agency writes tractor-trailer insurance, they may not wirte policies for drive-away truckers.
We can help.
Let us get you in touch with agents that understand drive-away trucking. They will each offer you their own quote and you can choose which one best fits your operation.

What to ask your drive-away trucking insurance agent
1) Which coverages do you offer?
Owner-operators who specialize in drive-away trucking need most of the same types of coverages that typical truckers need.
Primary Liability Insurance – Required to get your MC number. This coverage protects the public from accidents where you're at fault. You are required by the FMCSA to get a limit of at least $750,000
Cargo Insurance – Insures the vehicles you're hauling. Drive-away companies sometimes provide this coverage in their lease agreements
Loading and Unloading Coverage – Protects your cargo when you're outside your vehicle, hooking up or unhooking your load.
Debris Removal – In the event of an accident, this coverage pays for the pick up and cleaning of spilt cargo
Earned Freight – If there's an accident or miscommunication and your shipment can't be delivered on time, this coverage pays you any lost income
Combined Deductible – This coverage merges all of your coverages into one so that after an accident, you only have to pay a single deductible
2) What are your limits?
Every drive-away trucking insurance quote should carry a policy limit of at least $750,000—the federal minimum requirement. Ask your agent what limits are required in your particular region—the limit requirements in, say, Oklahoma aren't necessarily the same as those in New York.
3) How do you assess risk?
Not all drive-away truck insurance policies cost the same. Your personal details go a long way in determining how much your quote will end up being. Insurance companies evaluate risk based on certain factors, most notably your experience, location, and radius of operation.
4) How is your claims service handled?
The last thing a drive-away trucker needs is to find himself in an accident and unable to reach his insurance company. Make sure that your company can offer 24-hour claims services even on weekends. If they don't, find a different one.