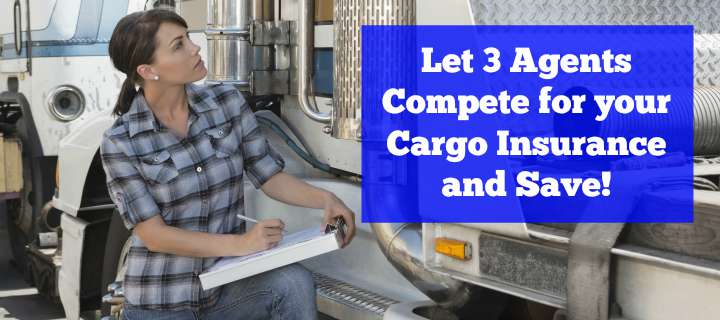 Looking for the best deal on your cargo insurance?
Drive down your cost by getting 3 quotes. Just fill out 1 quick form, let your quotes roll in, and select the winner!

How much does Cargo Insurance cost for Truckers?
Cargo insurance usually ranges in cost from $400 – $1,800 per year for the annual premium.
If you get a standalone cargo insurance policy, you might pay $35 – $150 per month.
There can be great variation between the cost of cargo policies from one company to another. But here are some ballpark figures for cargo insurance cost with different limits:
| | |
| --- | --- |
| Policy Limit | Typical Range in Cost (per year) |
| 50k limit | $400 – $700 |
| 100k limit | $800 – $1400 |
| 250k limit | $1,100 – $1,800 |
How is Cargo Insurance Calculated?
While liability coverage is the most expensive part of a truck insurance policy. Cargo premiums are nothing to shake a stick at.
The 3 biggest factors in determining how much your cargo insurance premium will cost are:
The type of commodity being transported. A shipment of natural gas costs more to insure than, say, a shipment of hard plastics.
The limits of your cargo policy. The most common limits are $100k cargo insurance. If you are hauling cars, though, your limits may need to be $250,000 – $300,000. Some truckers even need 1 million dollar cargo insurance!
Your loss history. Prior losses will most likely be factored in to your premium.
Coverages to look for in a trucker's cargo policy
The cost of cargo insurance also depends on what the policy is covering. Some low cost policies may be tempting, but could be lacking some key coverages. Be proactive with your agent and make you are covering your risk exposures. Here are some of the most common coverages that a cargo policy might include:
Pollution Liability – covers costs to clean up spilt goods like gasoline
Debris Removal – covers costs of removing cargo dropped onto roadways and waterways
Theft – covers losses from burglary of goods
Hijackings – covers losses from hijacked cargo
Sue and Labor Coverage – covers further loss from damaged goods after an incident has occurred
Earned Freight Coverage – covers income lost due to damaged cargo that can't be delivered
Infidelity/Dishonesty Coverage – Covers losses from theft committed by the driver
Water Damage – covers losses from trailer leaks and wetness
Loading and Unloading Coverage — covers losses that occur during the loading and unloading of cargo
Reefer Breakdown – covers losses associated with the malfunction of refrigeration equipment
Get the right coverages and drive down the cost of your cargo insurance by getting 3 quotes!

Cargo Insurance Limits Drive the Cost
Most of the above coverages have their own limits. Have your agent explain the limits of each and decide whether you need that specific coverage or not. Limits can often be raised or lowered as needed. This table gives some of the typical limits for a cargo insurance policy:
| | |
| --- | --- |
| Coverage | Typical Limit |
| General Cargo Insurance | $100,000 – $300,000 |
| Pollution Liability | $10,000+ |
| Debris Removal | $10,000 – $25,000 |
| Earned Freight | $1,000 – $25,000 |
| Catastrophe | $1,000,000 |
Get the Best Combination of Cost and Coverage
The biggest differentiation between truckers is the commodity they are hauling. Steel, Hay, Water, Gas, Oversize, Cars, Logs, Flatbed, and list goes on. It's vitally important to make sure your cargo policy covers what you are hauling and all the scenarios you might find yourself in. Some policies exclude coverage if you leave your truck unattended, for instance.
You don't want to be caught with your pants down if a loss occurs.
The time is now to make sure you are properly covered. There is no sense in overpaying for that coverage though. Shopping around should help you to find the proper cargo coverage at the best price.
It doesn't matter if you are a steel hauler from New York or a car hauler from Miami, we can help you save on your cargo insurance by bringing 3 agents to compete for your business.