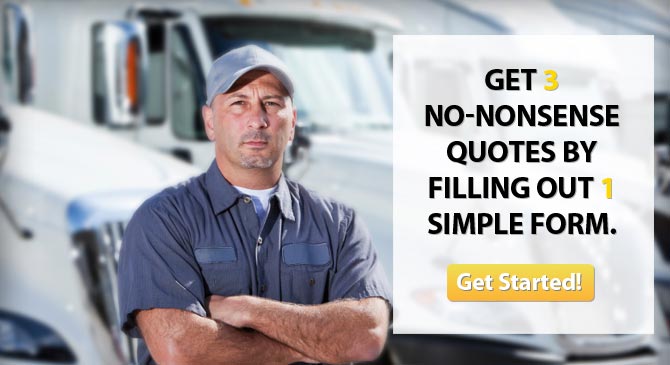 Need insurance for your big truck? Don't get 1 quote. Get 3!
Fill out our quick form and we'll bring you 3 agents to compete for your policy!

What's the Average Price of Big Truck Insurance?
Operating and insuring a big truck is expensive. It's one of the biggest expenses truckers will face. How much this costs the trucker is determined by several things. What material do you haul? How far away do you drive? Where do you live? How many accidents have you been in?
The average price to insure a big truck is $9,000-$12,000 a year. But that's just the average. How much you pay can be higher or lower than that.
The Average Price of Big Truck Insurance by Coverage
Most owner operators bundle their big truck insurance in one package, getting it from from a single agency instead of picking and choosing from several different agencies.
To figure out the price of your insurance, simply pick out the coverages you need and add them all together to get a more accurate price.
| | | |
| --- | --- | --- |
| Coverage | Yearly Cost | Description |
| Primary Liability | $4500 | Insurance required by the FMCSA for O/O which protects the public when you're at fault in an accident |
| General Liability | $400 | Coverage for non-collision-related accidents when you're at fault. Good for business owners |
| Umbrella Policy | $350 | Liability insurance that goes beyond what other coverages offer. Protects you from the unexpected |
| Physical Damage | $2500 | Covers the repairs of your big truck when it's involved in an accident |
| Bobtail Insurance | $375 | Acts as liability insurance when your tractor isn't attached to a trailer. Not required if you have primary liability |
| Uninsured Motorist | $75 | If you're in an accident with a motorist who doesn't have insurance, this pays for damages anyway |
| Occupational Accident | Varies | Protects for-hire O/O from work-related hazards in the place of worker's comp, since they aren't technically employees of shippers |
| Cargo Insurance | Varies | Pays for damages done to any freight involved in an accident |
3 Ways to Lower Your Big Truck Insurance Price
1. Get a Quote from Multiple Companies
Not all big truck insurance companies offer the same rates. Some will jack up the prices for truckers operating in a large radius. Some only take on truckers who've been driving for several years. The trick to getting the best price is finding the insurance company that's the right fit for you.
One easy way to do that is to use our Request 3 Quotes tool. You fill out one short form with your information, and we get you in touch with three agents who meet your requirements. Best of all, the service is free for truckers to use.
2. Opt for a Lump Sum Payment Plan
These big truck insurance companies like to get their money upfront. They'll offer you a discount if you agree to pay your entire premium at the beginning of the year. This obviously costs a lot in that moment, but it actually saves you in the long run, as much as 10% over the course of the year.
3. Consider the Competition
Maybe you already have an insurance provider and you're wondering whether switching to a new provider will save you money. In short, the answer is usually yes. Insurance companies have been known to slightly increase the premium each year.  A thrifty driver can save money by periodically switching his insurance companies.