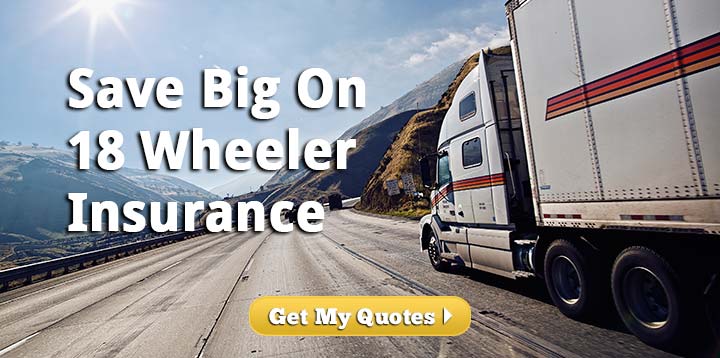 Get Three Quotes on 18 Wheeler Insurance
Whether you are an owner-operator or manage a fleet, you know that getting a good price on 18 wheeler insurance can be tough.
The best way to save money is to shop around and compare quotes from multiple insurance providers. We can help by connecting you with up to 3 agents that will compete for your policy.

Top 18 Wheeler Insurance Companies (by market share)
What are the main insurance companies for 18 Wheelers? The top 5 companies in 2023 for 18 Wheelers are below.
Progressive
Great West
Northland
Sentry
Canal
Did you know that there are well over 100 more companies that write commercial insurance for 18 Wheelers? While there are so many more options for truck insurance quotes today, many of these options are very difficult to find. How will you find the winning commercial truck option, among so many companies, that prices your insurance rates the best?
Getting truck insurance quotes can be daunting. But take courage, our free concierge service will help you locate the top company for you. We help you shop the market, on your terms, without getting bombarded by unwanted phone calls and emails. We will stick with you and help you until you find what you need and your truck insurance is purchased.
Find Your Best Commercial Truck Insurance Policy
Anyone shopping for auto liability on a commercial vehicle will quickly realize that coverage doesn't come cheap. You need to find an insurance agency or direct company that understands insurance for 18 wheelers and can help you meet all your insurance coverage requirements at a reasonable price.
The problem is that it's hard to find the companies that have competitive pricing for your specific trucking business.
We are licensed in all 50 states and can assist with every type of business in the trucking industry. We are experts in the trucking insurance industry and have relationships with independent insurance agents as well as direct companies. Our service intelligently matches your specific operation to the the insurance carriers that are most competitive for you. Then we help you get and compare quotes from these companies.
Whether you haul cars in California, oranges in Florida, oil in Texas or you are New Venture from New York, we will bring up to 3 agents to you who can help. No single agent represents the entire market. With 3 agents you'll be able to get exposure to more companies. They'll shop between truck insurance markets but only one will come back with the best deal.
18 Wheeler Truck Insurance Coverages
What types of insurance do truckers need? The main things covered under a commercial truck insurance policy are:
Commercial Auto Liability – This is the foundation of semi-truck insurance and typically has limits of $750,000 or $1,000,000. Although $2,000,000 policies are starting to get more prevalent now.
Physical Damage Insurance – Damage to your truck or trailer is covered under this part of a standard commercial truck policy. The rates here will depend on the value of your equipment.
Motor Truck Cargo Insurance – This is a critical part of your insurance plan and the place where many agents providing trucking insurance fall short. When driving your truck with a load, you must be 100% sure that the cargo portion of your auto policy is indeed the insurance that you need. Mistakes here can cost you.
Other truck coverages that you may need include:
There are many other commercial auto insurance coverages not mentioned here. The goal is to find the best insurance deal that covers all of your trucking insurance needs. We specialize in helping you get the insurance you need that covers your truck
How much does 18 Wheeler Insurance Cost?
How much is 18 wheeler insurance? The average for-hire owner-operator should expect to pay between $8,000 and $15,000 per year for 18-wheeler truck insurance. The national average monthly cost is somewhere around $958/mo. Keep in mind, this is for commercial for-hire truck insurance. If you are leased on, the cost of your policy will be much less, around $3000 per year, since mostly you just need NTL and PD which covers the truck.
Factors that drive semi truck insurance costs
Insurance underwriters assess risk based on a number of factors. The higher your risk, the more money they will charge you. The biggest factors that companies look at to determine the cost of a policy are:
The value of your truck and trailer
What goods you haul
Your location and radius of operation
What your driving record looks like
Your years of experience you have
If you own your truck but lease on to another trucking company, insurance will be much less since you'll probably only need bobtail liability and physical damage. We can help you in both situations, if you have your own authority, or if you are operating under someone else's DOT#.
Why is trucking insurance so high?
Trucking insurance is high because when truckers get into accidents the damage has a chance to be catastrophic. Insurance premiums are a combination of the frequency of loss and the severity of loss. Since trucking has high rates in both areas, it only makes sense that trucking insurance will be high. With an estimated 1.8 Million trucks on the road, there are a lot of chances for something to go wrong.
Average Cost by Coverage
It's difficult to pin down exactly how much an 18-wheeler insurance policy will cost you particularly—there are just so many variables at play. The biggest variable in determining your insurance cost is the insurance company you go with.
They all price risks differently and the goal is to find the company that understands and prices your risks the best. The coverages you choose will also determine how much you'll pay. To get a better idea of how much your the different coverages within your policy will cost, refer to the table below.
| | | |
| --- | --- | --- |
| Coverage | Yearly Cost | Description |
| Primary Liability | $5000-$7000 | Often provided under a motor carrier's authority, this insurance protects you when you're at fault during an accident |
| General Liability | $400-$600 | Protection from non-collision accidents where you're deemed at fault. This includes incorrect deliveries |
| Umbrella Policy | $500-700 | Provides liability insurance beyond your other coverages. Protects you when there are gaps in your coverage |
| Physical Damage | $2500 | Pays for repairs to your 18-wheeler whether it's damaged from collision, vandalism, theft, or many other incidents. Rate depends on the value of your equipment. |
| Bobtail Insurance | $375-$600 | Covers your tractor when it isn't attached to a trailer. This coverage is typically needed when you are operating under someone else's authority. |
| Uninsured Motorist | $75 | If you're in an accident with a motorist who doesn't have insurance, this pays for damages regardless |
| Occupational Accident | Varies | Protects independent contractors from work-related hazards in the place of worker's comp. Many motor carriers require this coverage |
| Cargo Insurance | Varies | Cargo coverage pays for damages done to the goods you carry |
Risks For Truck Drivers
Hazardous road conditions — Truck drivers across America get into over 500,000 accidents a year. This is due, in part, to truckers who keep rolling in bad weather. It's not totally their fault. When they stop transporting, they stop making money. But drivers who don't heed caution in inclement weather lead to higher rates of accidents and fatalities.
Driver Fatigue — The sleep schedule for an OTR trucker is constantly changing. It's tough to rest well in public places. This takes its toll. A driver doesn't have to fall asleep at the wheel to cause a crash. Sleep deprivation impairs the focus of a driver even while he's awake.
Momentum — Then there's the obvious risk. 18-wheelers are big and heavy. When a semi truck causes damage, it causes a lot of damage.
How to get Cheap 18 Wheeler Insurance Premiums?
You may be asking yourself, "How can I lower my truck insurance?". We get it. Truck insurance can be expensive. Thankfully there are ways to lower your premiums.
Pay annually – When you talk to your agent, ask him what kind of payment plans they offer. If you can pay the whole premium at once, the company might offer a discount that can equal up to 20% of your total premium!
Discuss Discounts – Every insurance company offers a range of discounts to their customers. To find out if you qualify for any of these discounts, just ask! Do you have a deer guard? There might be a discount for that.
Talk to Several Companies – You can't change your risk factors, but there is one easy way to lower your insurance costs—shop around! Different companies will offer you different prices for insurance. The trick is finding those companies to begin with. We've made it easy. Go to our easy quote request page and we'll get you in touch with up to 3 different agents to quote your rig. Our service is fast and free!
6 Things to keep in mind when choosing an Insurance Company
Before you get on the phone insurance providers, there are 6 things you should learn so you know for certain that you're getting the coverages you need at a fair price. Take a little time to review these tips before buying commercial truck insurance.
1) Truck Insurance Providers Will Fight for Your Business
Insurance agents that write 18-wheeler policies all say that they can get you the best deal. That can't be true since only one can be the true champion. The best and easiest way to get good coverage at a low price is to simply shop around. There are plenty of ways to do this. We recommend using our service as we have helped over 100,000 truckers find their best policy and we have been providing insurance solutions for over 10 years.
2) Some Coverages Are Required, some are Optional, some are just good to have
When you get your agent on the phone, explain your exact situation and go over your coverage options. If you're a leased owner-operator, your motor carrier probably already carries liability insurance. Furthermore if you're an independent contractor, you might need occupational accident insurance. Before you agree to any coverages, figure out which ones are required for your specific operation.
3) Your Cost Is Determined by Your Risk
Every 18-wheeler insurance company calculates risk differently, but most rely on a few common factors. They include:
Your years driving an 18-wheeler
Where you live
Your radius of operation
Your age and CDL experience
Your credit history
What kind of truck you drive
These factors tell the insurance company what they can expect from you. An experience driver with a small radius of operation living in a safe part of the country can expect to pay less for his insurance.
4) Down Payments, Monthly Payments, and Lump Sum Payments
Most truckers pay their insurance premiums in monthly installments. The total monthly cost is usually higher when compared to paying in one lump sum. While this payment method is the only option for most budgets, it isn't the only one. By paying in a single lump sum every year or every quarter, you can reduce your insurance cost by a large amount—up to 15-20% in some cases. Be sure to discuss your insurance options so you can build the best truck policy for you.
5) Some Companies Are Slow to Act
Some companies are incredibly responsive. When you call them up with an accident claim or a request for a new certificate of insurance, they process your request within fifteen minutes. Other companies—well, they're a little slower. If you're the kind of trucker who changes cargo insurance frequently, make sure you find the right insurance company that can process a new certificate of insurance quickly… or else lose out on lucrative loads.
6) The Insurance Company Will Eventually Raise Your Rate
It's common practice in the insurance business to raise the cost of the policy at your renewal time. They do this based on changing risk conditions and knowing that many insurance customers will pay the additional premium. If you're concerned about keeping your costs down, simply shop for new insurance providers every few years. There are plenty of companies out there, let us help you find them! Save on commercial truck insurance by using HQ! We will bring you the best providers to compare so you can obtain the best rates.