Looking contingent liability insurance to supplement your occupational accident coverage? Don't get 1 quote. Get 3!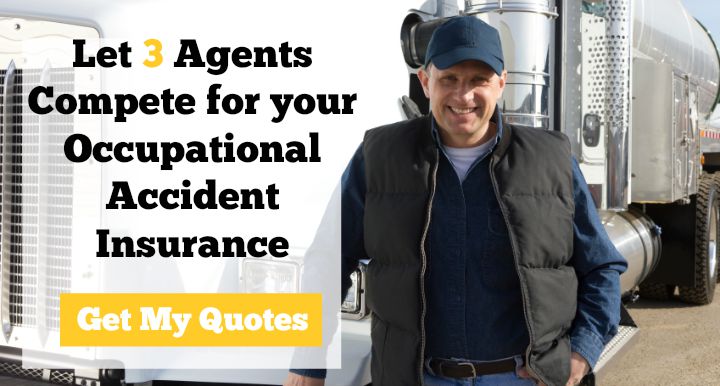 The only way to find the best deal is to shop around. We'll bring you 3 truck insurance agents to compete for your policy. It's fast, free, and most importantly, effective!

What is Contingent Liability Coverage & Do I Need It?
Contingent Liability Insurance Definition: Coverage that protects a motor carrier should an independent contractor claim to be an employee and sue to be covered under workers compensation. This insurance pays for reimbursements should the worker win his settlement and for court costs the motor carrier incurs.
While a motor carrier can glean many benefits from choosing Occupational Accident Insurance over Workers Compensation (benefits like customizable plans, bundled coverage, a lower premium), there are several risks involved with relying on bare minimum coverage alone. A problem motor carriers sometimes face is that an independent contractor will get into an accident and then claim to be an employee of the company in an attempt to collect Workers' Compensation Benefits.
Even though the motor carrier reimburses him in the form of Occupational Accident benefits, it might not cover all their medical expenses. At that point, the independent contractor may insist on the larger payment that Workers' Compensation provides.
What Is an Independent Contractor, Really?
As a motor carrier that hires owner operators under a lease agreement, your relationship with your drivers is clear-cut. They're independent contractors—you know it; they know it. If something happened and they claimed to be employees, there's no ground for them to stand on.
Well, I wouldn't be so sure of that.
An Independent Contractor does all the following things:
Drives for other motor carriers
Uses his own truck, tools, and equipment
Hires and pays assistants
Sets his own work schedule
Makes profits or suffer losses
Has a registered business license
If even one of these criteria is not met, the independent driver can build a case that they are an employee and then might be deemed one by a judge. Without contingent liability coverage you could be on the hook for damages and an expensive lawsuit.
These situations are common. Just Ask FedEx.
In August 2014, the U.S. Ninth Circuit Court of Appeals ruled that 2,300 drivers FedEx had deemed independent contractors were, in fact, employees of FedEx and entitled to Workers' Compensation benefits. This ruling favored the drivers despite the fact that they all owned their own vehicles and were in business for themselves. But they won the case and ended up costing FedEx hundreds of millions of dollars.
If it can happen to FedEx, the 3rd largest shipping company in the world, it can happen to you. Luckily, you can be insured against this sort of thing with Contingent Liability Insurance. To find the best deal on Contingent Liability insurance, we will bring you three agents who'll each offer you a different quote. From there, you can decide which one is right for your business.