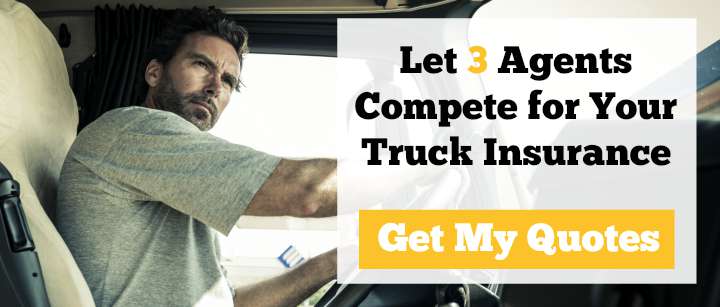 Congratulations on getting your authority! Now it's time to get the best deal on your trucking insurance.
We'll help you save big by bringing you 3 agents to compete for your policy. Just fill out our quick form. It's fast and free.

Some trucking insurance companies are hesitant to take on new authorities. Some won't even write a policy for owner operators without at least a few years experience. Those companies who do accept first year owner operators will often charge astronomical rates. As a new business owner, one of your first big tasks is finding an insurance provider that won't screw you over.
We can help. We've set up a form that will get you in touch with three different trucking insurance companies that do business with new authorities. Comparing several companies at once will give you insight into what you need and what you don't. It'll also ensure you're paying the lowest possible price.
Which Coverages Do New Authorities Need?
The coverages a new in biz trucker needs depends largely on what you are going to be hauling.
Primary Liability – Covers any accident that occurs on the road when you're at fault. This includes collisions with vehicles and other personal property. Required by law.
General Liability – Covers accidents that occur off the road when you're at fault. This includes things like someone slipping and falling inside your place of business.
Physical Damage Insurance – Covers damage done to your truck regardless of who's at fault. Physical Damage coverage consists of two parts:
Collision Insurance – For collisions with vehicles and other property.
Comprehensive Insurance – For non-collision damage, like vandalism or fires.
Cargo Insurance – Covers damage done to cargo while you're hauling it.
Non Trucking Liability – Primary Liability Insurance when you aren't working. This covers you when your truck is being operated, but not for business.
Occupational Accident Insurance – Covers you from work-related accidents that harm your health. Required by many companies.
Umbrella Insurance – Fills in any gaps in your policy.
Where to Start Looking
Since choosing a truck insurance company is a major commitment, it's best to look at several different companies at once, figuring out who offers what and which policy is right for you.
New Authorities from Florida to Alaska have used our service to get shop the market and find the best deal. We believe it's the best way to comparison shop for truck insurance. Get started now!