Need a truck insurance quote in Cincinnati? Get 3 quotes instead!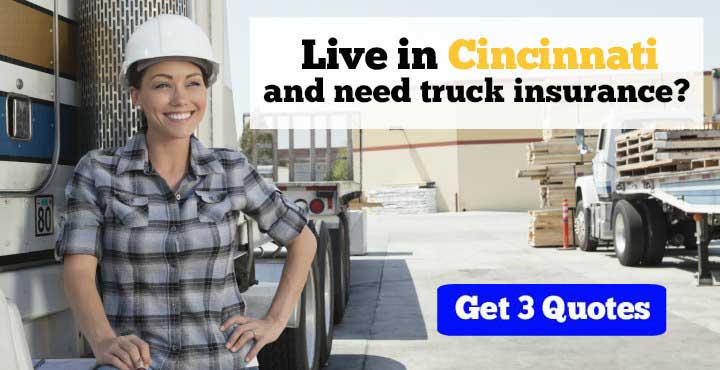 Compare Truck Insurance Quotes
Looking for the best deal on your trucking insurance? Save big by letting 3 agents, licensed in Cincinnati, OH compete for your business. It's Fast, Free and Efficient!

3 Truck Insurance Agents licensed in Cincinnati
It's difficult to find the insurance company that is most competitive with your type of trucking operation. The best way to make sure you aren't overpaying is to get multiple quotes. We have done the legwork out and have 3 top agents licensed in Cincinnati ready to give you quotes.
With 3 agents competing you will have access to a large percentage of the market and a great chance at saving a serious amount of money.
Once the quotes roll in, simply choose the policy has the coverage you need at the best price. Don't waste time hunting down 3 agents, let them come to you!
Commercial Truck Insurance Companies in Cincinnati, OH
Did you know that the city your truck is garaged in will influence your rates? You'll often see cheaper insurance if you are based in a rural area.
The truck insurance companies that have the biggest market-share in Cincinnati in 2020 are listed below.
All together they write 81% of all the commercial trucks in Cincinnati.
Top 10 Truck Insurance Companies in Cincinnati
Auto Owners
Canal
Erie
Great West
Lancer
National Indemnity
Northland
OOIDA
Progressive
Wesco
There are also over a dozen truck insurance carriers in Cincinnati, OH that have the remaining 19% marketshare.
Getting quotes from different companies is almost always worth it. We make it easy for you to compare your choices from both the top rated companies, and the hard to find companies.
Compare quotes from different companies here.
Trucking Insurance Coverages
The FMCSA and the State of Ohio have insurance requirements that truckers must meet. If you have your own authority, you are required to have at least $750,000 of liability insurance. Other coverages, like general liability are just smart to have. If you are leasing on to a motor carrier as an independent owner operator, you could just need Physical Liability and Bobtail.
The important thing is to work out a plan with your agent that covers your own risks and complies with Federal and State laws. Click on a coverage below to learn more about it and then fill out our short form to get 3 competitive quotes.
Cincinnati, OH Resources
Ohio Department of Transportation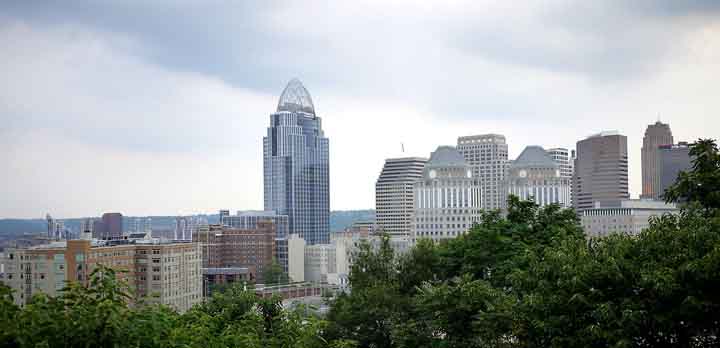 "Downtown Cincy" by 5chw4r7z – Flickr. Licensed under CC BY-SA 2.0 via Wikimedia Commons.
Your Business is Unique
You could have just gotten your authority, or perhaps you are a seasoned Motor Carrier. You might be an owner operator under a lease agreement or manage a fleet of 50 trucks. You might be a long hauler, or maybe you don't even leave the Blue Chip City. The point is that trucking insurance premiums vary greatly from company to company. The hard part is to find the carrier that is most competitive with your operation. This is where our service excels. We'll help you find that company through a truck insurance competition!
If you are in Cincinnati, Hamilton County, or the surrounding area, don't waste time searching for 3 agents let 3 agents come to you!