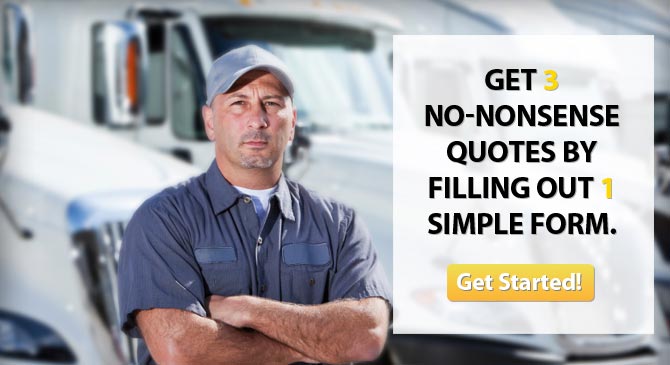 Cheap truck insurance rates can really help your bottom line. To find the cheapest truck insurance, (without skimping on coverage) you need to get multiple quotes. This way you can get the coverages you need, but at a cheaper price.
We can help! We can bring you 3 truck insurance agents to compete for your business. Just compare quotes and select the winner! Easy!

7 Ways To Get Cheap Truck Insurance in 2021
Premiums are going up. Insures have sustained underwriting losses for 5 years in a row now. They have responded by raising rates, almost across the board. So what can you do in this environment to save money and find affordable insurance?
Comparison Shop – With so many truck insurance companies and with rates constantly changing, you have to shop around to get the best deal and lowest cost. While many companies have raised rates, others have seen an opportunity to win your business by lowering theirs.
Match Insurance Limits With Your Risk – If you under insure, you risk your livelihood if something goes wrong. If you over insure you are losing money. Find the right limits for you, and then compare policies that meet your standards.
Good SAFER scores – Keep your log books up to date, you truck properly maintained, and abide by HOS regulations. If you get an Out Of Service Violation, this will jack your rate up.
Pay in Full – If you have the means to do this, your policy could be 6-12% cheaper just by paying for the year in one lump sum.
Raise the Deductible – If you have enough money in reserve to cover a higher deductible, this can also save another 5-10%.
Raise your Credit – Good credit will lower your premiums. It's well worth your time to pull your reports and start cleaning them up.
Ask for Discounts – Do you have a deer guard? Do you have a written safety program? Make sure to get all the discounts you qualify for.
Shop Smart
There is nothing wrong with finding the policy with the lowest rates and the proper coverage. That's just being smart. Just be on guard if you get an unrealistically low quote, though. It's usually low because of 1 of 3 things:
The policy has lower limits of coverage. Not all policies are created equal. Where one might cover $25,000 for cleanup after a cargo spill, another may only pay $5,000. Make sure your policy has limits that make sense for you.
The policy lacks crucial coverage. Truck insurance is often sold in a package that contains multiple coverages: Liability, Physical Damage, Cargo, Bobtail,  Non Trucking Liability. Other coverages like General Liability or Umbrella coverage are sometimes essential but could be left out of your quote.
Misclassification. Some unscrupulous agents may classify your business as something it's not in order to manipulate your rate to appear as a bargain. If your rate is unbelievably low, find out why.
Shop Smart by shopping around!

What is the cheapest truck insurance?
This hard to answer. A fleet with a great safety profile may pay $4,500 per truck, while a New Authority may pay $18,000 – $30,000. There is a lot at stake and to get the cheapest rate on your truck insurance, you need to shop around.
Hard to place risks
If you are looking for cheap truck insurance for young drivers or new drivers, it's going to hard to find an inexpensive policy. If you have OOS violations or BASIC violations, that too will make your policy less economical. Also, there have been some major changes in the insurance market place for new ventures, which have raised premiums to almost unbearable levels for some trying to start a new company. Trucking companies considered high risk are also expensive, and sometimes hard to find any company that will offer insurance. We can help in both 'hard to place' and 'high risk trucking operations' find the best deal on insurance.
Finding a Cheap Truck Insurance Company
There are over 40 main trucking insurance companies and dozens and dozens of smaller ones. It's really hard to find the company that has the best deal for your unique operation.
Whether you are leased Owner Operator or if you have your own authority we can help you get the best deal.
We can help you shop a wide swath of the market by putting 3 truck insurance agents to work. They will hunt for the company with the best deal for you. Put 3 brokers to work and you will quickly and easily find the best deal. Simple!