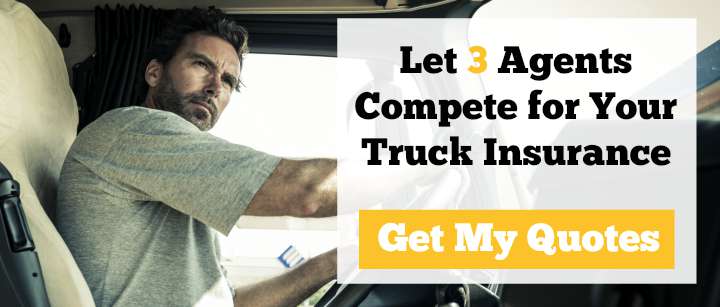 Insurance for owner operators can be expensive. The only way to make sure you aren't overpaying is to get multiple quotes.
We make it easy for you to find the best deal by bringing you 3 agents that will compete for you business. It's fast and free!

Operating under your own authority brings more risk, but more reward is possible. With over 1 million trucking companies, did you know almost 800,000 are owner operators with 1-2 trucks? Owner operators are truly the backbone of the trucking industry.
The insurance required to get your own DOT number and operating authority can cost a bundle though. If you used to operate under someone else's authority, they paid the primary liability insurance. You'll be responsible for that now, and it's the major cost component of a trucking insurance policy.
Which Coverages Do Owner Operators with Own Authority Need?
The main coverages that make up a truck authority insurance policy are:
Liability Insurance – $750,000  to $1,000,000 are normal limits for trucking liability insurance. Some Hazmat haulers need $5,000,000 limits. This coverage protects you if you cause damage to people or property.
Cargo Insurance –$100,000 limits are common here. You may need more depending on what you haul. Also, some shippers won't hire you if you have cargo policies from certain companies. Do your due diligence here as the wrong policy here could cost you loads.  It's also important to insure the goods you frequently haul while excluding goods you never haul.
Physical Damage – Insures your truck against damage taken on the road or from an accident. Physical Damage insurance usually costs about 3-5% of the value of your equipment.
Other Coverages you might need when shopping for Own Authority Insurance
General Liability
Bobtail
Trailer Interchange
Umbrella
Occupational Accident
Workers Comp
No Owner Operator is the same. The way your policy looks will depend on where you haul, how far you haul, how much experience you have, and who you do business with. There are a few questions that you should ask your insurance agent, so that you have all the necessary information to make an informed choice.
Which factors drive my premium?
Your premium will be affected by how much risk the insurance company estimates you pose. They base your risk on several factors like your garaging location, radius of operation, driving record, credit rating, criminal record, age, commodities hauled, condition of your equipment. The list goes on. With so many variables, it's best to shop around to make sure you are paying a competitive rate.
How Often Do I Pay?
Most insurance companies let you pay in monthly installments with a couple months of premium for a down payment. Some require the whole year upfront, though. Usually it will be cheaper if you can pay the year up front because, if you look closely, paying monthly includes a financing charge.
How Quickly Can You Send Me a New Certificate of Insurance?
You don't want to wait all day for your agent to send you a certificate of insurance. An unresponsive agent is a hidden cost, because the time you spend waiting is money that you're not making. Ask your agent what hours he's available and who you can contact when he can't be reached. Many
The Best Way to Save on Commercial Truck Insurance: Shop Around
There is no substitute to comparison shopping. It's tough because, as you know, most local insurance agencies don't write or understand the nuances in a trucking insurance policy. We can help! We can bring you 3 agents that do write trucking insurance to compete for your business. With so many companies, and so many of them hard to get to, it really pays to shop around.