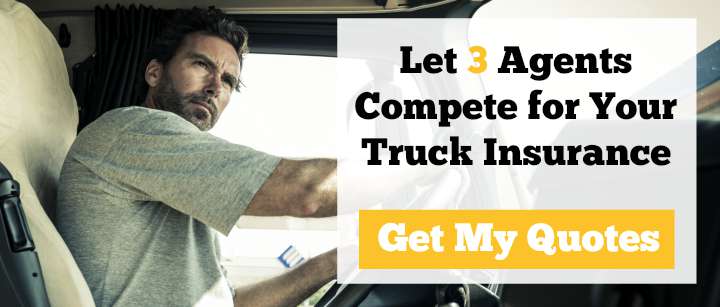 Are you leased to a Motor Carrier and need an insurance quote? Don't get 1 quote. Get 3!
We'll help you find the best deal on your truck insurance by bringing you 3 agents that will compete for your policy. It's fast and free.

How much insurance costs for owner operators is an important question, and one that we're asked very frequently.
On average, an owner operator that is leased to a motor carrier will pay $2,000 and $5,000 a year. Every policy is different. How much you can expect to pay depends mainly on the value of your truck.
Coverages
If you're an owner operator with a permanent lease, your company will pay for several insurances that you use. Depending on the company, you might not be responsible for cargo insurance or occupational accident insurance. But almost all leased truckers can expect to pay for physical damage insurance and non-trucking liability insurance. To make things easier, we've included this table showing the average costs of owner operator insurance coverages.
| | | |
| --- | --- | --- |
| Coverage | Yearly Cost | Description |
| Primary Liability | $1000-3000 | Often provided by a motor carrier. Insures you when you're at fault during an accident |
| Umbrella Policy | $350 | Fills in gaps in your coverage |
| Physical Damage | $2500 | Pays for repairs to your 18-wheeler whether it's damaged from collision, vandalism, theft, or many other incidents. The premium is based on the value of your truck. |
| Bobtail Insurance | $375 | Covers your tractor when it isn't attached to a trailer |
| Uninsured Motorist | $75 | If you're in an accident with a motorist who doesn't have insurance, this pays for damages regardless |
| Occupational Accident | Varies | Protects independent contractors from work-related hazards in the place of worker's comp. Many motor carriers require this coverage |
| Cargo Insurance | Varies | Pays for damages done to the goods you carry |
Area
If you live in Michigan, New York, or Louisiana, expect to pay a little more for insurance. One key factor insurance companies use to assess risk is location. If your area of operation includes states with higher traffic accident rates, like the three above, you'll find that your owner operator policy will be higher than average.
Policy Limits and Deductibles
A policy with low deductibles costs more than a policy with high deductibles. If you have cash reserves, you might consider a high deductible.
Personal Details
Insurance companies also look at things like your age and credit history when calculating how much to charge you.
How to get the best rate on an owner operator insurance policy
The absolute best thing a leased O/O can do to lower his or her insurance cost: compare different companies. We've made this part easy. Fill out our quick form and we'll connect you with three different owner operator insurance agents who'll compete for your business. Get started today!