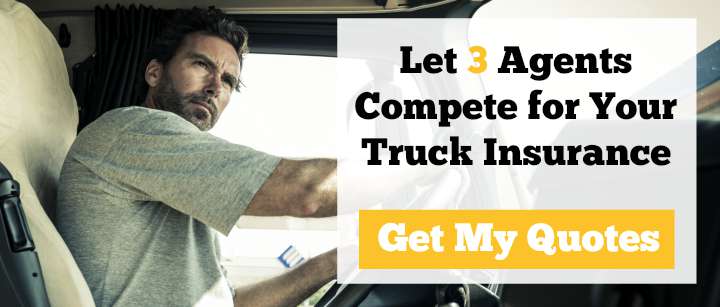 To get the best deal on your truck insurance you need to shop around. We can help! Just fill out our quick form and we'll bring you 3 agents to compete for your policy. May the best agent win!

Before you get on the phone with an 18 wheeler insurance company, there are a few things you should learn so you know for certain that you're getting the coverages you need at a fair price. This list of six things to know about trucking insurance companies explains what you need to know before buying commercial truck insurance.
Truck Insurance Companies Will Fight for Your Business
Insurance agents that write 18-wheeler policies all say that they can get you the best deal. That can't be true. The best and easiest way to get good coverage at a low price is to simply shop around. There are plenty of ways to do this. We recommend using our form to get a quote from three different agents at once.
Some Coverages Are Required, Some Are Optional
When you get your agent on the phone, explain to him your exact situation. If you're a leased owner-operator, your motor carrier probably already carries liability insurance. Furthermore if you're an independent contractor, you might need occupational accident insurance. Before you agree to any coverages, figure out which ones are required for your specific operation.
Your Cost Is Determined by Your Risk
Every 18-wheeler insurance company calculates risk differently, but most rely on a few common factors. They include:
Your years driving an 18-wheeler
Where you live
Your radius of operation
Your age and CDL experience
Your credit history
What kind of truck you drive
These factors tell the insurance company what they can expect from you. An experience driver with a small radius of operation living in a safe part of the country can expect to pay less for his insurance.
Trucking Insurance Companies Offer Different Payment Plans
Most truckers pay their insurance premiums in monthly installments, spacing out their payments through the year. While this payment method is the only option for most budgets, it isn't the only one. By paying in a single lump sum every year or every quarter, you can reduce your insurance cost by a large amount—up to 15-20% in some cases.
Some Companies Are Slow to Act
Some insurance companies are incredibly responsive. When you call them up with an accident claim or a request for a new certificate of insurance, they process your request within fifteen minutes. Other companies—well, they're a little slower. If you're the kind of trucker who changes cargo insurance frequently, make sure you find an insurance company that can process a new certificate of insurance quickly or else lose out on lucrative loads.
The Insurance Company Will Eventually Raise Your Rate
It's common practice for 18 wheeler insurance companies to raise your premium every twelve months. They do this knowing that you'll probably not switch to another provider. So if you're concerned about keeping your costs down, simply shop for new insurance providers every few years. There are plenty of companies out there, let us help you find them!