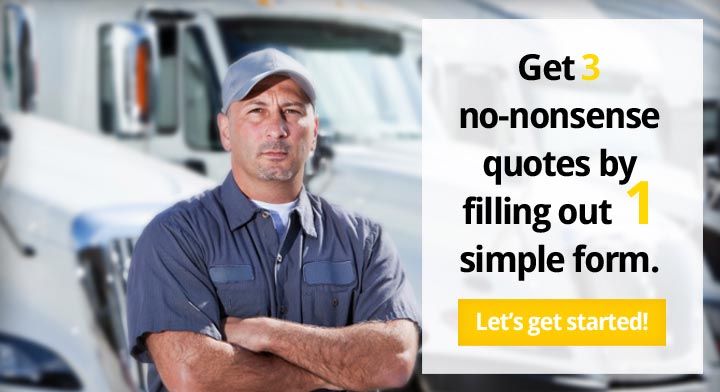 Don't waste time hunting down multiple agents. Let them come to you. It's Fast and Free to get 3 semi truck insurance quotes.

Semi Truck Insurance Rates Change Frequently
Truck insurance premiums rise and fall all the time. The company that has the best price today may not be the most competitive tomorrow. It makes sense to shop the market once a year to improve your coverage and save money. Fill out our quick form and see how you can benefit from having 3 agents compete for your business.
Shop More Semi Truck Insurance Companies at Once
There are well over 70 truck insurance companies in the market today, but no single agent gives quotes from every company. By having 3 agents quoting, you will have access to the majority of truck insurance companies and a great chance of finding better coverage at a better price.
The Agents will work hard to find the insurance company that is most competitive with your type of trucking operation. Improve your margins by cutting expenses. Getting the best quotes for semi trucking insurance can make your more profitable. Every dollar saved goes straight to the bottom line.
Lower your Semi Truck Insurance Cost
With the average cost for semi truck insurance being 8k-12k per truck, it pays to shop around. If you are an owner operator under a lease to another motor carrier, your premium will be a lot less, usually around 2k-4k, because they will pay for your primary liability coverage.
It's time consuming, though, to find and call three truck insurance agents, not to mention give the same detailed information over and over. Let us do the work for you. It doesn't matter if you are from California, Florida, Texas, Illinois, Michigan, New York, Georgia or anywhere in between
Here are some other things you can do to lower your insurance costs.
Keep a clean driving record (MVR)
Raise your deductible
Pay a full year upfront if possible
Improve your credit
Have a written safety plan
Have a clean SAFER report
Why 3 Semi Truck Insurance Quotes?
Every agent says that they can shop the market and get you the best deal. Why then, if you talk to multiple agents, do you get different quotes? It's because no single agent can shop the whole semi truck insurance market. To get the best deal you should really get 3 agents that can quote semi truck insurance and compare.
Get 3 Quotes Online
We have three top semi truck insurance brokers, licensed in your state, that are ready to give trucker insurance quotes and compete for your business. Get started with your semi truck insurance quotes online. Compare prices and polices and select the winner. Don't hunt down three commercial truck insurance providers. Let them come to you!