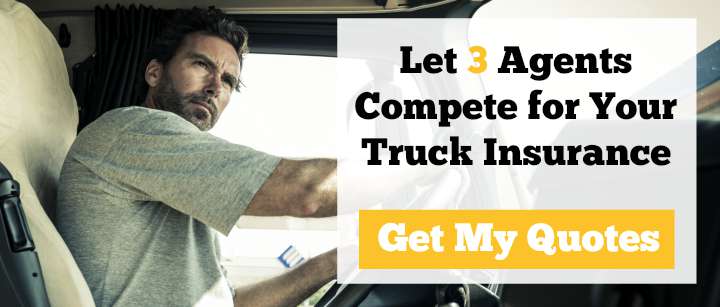 The best way to save on commercial truck insurance is to get quotes from multiple agents. We can bring you up to to 3 trucking insurance agents who will compete for your business. Our service is fast and free!

When talking with truck insurance agents there are some questions you should ask to make sure you come out with the proper coverage and the best price. An good agent can be a huge asset to your business. Here are 10 questions to ask the agents.
1. How long have you been quoting big rigs?
There is a lot more to quoting an 18-wheeler compared to a regular car. Your agent needs to understand the risks you face and coverages you need to guard your livelihood. An experienced agent can make a big difference in your business.
2. How much coverage do I need?
If you have your own authority, your truck insurance policy requires liability insurance. The minimum amount required is $750,000, but many truckers opt for $1,000,000 in coverage. You should ask your truck insurance agent to walk you through your limit options. While a million in liability may sound high, trucks can cause a lot of damage, even if it's not your fault. It's wise to discuss with your agent the benefits and costs of an umbrella policy to protect you in the event of a catastrophic loss.
3. Do you offer a broad form cargo coverage?
Different types of cargo—grain, lumber, livestock, steel, oil, hazmat, cars, —each possess different risks. While most truckers end up with $300,000 of coverage, there can easily be gaps in coverage. Your truck insurance agent should understand exactly what you are hauling and offer a broad form to cover you when necessary. If you don't have a broad form cargo policy, you should know exactly what loss scenarios are not covered.
4. What are the main factors driving my premium?
Truck insurance companies base risk on several factors including your age, driving record, credit rating, criminal record, area of operation,  years experience in trucking, what you are hauling, age of equipment, and your garaging zip code to name a few. If your quote is high, ask why. If you can find out what is driving the premium, you can take steps to fix it when you renew the next year. With so many variables and so many insurance companies rating these risks differently, it's important compare multiple agents to find the best priced policy for you.
5. What are your payment plan options?
You can lower your overall insurance premium by about 10% if you can pay the annual premium in one shot. A down payment with monthly installments will cost more. Ask your semi truck insurance agent about the different payment options you can choose from.
6. Do you offer a combined deductible?
Say you get into an accident and your tractor, your cargo, and the other motorist's vehicle are all damaged. Each of these types of damage is covered by your insurance package, but they all come with a separate deductible. With a combined deductible, you are only responsible for paying a single deductible regardless which coverages are used.
7. How quickly can you change my policy?
All truckers, but especially truckers who haul different material day-to-day, need an agent who can change their policy on the fly. You don't want to find yourself in a situation where you need to be covered for a certain type of cargo but your agent is out of the office until Tuesday. Ask your trucking insurance agent directly: "How easy is it to reach you?"
8. How quickly can you send me a certificate of insurance
Many agents have ways to get you certificates of insurance automatically. If a prospective agent doesn't have a good process in place to get your certs in a moments notice to you, it may be best to keep shopping.
9. Do you have 24-hour claims service?
While most insurance companies now offer 24-hour claims services, some of the smaller regional companies haven't caught up yet. This consideration is incredibly important to OTR truckers who might get into an accident late at night or on the weekend.
10. What discounts are available?
All insurance agents are required by law to include certain policy discounts if you have common features like air bags or anti-lock brakes or various certifications. There are other discounts that aren't so common, but which might apply to you. Ask your agent what discounts he offers to see if you are eligible for any premium reduction.