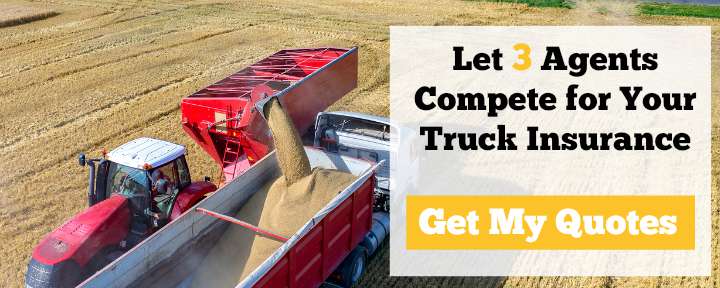 Find the Right Grain Hauling Insurance Company
Getting the best deal on a grain hauler insurance policy is much more complicated than it needs to be. Well, we made things a little easier.
Go over to our request a quote page and we'll get you in touch with 3 different grain hauling insurance agents who'll compete for your business and work through these problems with you. Competition not only keeps the agents honest—it also gets you a lower price on your policy.

What Coverages to Include in Your Grain Hauler Insurance Policy
So you're hauling anhydrous. Are you doing it for your farm or for someone else's? Most agricultural haulers are classified as for-hire carriers, meaning they transport grain from multiple farms. These truckers need a CDL as well as commercial insurance. Their commercial agricultural vehicle insurance include a few coverages, including:
Liability Insurance – protects other drivers when you're at fault during an accident. If you're hauling non-hazardous materials such as barley, oats, rye, wheat, etc., then your policy must have a minimum limit of $750,000.
Collision Coverage – Even if you're hauling from one elevator to the next, accidents do happen. With collision coverage, the insurance company pays for damages in the event of a collision with another vehicle. This coverage includes both tractor and hopper trailer insurance.
Comprehensive Coverage – You should be protected from other disasters like theft, vandalism, fire, and weather damage. Comprehensive coverages protects you from all of these.
Cargo Insurance – Many companies require this coverage. Like its name implies, cargo insurance covers the materials you haul in your trailer.
Towing and Storage Coverage – Basically roadside assistance, but for big trucks. This coverage pays for a tow truck to haul your vehicle to the shop if it breaks down on the road.
Uninsured/Underinsured Motorist – With this protection, the insurance company doles out money to fix your vehicle even if the driver who hit you isn't insured.
Combined Deductible – Merges all your deductibles into one. This will save you money, protecting you from paying a separate deductible for each individual coverage.
Debris Removal – Pays for the pick-up of any freight spilled onto the motorway.
Sue and Labor – A.k.a. Loss Mitigation, this coverage protects you from any losses that follow a reported accident.
Earned Freight – After an accident, the insurance company pays you for any shipment that you couldn't complete, so you still get that month's check.
How to Lower Your Grain Haulers Insurance Rate.
The cost of insurance if you are a grain hauler can vary widely from $5,500 to $9,000 a year. If you drive within a small operating radius, have a clean driving record, and pay your premium in yearly, not monthly, installments, your price tag should reflect the lower end of that spectrum. You can also ask your insurance agent for a higher deductible, lower premiums, and fewer coverages to bring the price down even further.
But the best way to get a low price on farm haulers insurance is to shop around. Use our Request 3 Quotes form to get a quote from three different agents. From there you can choose the policy that best meets your budget. Best of all—it's free!