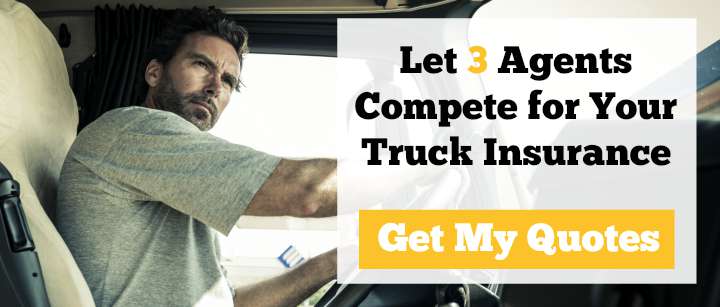 To get the best deal on your trucking insurance, you need to shop around. It's tough to find 3 agencies that specialize in tractor trailers though.
We can help! Just fill out our quick form and we'll bring you 3 agents to compete for your policy!

Before you get your quotes from the tractor trailer insurance companies, there are certain things you should be asking the representatives. We've compiled the 7 most common—and important—questions to ask your tractor trailer insurance company.
"What coverages do you offer?"
This should be the first area of discussion between you and your tractor trailer insurance rep—what are your coverages and how much do they cost? The representative will offer you several specialized coverages, which you may or may not want. But he'll also offer you coverages almost every trucker needs, including:
Auto Liability, carrying your state's minimum limits at least.
Physical Damage, covering both your tractor and your trailer
Cargo Insurance, covering just the things you haul and nothing more. Make the insurance rep repeat back to you which types of goods their cargo insurance covers. There's no need to pay coverage on goods you don't haul. At the same time, you want to make absolutely certain that you are covered for the goods you do haul. The last thing you want to find out is that you have a claim and the cargo wasn't covered.
"Do you offer combined deductibles?"
Each separate coverage your policy includes comes with its own deductible. In the event of an accident, you'll be expected to pay each of those deductibles individually. That is, unless your policy includes a combined deductible provision. With a combined deductible, you only pay once per accident, no matter how many coverages you use.
"How quickly can you change my policy?"
Many truckers need a tractor-trailer insurance company that can quickly add or subtract coverages from his or her policy on the fly. Say you need to add a specific type of cargo coverage to your policy—an unresponsive company could cost you a lucrative load opportunity. Ask them how long it takes on average to send a new certificate of insurance. You don't want the insurance company preventing you from making money!
"What types of repairs do you cover?"
Say you get into an accident, and luckily your tractor trailer is insured. But when you take it to the repair shop, you find out that your insurance only pays for cheap parts from a third party company. Ask your representative if you have the choice to be covered for parts from your tractor-trailer's OEM (Original Equipment Manufacturer).
"How do you assess risk?"
Different tractor trailer insurance companies assess risk differently, and therefore some are going to treat you more favorably than others. The major risk factors that tractor-trailer ins. companies look at are:
Your driving record
Your driving experience
Your location
Your area of operation
Personal details like your age, sex, and marital status.
"What payment options do you offer?"
The cheapest way to pay for insurance is in yearly installments, instead of paying by month. This can reduce your overall costs by up to 15-20%. But this isn't an option for every trucker. Ask about the tractor-trailer insurance company's different options. Some allow you to put down a down payment for smaller monthly installments.
"What discounts can you give me?"
Every trucker wants the lowest possible premiums. Every tractor trailer insurance company wants the best possible customers. These companies are willing to make a deal with you. If you can prove that you're a safe driver and that you won't cost them money, you can get reduced rates on your insurance. So don't be afraid to ask which discounts a company offers. You'd be surprised what you qualify for.