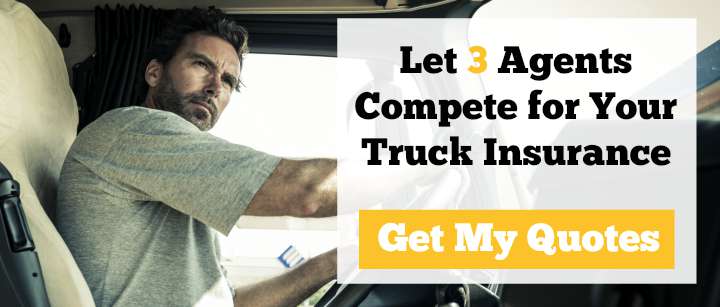 Long haul truckers—truckers who drive outside a 300 mile radius—have a hard time finding good insurance coverage. Many insurance companies shy away from drivers who haul over very long distances. The companies who do insure LHT don't have as much competition and the premiums can vary widely.
It pays to shop around.
We can help by bringing you 3 trucking insurance agents that will compete for your business. It's fast and free to find the best deal.

6 things to ask your long haul trucking insurance broker
1. Which coverages do I need?
Not all insurance coverages are absolutely necessary for long haul truckers. The big three that you should get are:
Auto Liability – protects the property of others when you are at fault in an accident. Legally required in all states.
Physical Damage – protects your property (e.g., your tractor, your trailer, your possessions) after an accident, regardless of fault.
Cargo Insurance – protects the cargo you're hauling. How much this costs depends on the type of goods you haul normally.
The LHT insurance broker may offer you additional coverages, which you may or may not want. Some coverages, like umbrella policies, are generally good ideas that will give you piece of mind.
2. Do you offer combined deductibles?
A point of consternation for many truckers after an accident—they don't have a combined deductible. Combined deductibles take all the individual deductibles from all the individual aspects of your policy and combines them into a single payment. So, after an accident, instead of paying $1000 for your liability deductible and $1000 for you physical damage deductible and $1000 for your cargo insurance deductible, you just pay one single payment. This will save you money.
3. How do I contact you, and when are you available?
Long haul truckers who haul many different types of goods need to add or subtract coverages from their policies quickly. If an agent can't adjust your policy and send you a new certificate of insurance at a moment's notice, then you could lose out on load bid. Ask your broker when he's available and who you can contact when he isn't.
4. Do you provide OEM parts?
When you get your tractor repaired, you want it to be repaired with Original Equipment Manufacturer (OEM) parts, or parts identical to the ones originally in the truck. Not all insurance companies cover this. Whether or not your insurance broker can guarantee you OEM parts should be a point of consideration in your decision-making.
5. How do you calculate risk?
Long haul insurance companies use certain factors to determine a customer's risk. They include
Driving record
Location
Experience
Credit history
Radius of Operation
Personal details like age, sex, etc
How a truck insurance company weighs these different factors will determine your risk and premium.
6. What discounts do you offer?
It doesn't hurt to ask. When you ask your long haul truck insurance broker what kind of discounts he offers, he might give you a surprising answer. Insurance companies offer discounts for a large variety of different things—ask and you shall receive.