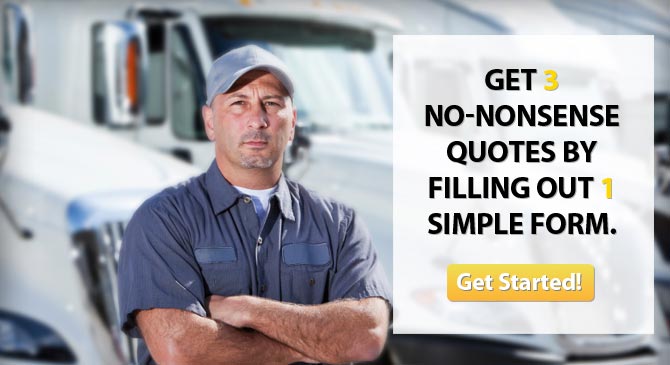 Truck Insurance Rates: How they are determined
There are 3 main factors that drive your premium rates:
1) The commodities you haul
2) Where you haul your commodities
3) Driver quality (MVR reports) and overall operation safety practices
Having drivers with bad MVRs and a loss record can mean paying as much as 50% more in premium compared to truck company with a clean record.
Why Rates drop
As more truck insurance companies enter the market, truck insurance rates are getting more competitive. The internet is helping to educate drivers, and it also makes shopping for insurance easier.
These factors, along with revised underwriting guidelines, are helping to bring down truck insurance rates. (See update below)
With the truck insurance landscape constantly changing, it makes more sense than ever to get new quotes every year. If you are already insured, ask your current insurance agent for a renewal quote. This will do two things:
It will send a subtle signal to your current company that they may be competing with other companies.
Once you receive your renewal quote you will have a nice baseline to compare with other quotes. It will be easier to find the best truck insurance rates this way.
Truck Insurance Rates Change Often
**Update** In many markets truck insurance rates are now on the rise. Loss ratios and other factors have put upward pressure on truck insurance rates. It's just as important to shop for insurance when rates are rising. Let us help you find the best policy in this challenging market.
Truck insurance rates within the insurance industry are competitive and often times cyclical.  One company will offer a low rate to draw customers in, and then slowly over time the price will  rise.  Before long, a competing company will offer a low rate to increase their customer base.  If your insurance premiums are rising, or are too high, you could possibly benefit from getting a truck insurance quote.
Multiple Semi Quotes
Plan to invest some time to talk to insurance companies and compare quotes. What if by not shopping you over pay by 15%-20%? How much is your current premium? If it's $10,000 year  you might save $2,000 per year.
I hope I have convinced you to get into the practice of reviewing your insurance policies every year. I'm sure you have better ways to spend the money than overpaying for on your truck policy.