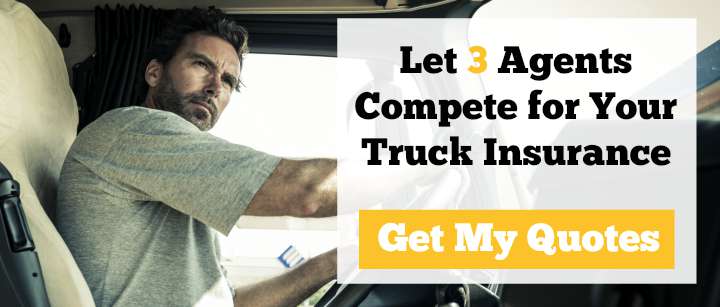 Are you looking for an estimate on tractor trailer insurance? You are in the right place!
The best way to get the lowest price is to shop around. We've made it very easy for you to three quotes.

How Much Does Tractor Trailer Insurance Cost in 2019?
Leased Owner-Operators, can get a policy to cover their tractor trailer usually between $2,000 and $4,000 a year.
New Authorities typically see a tractor trailer insurance rates between $12,000 and $18,000 for their first year, with cheaper rates after that.
What Determines Tractor Trailer Insurance Cost?
Apart from the coverages you choose, your overall cost is determined by your risk assessment, that is to say, the statistical likelihood that you'll end up costing the insurance company money. Your risk to an insurance company is often determined by:
What you haul
Your driving record (MVR)
CDL experience
Your garaging address
Radius of operation
Credit rating
How much your truck is worth
The structure of your tractor trailer insurance policy (bundled vs. individual coverages)
Your payment plan
The other biggest factor is what type of coverages you need.
Typcial coverages if you have your Own Authority would be Primary liability, Physical Damage and Cargo.  A Leased Leased Owner Operators usually need Physical Damage & NTL or Bobtail.
Tractor Trailer Average Cost by Coverage Estimator
| | |
| --- | --- |
| Coverage | Average Cost |
| Primary Liability | $5,000-12,000 |
| General Liability | $500-800 |
| Umbrella Policy | $500-700 |
| Physical Damage | $1,000-3,000 |
| Bobtail Insurance | $350-600 |
| Uninsured / Underinsured Motorist | $50-100 |
| Cargo Insurance | $400-$1,200 |
| Other Endorsements | Varies |
Get a Free Semi Truck Insurance Estimate
These rate ranges are just that, ranges. What really matters is you getting the best deal for your unique operation. Quotes between companies can vary by thousands of dollars and some of the best companies are hard to find. We can help you find the best deal by connecting you with different companies, even the hard to find ones, so you can make a true comparison.

How to Lower the Cost of Tractor Trailer Insurance
Ask for Discounts – Insurance companies offer price discounts for a wide range of things, from deer guards on your truck to maintaining a clean driving record. When speaking to your agent, don't be afraid to ask about discounts. You never know what you might qualify for.
Pay in fewer installments – Truckers have seen their yearly premium reduced by up to 20% just by paying in yearly, not monthly, installments. While this might not be feasible to many truckers (how many truckers have an extra $7,000 laying around?), if you can pay upfront, you should consider it.
Request a higher deductible – If lowering your premium is an absolute must, you can request a higher deductible. But this should be your last resort. A higher deductible means a higher out-of-pocket cost in the event of an accident and could end up costing you more in the long-run.
Shop around – The best way to get a lower premium without sacrificing the coverages you need is to simply shop around. Did you know there are over 60 main companies, and dozens of smaller ones, that do tractor insurance?  We've made this part easy. Call us or use our simple form to get in touch with three separate tractor trailer insurance agents who are ready to earn your business.