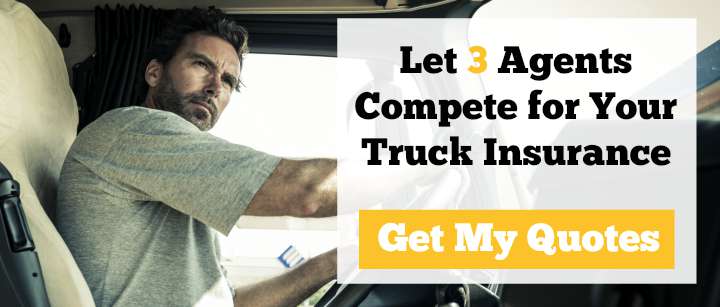 Like with any major purchase, it's important to shop around among trucking insurance companies before committing. But short haul trucking insurance companies are few and far between. Getting a quote can often be difficult.

That's why we're here. Simply fill out a single form, and we'll connect you with three separate shorthaul insurance companies who will then compete for your business.
What to Ask Your Short Haul Trucking Insurance Company
How quickly can I obtain insurance certificates?
Intrastate truckers sometimes need a proof of insurance certificate on the fly and don't have time to wait for their agent. Every minute you spend waiting is another dollar lost. Make sure your agent can send you an insurance cert whenever you need it.
Can I add or subtract insurance on a trip-by-trip basis?
You might find yourself in a situation where you have the opportunity to haul a lucrative load, but you don't have the insurance required to carry it. A short haul trucking insurance company must be willing to extend your radius of operation at a moment's notice.
Can I have multiple Bills of Lading on the same trailer?
If you're doing hot shot deliveries, you'll want to get a cargo insurance policy that can cover multiple loads. The ideal policy will allow up to five Bills of Lading per driver per trip.
What's in your fine print?
Short haul truckers don't need to be covered in all fifty states, yet sometimes that's what an agent will charge you. Ask for a copy of the application and study the fine print. Does everything check out or does something sound a little fishy?
Which Coverages You Need as a Short Haul Trucker
All commercial drivers are required to have certain insurance coverages. As a short haul trucker, you can expect to get Liability Insurance, Physical Damage Insurance, and Cargo Insurance.
These coverages will protect you from damage done to other people's property, other drivers, your vehicle, and your cargo. The law in most states requires you to carry a liability limit of at least $1,000,000. Most companies will also require you to be covered by at least $100,000 in cargo.
You should also be aware of Bobtail and NTL insurance. Bobtail insurance covers class 7 and class 8 rigs when they don't have a trailer attached, but they're still under dispatch. NTL insurance covers class 7 and class 8 rigs without trailers and not under dispatch.
How to Find the Best Short Haul Truck Insurance Company
Finding a local trucking insurance company can be a little tricky. Not only are they hard to find, but they might not always specialize in small radius trucking. To get the best insurance in any state—Texas, California, the Dakotas, or the Carolinas—let us get you in touch with three insurance agents who will compete for your business. Get started now!