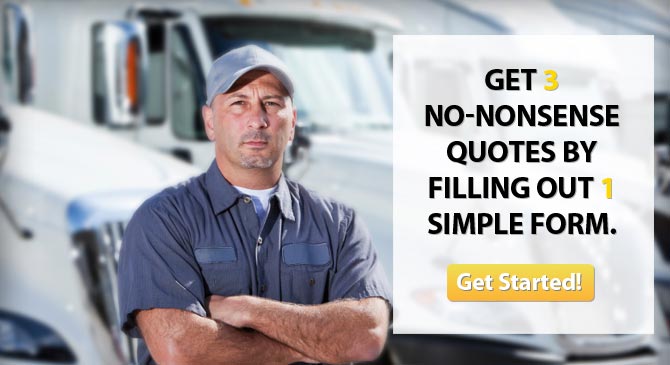 Are you a Motor Carrier looking for an insurance quote? The best way to save money is to compare quotes.
Fill out our simple form and we'll bring you 3 agents to compete for your policy.

Motor Carrier Coverage Requirements
Before the Federal Motor Carrier Safety Administration (FMCSA) will issue a new applicant a motor carrier authority, that applicant must get commercial truck insurance and submit the proper insurance forms to the FMCSA. It's important to know which coverages you need before you begin. This guide will simplify that process.
Public Liability
Unless you haul household goods, the only insurance required by the FMCSA is commercial auto liability insurance. This insurance covers accidents where you or your driver are responsible resulting in damage to another person or another person's property.
The amount of liability insurance a motor carrier needs is determined by the goods it hauls. This table outlines the specifics in detail.
| | |
| --- | --- |
| Type of Operation | Minimum Limits |
| For-Hire Interstate General Freight Carrier | $750,000 |
| For-Hire & Private Carriers of Oil | $1,000,000 |
| For Hire & Private Carriers of Other Hazardous Materials | $5,000,000 |
Be aware that a recent study by the FMCSA concluded that these limits are too low. Expect an increase in these minimums within the next few years
Cargo Insurance
Motor carriers who haul household goods (e.g., moving companies) are also required to purchase cargo insurance at a minimum of $5,000 per vehicle and $10,000 per occurrence.
Of course if you don't transport household goods, you'll nonetheless want to get cargo insurance anyway. Few shippers and brokers will do business with a motor carrier who doesn't have cargo insurance.
Physical Damage, General Liability, Etc.
Physical damage insurance and general liability insurance are not required to obtain motor carrier authority, but will likely be required
For more information, the complete specifics of motor carrier insurance requirements are listed on the FMCSA's website.
How to File Your Insurance with the FMCSA
There are several insurance forms the FMCSA needs—the BMC-91, the BOC-3, the MCS-90—before it will issue you a new MC number. You do not fill out these forms. To protect against fraud, the FMCSA want all forms submitted by the insurance company.
However it is your responsibility to get your insurance company the information it needs to submit the forms. So first file your application with the FMCSA. Then contact your insurance company and have them file the required forms under your docket number. From there, you'll be able to move on to the next step in the process.
Where to Get Insurance
The best method of securing insurance for your new business is to compare several commercial insurance companies at once. Our tool gets you in touch with three agents at once who will compete to get you the best price on all the coverages your business needs. If you have any further questions, the agents will be able to give you advice specific to your business.