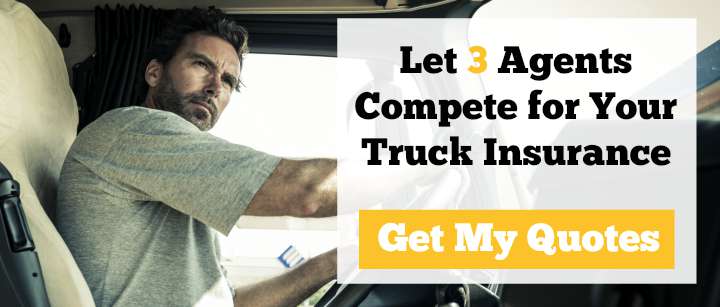 Your insurance company will take care of this necessary endorsement. Read on for more info about this, but if you are shopping for insurance, we can help by bringing 3 agents to you to compete for your business. A little competition makes it easy to find the best combination of cost and coverage.

What is an MCS-90 Endorsement for Motor Carriers?
Motor carriers are required by law to pay for any damage their fleet does to public property. If a tanker truck runs off the road and spills 2,000 gallons of oil onto a nationally protected estuary, you better believe the EPA will expect whoever is responsible for that truck to pay clean-up costs.
MCS-90 Endorsement Coverage is proof from the motor carrier's insurance provider that when an accident does happen, restitution will be paid no matter what. The MCS-90 is designed with the interest of the public in mind. It offers motor carriers no additional insurances or coverages—it's a guarantee to the government and public that you will take legal liability when necessary. Nothing more, nothing less.
Motor carriers are sometimes confused into thinking MCS-90 is some type of insurance. It's not. The MCS 90 endorsement definition mentions nothing about who ultimately pays for damages. It stipulates only that damages will be paid. If you spill 2,000 gallons of oil but you don't have environmental liability insurance, the insurance company will pay for clean-up, but they'll immediately turn around and demand reimbursement from you.
Who needs an MCS-90 Endorsement?
Motor carriers often ask "When is an MCS 90 endorsement required? Do I need one?" The MCS-90 endorsement requirements depend on three things: 1) whether you purchase your insurance through the standard market, 2) whether your drivers travel out of state, and 3) whether you transport hazardous materials.
1. The MCS-90 form is issued by insurance companies and therefore isn't required of motor carriers that self-insure. Motor carriers that self-insure must prove to the FMCSA they will pay damages when they are at fault in an accident. Motor carriers sometimes do this by providing a surety bond.
2. All other motor carrier participating in for-hire interstate commerce (and therefore required to submit a federal filing) must obtain an MCS-90 endorsement from their insurance company.
3. Furthermore, private and for-hire motor carriers operating in-state must also get an MCS-90 Endorsement if they transport hazardous materials or portable tanks or hopper-type vehicles with a capacity above 3,500 gallons.
Your minimum liability limit depends on the type of commodity you transport.
| | |
| --- | --- |
| Type of Operation | Minimum Limit |
| Non-hazardous cargo | $750,000 |
| Oil, hazmat, hazardous waste | $1,000,000 |
| Portable tanks, hopper-type vehicles over 3,500 gal | $5,000,000 |
MCS-90 Example
Rick's Oil Transport Company is an interstate motor carrier that specializes in transporting hazardous materials in 4,000 gallon tanker trucks. Rick, its owner, has purchased a business auto policy with liability limits of $5,000,000. Since Rick's company transports hazmat, he is legally obligated to have an MCS-90 endorsement on his policy, which he does. One day, one of his drivers gets into an accident in which they're at fault. While the driver wasn't hurt, the tanker did leak a tremendous amount of oil, which flowed down the road's shoulder and seeped into the soil as run-off.
The EPA was called in and they determined that the accident had caused $6,000,000 worth of pollution damage and Rick's Oil Transport Company was liable. Because of FMCSA regulations, the insurance company paid up to the liability limit of $5,000,000. Rick assumed he was only responsible for the million dollar remainder—a hefty amount that already put a strain on his coffers. But then a representative from the insurance company called him and let him know that his policy didn't include Environmental clean up. The representative told him that not only did he owe the government $1,000,000 for the remainder, but he also owed the insurance company $5,000,000 for the portion they had paid.