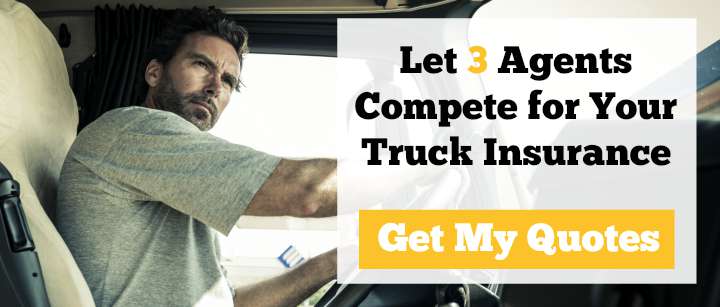 If you're an owner operator leased onto a motor carrier, there are certain insurance coverages you need that'll keep you safe and your rig street legal. Choosing a commercial auto insurance company can be confusing and difficult. We're here to help. We'll can bring you 3 insurance companies who'll compete for your business.

Which Insurance Coverages Do Leased O/O need?
Physical Damage Insurance
Costs between $2000 and $3000 a year
Physical Damage Insurance for leased owner operators is an essential coverage. If your truck is damaged, this insurance pays for its repairs. This type of coverage makes sure that whatever happens on the road today, you'll be able to drive your truck tomorrow. It consists of two parts:
Collision Insurance – pays for damage to your truck when it collides with another vehicle
Comprehensive Insurance – pays for other damage that could occur, including vandalism, fire, and theft
The cost of Physical damage insurance scales with the value of your truck. Owner/operator truck insurance companies will charge you between $25 and $40 a year per thousand dollar of your truck's value.
Bobtail Insurance / Non-Trucking Liability Insurance
Costs between $350 and $400 a year
Typical liability policies don't cover your tractor when it's detached from a trailer. That's when Bobtail insurance kicks in. If you're in an accident when you aren't hauling a load, bobtail insurance kicks in. Similarly, NTL insurance covers you when you're using your truck for personal purposes. These policies are important for owner operators not just because they keep you safe, but because they're often required by law.
Other Coverages
The motor carrier you're leased on to will oftentimes provide you with different insurance coverages. It's important to read over your lease agreement to determine which coverages they cover. You'll want to fill in any gaps. Typical additional coverages for independent owner operators include:
Primary Liability Insurance – covers damage done to other people's property.
General Liability Insurance – covers damage done when you're not behind the wheel. This includes incorrect deliveries and slander.
Cargo Insurance – covers damage done to the cargo you haul.
Occupational Accident Insurance – covers injuries you sustain on the job.
How to Find Owner Operator Insurance Companies
Insurance isn't cheap, but prudent truckers who choose to shop around will end up saving some money. We can help you by connecting you with three insurance companies who will provide you with three different quotes. Comparison shopping like this will get you the best policy at the best price. All you have to do is fill out one form and we'll take care of everything else.