Looking for a long haul trucking insurance quote? How about 3 quotes?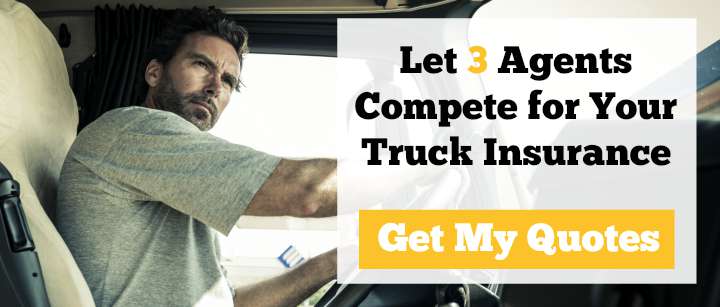 To get the best deal on your trucking insurance, you need to shop around. We can help you by bringing you 3 agents that will compete for your policy. It's fast and efficient.

Although it's true that every long haul truck insurance policy is different, long haulers can expect to pay slightly more on average than truckers operating within a smaller radius. The table below represents average rates for the various coverages. Your quote will depend on several factors and may be better than the averages.
What does Long Haul Trucking Insurance Cost?
| | |
| --- | --- |
| Coverage | Average Cost |
| Primary Liability | $4000-5000 |
| General Liability | $200-600 |
| Umbrella Policy | $200-500 |
| Physical Damage | $2250-3000 |
| Bobtail Insurance | $350-400 |
| Un-/Underinsured Motorist | $50-100 |
| Occupational Accident | $1600-2200 |
| Cargo Insurance | Varies |
| Other Endorsements | Varies |
3 Ways to Lower Your Long Haul Truck Insurance Price
1. Compare Prices from Several Long Haul Insurance Companies
The price of long haul trucking insurance can go up or down based on several factors. The best thing you can do to lower your premium is to simply compare rates between different long haul truck insurance companies. When you're drawing from a larger pool, there is a much better chance that you'll get a better deal.
2. Pay in Fewer Installments
Most truckers—and most drivers, for that matter—choose to pay their insurance on a month-to-month basis. This is often the only option for most budgets. But long haul insurance companies do offer discounts to customers who pay their premiums in yearly installments instead. If you can manage to pay your entire premium at the beginning of the year, do it. It might save you as much as 10% off your premium.
3. Request a Higher Deductible
When cash is truly tight, you can opt into a policy with a higher than normal deductible. Your premium will be cut, but in the event of an accident, you will have to pay a higher amount to your insurance company than you would have normally. It's typically better to err on the side of caution and choose the regular deductible amount, which will save you in the long run.
How Does a Long Haul Trucking Insurance Company Calculate My Rate?
You may be wondering why some truckers pay more for coverage than others. Well, truck insurance companies use complicated formulas to determine how much of a risk any individual customer is to insure. They use variables such as the customer's driving record, location, age, credit rating, MVR report, and gender to access their risk. These factors are largely out of your control now, but if you continue to have a solid driving record, you'll see your premium creep lower and lower over the years.