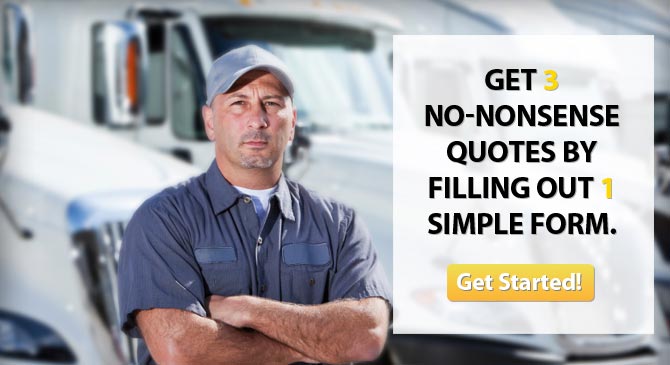 Commercial insurance is expensive, but we can help! By filling out one quick form, we'll bring you three agencies who'll compete for your business.

How Much Does Interstate Trucking Insurance Cost?
Truckers that cross state lines are not much different from intrastate truckers in terms of premium. It's a little higher. Most truckers with authority pay around $10,000 per truck for insurance.
No interstate trucker is the exact same and therefore most interstate trucking insurance policy don't cost the same though there are averages.
How Much Will I Pay?
You can estimate your interstate truck insurance cost by adding up the coverages you need. We've presented the coverage costs in ranges. You can expect to pay towards the higher end of the range if you're a new driver, you have a radius of operation above 300 miles, or you live in an area with higher-than-average accident rates.
| | |
| --- | --- |
| Coverage | Average Cost |
| Primary Liability | $4000-5000 |
| General Liability | $200-600 |
| Umbrella Policy | $200-500 |
| Physical Damage | $2250-3000 |
| Bobtail Insurance | $350-400 |
| Un-/Underinsured Motorist | $50-100 |
| Occupational Accident | $1600-2200 |
| Cargo Insurance | Varies* |
*Your cargo insurance is determined by the type of freight you haul. Hazardous materials cost more than hay to haul.
Why Is Interstate Trucking Insurance So Expensive?
A majority of for-hire owner-operators drive across state lines, so interstate trucking insurance isn't outrageously more expensive than the norm. It is however it generally costs more than intrastate trucking insurance. Most of the extra costs are associated with adhering to federal rules. You have to meet all the FMCSA's minimum requirements. You also have to meet the minimum insurance requirements of each state you pass through. As such, your limits are going to be a little higher than if you were stationed entirely within a state with more relaxed insurance rules like Texas or Oklahoma.
How To Reduce The Amount I Pay
Compare Prices from Several Truck Insurance Companies
The price of trucking insurance is determined by several factors outside your control. The best thing you can do to lower your premium is to just compare rates between different agencies. Our service can make the shopping part easy. You fill out one form and you're connected with three different agents who will find you the best quote they can.
Pay in Fewer Installments
Insurance companies would very much prefer their customers to pay their premiums all at once instead of month-to-month. To incentivize this sort of thing, some insurance companies over discounts of up to 10% on policies that are pay in whole and on time at the beginning of the year.
Ask for Discounts
Insurance companies actually offer discounts for a wide variety of things. If you were a member in the armed services, for instance, many some insurance companies will reduce your premium. Remember that it never hurts to ask.