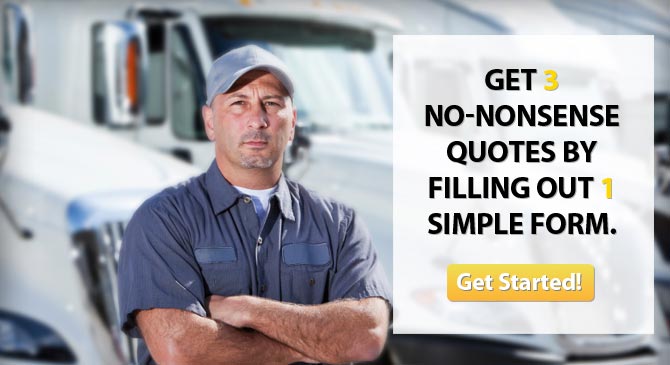 Cross state lines? Don't waste time hunting down multiple agents. Let them come to you. It's Fast and Free to get 3 interstate trucking insurance quotes.

How Much Does Interstate Trucking Insurance Cost?
Besides having a larger radius of operation, truckers that cross state lines are not much different from their cousins, intrastate truckers.
But when it comes to insurance, interstate truckers pay about 30% more than their counterparts.  Most interstate truckers with authority pay around $14,370 per truck for insurance. Truckers that don't leave their state average $10,303 for their insurance costs.
No interstate trucker is exactly the same, so your insurance costs will vary based on several factors.
Insurance Cost breakdown for an Interstate Trucker
The price you pay is the sum total of the cost for all your coverages. See below for a rough estimate of how much these interstate truck insurance coverges cost. The prices for the coverage costs are presented in ranges. Newer interstate drivers u can expect to pay towards the higher end of the range. Your garaging location and radius of operation will influence where you fall in the range as well.  If you haul more than 500 miles, or if you live in an area with higher-than-average accident rates, then you might be in the upper end of the range.
| | |
| --- | --- |
| Coverage | Average Cost |
| Primary Liability | $4000-8000 |
| General Liability | $200-600 |
| Umbrella Policy | $200-500 |
| Physical Damage | $2250-3000 |
| Bobtail Insurance | $60-100 |
| Un-/Underinsured Motorist | $50-100 |
| Occupational Accident | $160-220 |
| Cargo Insurance | Varies* |
*Your cargo insurance is determined by the type of freight you haul. Hazardous materials will cost more to insure than if you were hauling hay.
Why Is Interstate Trucking Insurance So Expensive?
A majority of for-hire owner-operators drive across state lines, so why do they pay more for insurance on average when compared to local-only haulers? Insurance rates are calculated by "frequency" and "severity" of losses. Frequency means how likely is it, or how frequent is it, that an accident will occur. Interstate truckers, on average, have a higher frequency of claims than local truckers. Severity is the second part of this equation, and it means when an accident does occur, how "severe" is it. In other words, how big is the average claim. Again, Interstate truckers usually have bigger claims when compared to other types of truckers, on the whole.
How To Reduce Interstate Truck Insurance Costs
Compare Prices from Several Truck Insurance Companies
The price of trucking insurance is determined by several factors inside and outside your control. The biggest variable influencing the price you pay is the company quoting you. Quotes can vary by thousands for the same trucker, so the best thing you can do to lower your premium is to compare rates between different truck insurance providers.
When comparing quotes, all truck insurance companies are not alike. It makes sense to get quotes from the companies that understand long haulers and are the most competitive for interstate operations. The companies that are the most competitive with local haulers are not the ones that are the most competitive with interstate truckers.
Pay in Fewer Installments
Insurance companies almost always give discounts if you can pay your premiums up front instead of month to moth. If you can afford pay the whole annual premium, you can usually save 10% or more!
Ask for Discounts
Insurance companies actually offer discounts for a wide variety of things. If you were a member in the armed services, for instance, some some insurance companies will reduce your premium. It never hurts to ask.