Looking for cheap hot shot insurance? Get 3 quotes and save!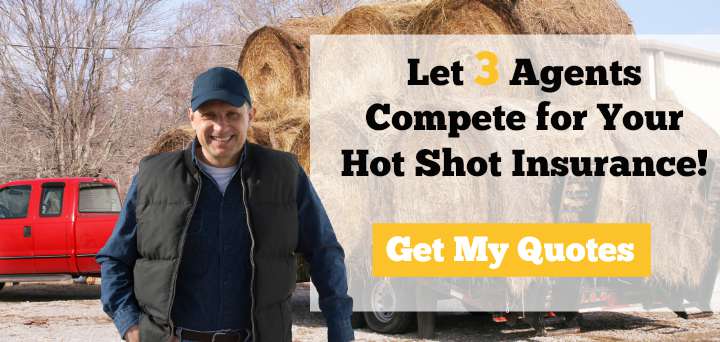 Shopping for truck insurance when you are hot shot can be tough. Getting multiple quotes can make sure you are getting the cheapest hot shot insurance. We make the shopping easy by bringing 3 truck insurance agents to you to compete for your policy. Simple!

How Much Does Hot Shot Truck Insurance Cost?
Insurance policies for hotshot truckers usually range from $7,000 – $12,000 per year. The average price for hotshot insurance is $10,284. This is based on 1-truck and trailer and being new in the business. There are many factors that drive the premium, so the amount that you pay will be different. It pays to shop around since quotes can vary from one another by thousands!
The cost of hot shot trucking insurance depends on several factors including:
The value of your truck and trailer
Your CDL experience
What you are hauling
Your deductible and limits
Which coverages you need
It also depends on your insurance agent and which companies they are appointed with.
The best thing you can do to lower your hot shot trucking insurance cost is to speak to multiple agents and then choose the one who offers the coverage you need to protect your livelihood at the best price.
5 Ways to Lower Your Hotshot Insurance Costs
Finding cheap hotshot insurance that covers your bases and allows you to get loads is a must. Any expense you can lower will make your more profitable. By making a business that is profitable, you ensure the business's survival.
Raise your deductible if you have enough cash reserves
Make sure you have the proper limits on your policy. Think Goldilocks. Get a policy that is jussssst right.
Proper Radius of Operation. If you never go out of State, or never travel over 500 miles, make sure your policy reflects that.
Ask what discounts are available for hot shot truckers and pay in full if you can.
Shop multiple companies. The biggest way to save money is finding the best insurance company. Then use the tips above to bring down the price even more.
Cost of Different Required Hot Shot Coverages
Your premium cost is made up of the cost for each of the coverages in your policy. Hot shots have unique needs and it pays to understand the component parts of your policy.
Liability – The FMCSA requires truckers to carry a minimum of $750,000 in liability. This often times won't cut it for hot shots, though. The reason is that load brokers and shippers mostly require $1,000,000 of liability before they will release the load.
Cargo – The cargo limits required by federal statute are $5,000. Again, this won't help you. Shippers want to see a cargo limit of $100,000. Some loads may require special endorsements like if you are hauling oil or other hazardous materials. If you have multiple loads on your trailer at one time, each BOL is going to require $100,000 in coverage so your policy will need to be able to handle that, in that situation.
Physical Damage Coverage – This insures your truck from damage done to it. Physical Damage Insurance is an umbrella term that includes Collision Insurance (which protects your truck from collisions on the road) and Comprehensive Insurance (which protects it from theft, fire, flooding, and other non-collision damages). Most truckers can't just buy a new dually truck and gooseneck trailer if their's is wrecked, so this coverage is a must.
Many hotshot businesses choose to get general liability insurance as well.
Best Way to Lower Hot Shot Insurance Costs is to Get 3 Quotes
At the end of the day, you need a policy that fits the your operation. Make sure your agent understands exactly the types of loads you will haul and how far you will travel. You need to find the policy that covers you properly, but at the best price.
While Progressive hot shot insurance is the largest company to write hotshot polices, they aren't the only one. It pays to shop around to find the company that is most competitive with your unique circumstances. Are you looking for non cdl hotshot insurance? Are you looking for hot shot car hauler insurance? Different companies are competitive with different needs.
We can help you compare your options by bringing you 3 trucking insurance agents, that represent different hotshot insurance companies, to compete for your business. It's fast, free, and effective! Let's get started!