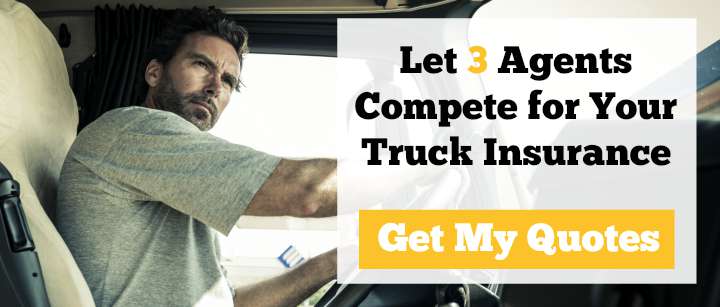 Finding competitive long haul trucking insurance can be hard. Many truck insurance companies won't cover drivers who operate outside a certain radius.
We can help. Just fill out 1 quick form and we'll bring you 3 agents that will compete for your long haul trucking insurance policy. It's fast and free.

Why Is Long Haul Truck Insurance Harder to Find?
It's a matter of simple math. The more miles you drive, the more likely you'll find yourself in an accident. Add in the fact that long haul truckers oftentimes push themselves for several hours and several weeks on end, and you'll understand why insurance companies are so hesitant to insure LHT.
Some insurance companies put a hard cap at a 300 mile radius and won't insure drivers operating farther than that. Some companies will insure up to 500 miles but no farther. Out of all the commercial trucking insurance providers, only around half will cover over a 500 mile radius.
Which Companies Provide Long Haul Trucking Insurance?
If you're an O/O transitioning into long haul trucking, your current insurance provider might also provide coverage to your increased driving area. While we recommend shopping around for a provider that specializes in LHT to get the best deal, it is sometimes easier to stick with your existing company.
If, however, you're new to trucking, using a big name insurance company is often your only option. After you have more experience under your belt, you can then get reduced rates from smaller-sized long haul truck insurance agencies.
Tips to Get the Best Rate
Though it is true that LHT insurance costs more than shorter range trucking insurance, there are still things you can do to reduce your monthly bill.
Avoid irrelevant coverages
Certain coverages like liability, physical damage, and cargo insurance are no-brainers, but insurance salespeople will also offer you additional perks and add-ons. These additional coverages will strengthen your policy, but you might not need them. Be sure to ask your agent to walk you through what you're being covered for and what coverages can be trimmed off your policy.
Request a higher deductible
Your deductible is the amount you pay out-of-pocket after an accident. You can request a higher deductible to lower your premium, but be cautious because this could end up costing you more in the long-run.
Compare multiple insurance companies
This site will get you in touch with three different insurance agents, who'll then compete for your business. They'll offer individual prices and you can select which plan works best for your budget.