Looking for an quote from an insurance company that writes Hot Shots? Don't get 1 quote. Get 3!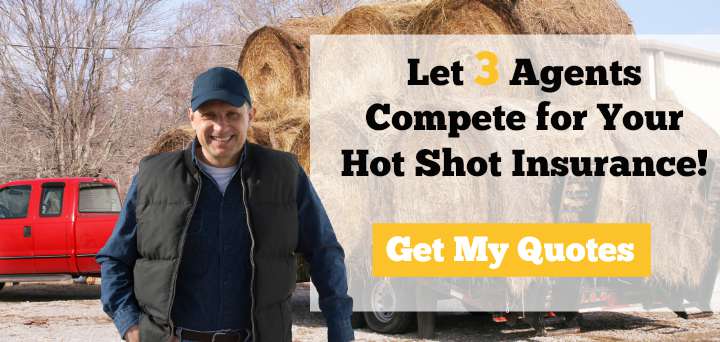 Insurance experts recommend that you compare policies from three different companies before committing yourself to any policy. But since there aren't very many companies that write insurance for hotshots, quotes can be hard to find.
We can help! Just fill out 1 simple form and we will connect you with 3 different hot shot insurance companies that will compete for your business.

4 Questions to Ask the Trucking Insurance Company
Does your cargo coverage allow for multiple Bill of Ladings on the same trailer? If you are going to be hauling multiple loads on a single trip your policy will need to cover each load for $100,000. Look for a policy that allows up to 5 BOLs per trip if you will be hauling from multiple shippers at one time.
Is your policy flexible to add extra insurance, on a trip by trip basis? You may come across lucrative loads that you aren't covered to haul, or you may need to temporarily extend your radius of operation.
How fast can you get me insurance certs? Shippers and load brokers will not wait very long. You will lose the load and money if you have a non responsive agent that can't get you your proof of insurance certificates in a quick manner.
Can I see your truck insurance application? Sometimes agents cut corners and may rate you at a radius of 300 miles when you really travel up to 800 miles. Make sure your application reflects the loads you carry and how far you travel. The insurance company may dispute a claim if you are from Texas with a 300 mile radius of operation and get into an accident in California or Florida!
Coverages You Need as Hot Shot Trucking Company
A boilerplate Hot Shot Insurance policy includes:
Liability Insurance
Physical Damage Coverage
Cargo Insurance
These three types of coverages protect against damage done to other people's property, other drivers, your vehicle, and your cargo. While liability and cargo coverages are the only ones required by law, all physical damage is also needed to protect you from potential financial hardship. You also need the proper limits. Most companies won't hire you on unless you carry $1,000,000 in liability and $100,000 in cargo.
Most hotshots are running 1-ton pick ups with gooseneck trailers or upgraded disk brakes. Some hotshots use semis. If you use a Semi you probably will need bobtail and NTL.
Find a Hot Shot Insurance Company Right Now
Since every Hot Shot Trucking operation is different, the people best qualified to help you tweak your coverage are the insurance agents themselves. Whether you live in New York, Texas, Kansas, or the Carolinas, we can get you in touch with three hot shot insurance agents that cover your area and who are ready to compete for your business. Get started now for free!