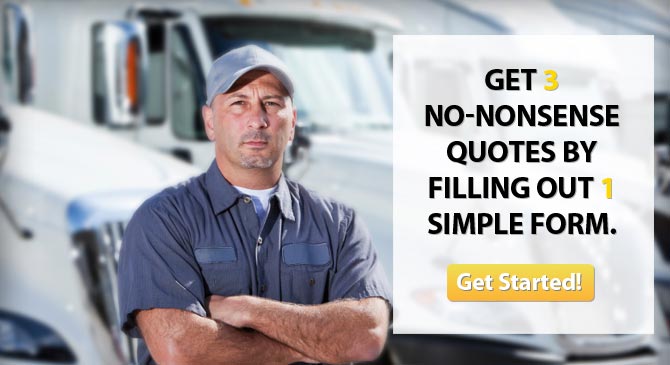 As a new driver buying semi truck insurance is expensive. Save big by comparing quotes from three different agencies at once.

Truck Insurance for New Drivers Can Get Expensive
After just the smallest bit of research, you'll discover that truck insurance for new drivers isn't easy. First of all, it's hard to find. A majority of commercial trucking insurance agencies will simply refuse anyone with less than a few years' experience driving a commercial vehicle. Secondly, when you do get in touch with one of the few companies that deal with new drivers, you'll find that their prices are inflated.
New truck drivers will often pay 2-3 times as much for insurance as more experienced drivers do. This is the nature of the industry, and it's not going to change anytime soon. Luckily for you, there are certain steps you can take to tilt the scales back in your favor. You can maintain a clean driving record. You can apply for discounts. And most importantly, you can shop around.
By filling out this form, we'll get you in touch with three different commercial truck insurance agents who deal with new drivers. They will each take your information and assemble a quote. You can compare their offers with one another and decide which agency is right for you. You don't have to search for companies and you end up saving some money in the process.
Which Coverages New Drivers Need
Company Drivers
If you're a company driver, ask your employers which insurances they require. All commercial vehicles on the road need commercial auto insurance. If you're directly employed by the company and not an independent contractor, the company will provide insurance for you. It's owner operators who typically need to buy their own coverage.
Leased Owner Operators
Owner Operators leased on to a motor carrier can often expect their motor carrier to provide them with liability insurance, but this isn't always the case. Leased O/O are typically responsible for acquiring their own physical damage, cargo, and bobtail insurance. Check with your motor carrier and reread your lease agreement to ensure you get the coverages you need while avoiding paying extra for coverages you already have.
Owner Operators With Their Own Authority
Owner Operators with their own authority are responsible for getting it all—liability insurance, physical damage, cargo, and non-trucking liability insurance. There are several other coverages you should consider, which we've included in the list below.
Coverages Explained
Essential Coverages
Liability Insurance – Pays for damage done to the property of others when you're at fault in an accident. Almost all states require a $1,000,000 limit.
Physical Damage – Pays for damage done to your truck. This coverage has two parts:

Collision Coverage – Covers damage done in a roadside collision accident
Comprehensive Coverage – covers damage done outside of collisions. This includes theft, vandalism, and damage done by animals or the weather

Cargo Insurance – Pays for damage done to the goods hauled in your trailer. Almost all companies and motor carriers require you to carry cargo insurance for their types of goods.
Bobtail/Non-Trucking Liability Insurance – A type of liability insurance that covers your tractor when it's disconnected from a trailer.
Nonessential Coverages
Loading and Unloading Coverage – Cargo insurance doesn't always cover goods when they're being loaded into your trailer. This coverage fills in that gap.
Combined Deductible – Following a major accident, without a combined deductible, you are responsible for paying the deductible of all your individual coverages. With a combined deductible, you only have a single amount to pay.
Loss Mitigation – Any further loss after an accident is covered with this coverage.
Debris Removal – This coverage pays for removal of cargo spilt after an accident.
Earned Freight – This insurance pays you back any lost income if you're in an accident and your shipment can't be delivered.